Evan Gattis has a collecting confession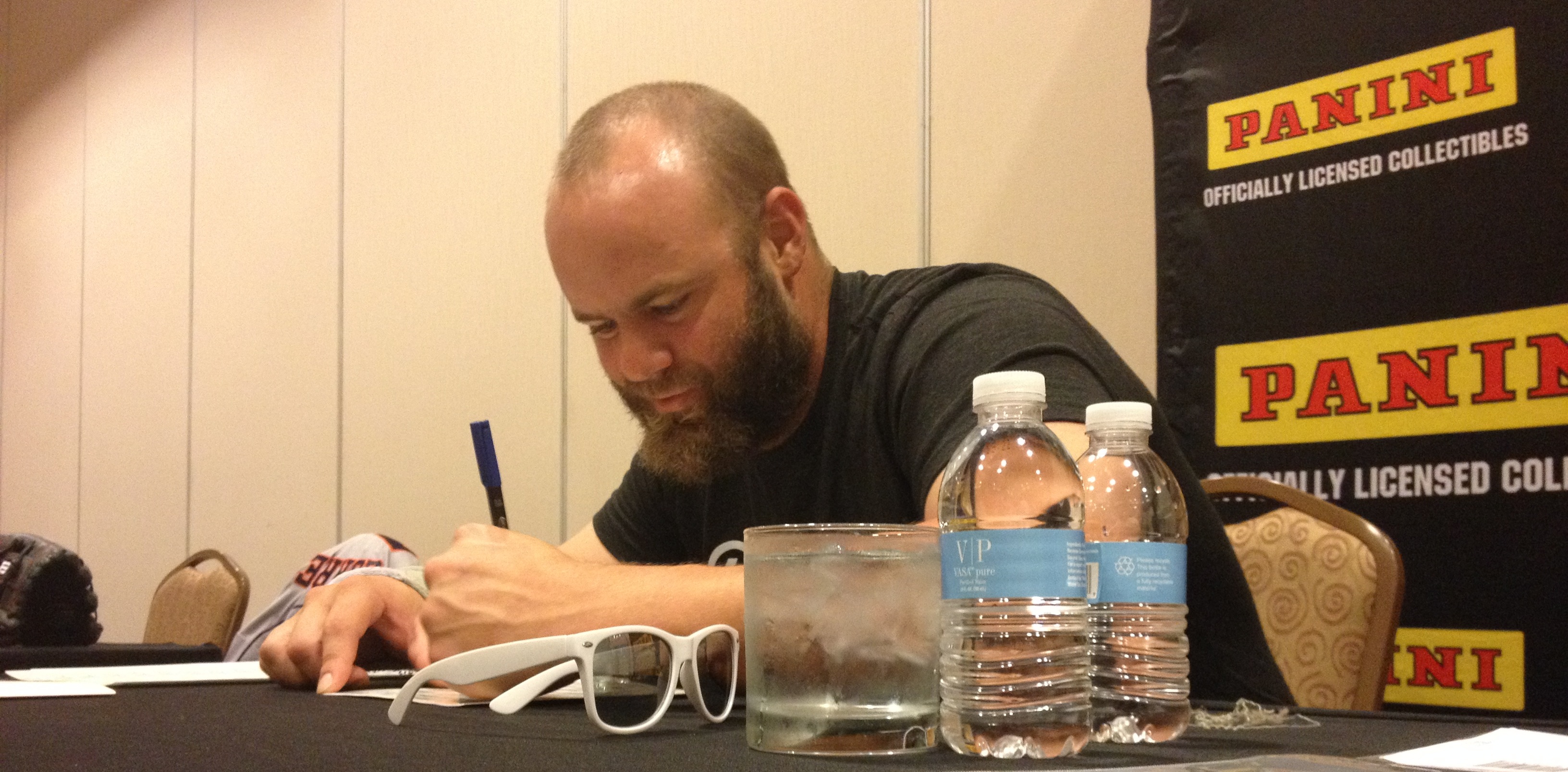 By Chris Olds | Beckett Baseball Editor
ORLANDO, Fla. | Evan Gattis might have one of the most-unique nicknames in MLB today, but El Oso Blanco has a couple of confessions that card collectors might relate to — one more child-like and one that stings no matter how old you are.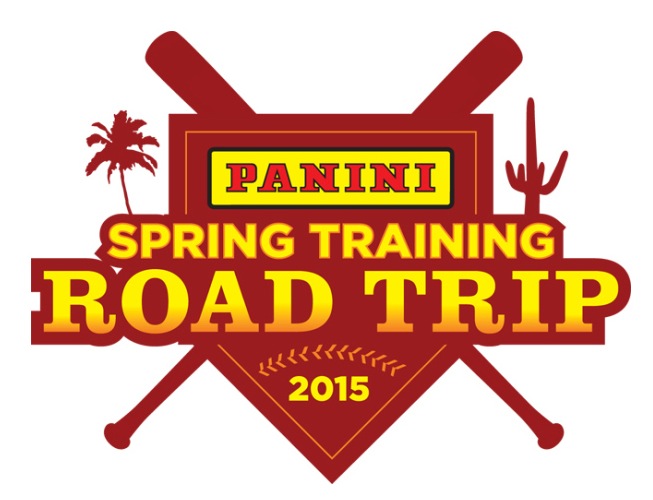 "Yeah, I collected as a kid but not for value or anything like that.," said the Houston Astros catcher-outfielder. "My room was actually wallpapered — I stapled cards to my walls. My entire room was completely covered in baseball cards. I loved it."
Gattis was on hand during Day 3 of the the Panini America Spring Training Road Trip, a multi-date, multi-leg excursion that recently wrapped things up in Florida and heads to Arizona this weekend. He was signing Monday night in a Marriott conference room prepared for signings not long after he helped his Astros with a two-run homer in a high-scoring affair against his old team, the Atlanta Braves, in Kissimmee.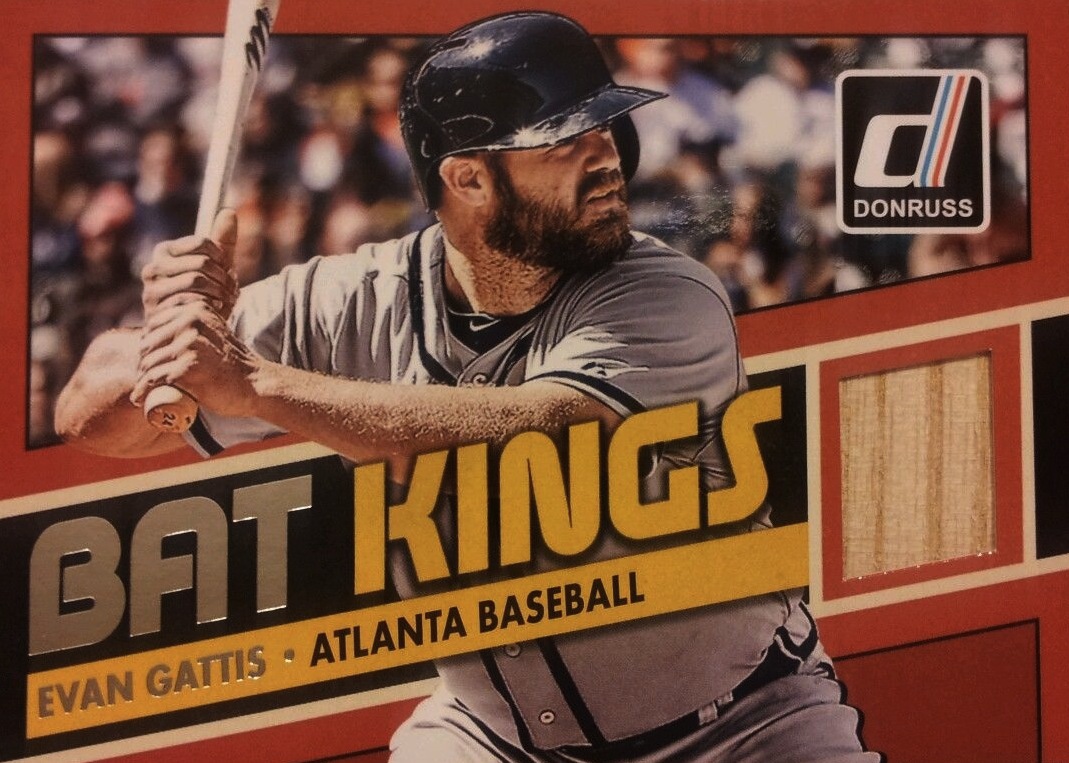 "I've actually gotten more into [collecting] now after being in the big leagues. I started looking up 1933 Goudeys and stuff like that," said Gattis, who signed with his left hand while his right wrist was wrapped due to injury.
A sore wrist wasn't the only thing on his mind — his second recent ailment came with baseball cards and this is the one that stings.
"I have a confession, man," he said. "I bought a Rogers Hornsby, a 1929 card, and I have misplaced it. No joke. So I'm kind of like scared — I really want a 1933 Goudey Mel Ott, the one where he looks so mean and everything, but I feel so bad."
The 28-year-old hit .263 with 22 homers for Atlanta last season before a five-player deal in January. In two big-league seasons and just 213 total games, he's hit 43 homers. His hot start in 2013 — and the legend of El Oso Blanco from the Venezuelan Winter League where he hit a league-leading 16 homers  — led to plenty of attention from fans and collectors. It was a crash course in arriving — and one that was challenging at times when it came to autographs.
"I think the Venezuelan League got me more prepared for attention like that. But I don't think there's any way to prepare you for that," he said. "I wish everybody could understand in our shoes. You can sign 200 autographs but to the 201st guy who you don't you're a jerk. You try to do the best you can but at the end of the day you also have a job to do."
Gattis said he wasn't much of an autograph chaser when he was younger — and his hometown team wasn't hot, so he was more of a fan of individual players.
"I always liked to go see players and shake their hand and stuff. I liked the interaction just to make it more of a personal thing rather than being some superhuman," he said. "Man, I'm just a fan of players for whatever reason. I always liked Vladdy Guerrero — no batting gloves and he could throw the crap out of it in the outfield. I just liked players. Growing up in Dallas, the Rangers were never good — we just never really had a good team so we just liked players. 'CC Sabathia's throwing today — let's go watch the Rangers lose against him.'"
Gattis' first cards — he presently has more than 760 — didn't arrive until 2012 when he was still in the minor leagues. His first autographed cards didn't come until his first season with the Braves.
"It was weird. It was kind of a standard Rookie Card, you know, but it's awesome," he said of his debut card. "Little kids go in their back yards and pretend like they're you."
He began his MLB career with a franchise with a rich history and now moves to one with a potentially bright future. Gattis missed some chances to get autographs and trade memorabilia with his last team, but said it's something he intends to do more with in the future.
"The more I am around it, the more I want to. I want to get jerseys signed by certain people I get to meet," he said. "Things come up — Hank Aaron with the Braves and stuff like that would be really cool to have. The more I am around it, the more I have gotten into it."
Chris Olds is the editor of Beckett Baseball and Beckett Sports Card Monthly magazines. Have a comment, question or idea? Send an email to him at colds@beckett.com. Follow him on Twitter @chrisolds2009.
——
MORE FROM THE PANINI AMERICA SPRING TRAINING ROAD TRIP
— Future stars get spotlight during opening day of Road Trip
— MLB All-Star Josh Donaldson talks cards and collecting
— Prospects soak up signing experience during Road Trip
— Box Busters with Houston's Evan Gattis
— Box Busters & Pack Wars with Toronto's Josh Donaldson