MLB All-Star Josh Donaldson talks cards during Panini America Spring Training Road Trip
When you click on links to various merchants on this site, like eBay, and make a purchase, this can result in this site earning a commission.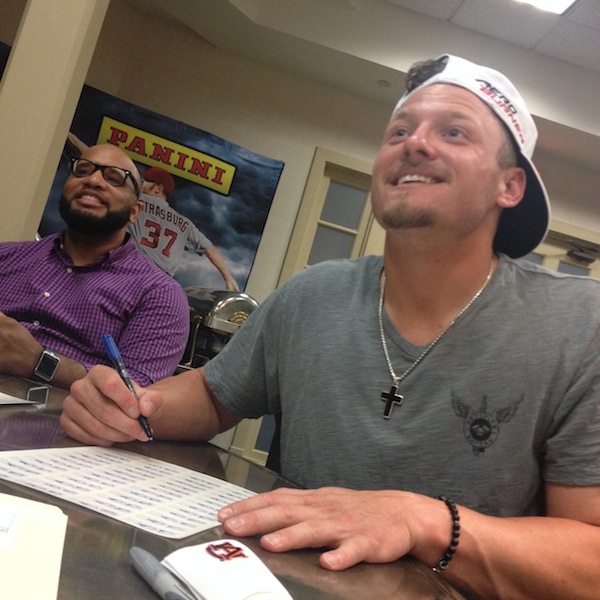 Toronto Blue Jays star Josh Donaldson and MVP Sports Group's Joe Vignier listen to a story while signing during a stop on the Panini America Spring Training Road Trip.
—
By Chris Olds | Beckett Baseball Editor
TAMPA, Fla. | He's been a college star, a first-round draft pick, an MLB All-Star and a "bringer of rain" but before all of that Josh Donaldson was one thing.
A baseball card collector.
The Toronto Blue Jays third baseman, acquired in a November trade with the Oakland Athletics, was one of the big-league veterans on hand for the Panini America Spring Training Road Trip, a multi-date, multi-leg excursion that recently wrapped things up in Florida and heads to Arizona this weekend. It's where thousands of autographs are signed by newcomers and established stars faster than a Felix Hernandez fastball.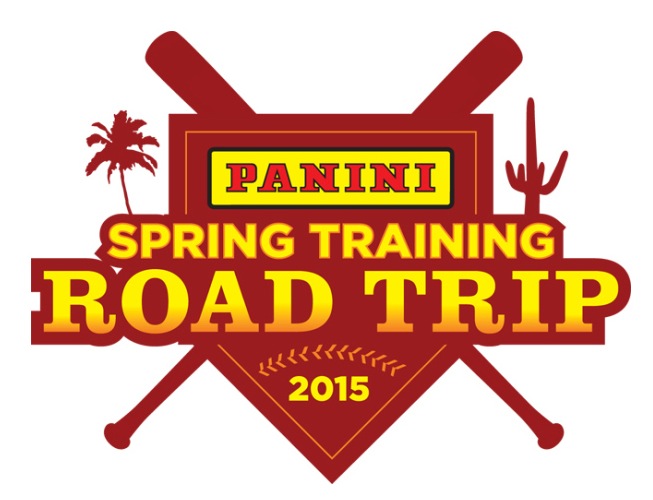 On this day, the former Auburn Tiger's assignment was to sign a couple hundred autographs — a combination of Auburn logo patches and stickers — before ripping into wax boxes. As he signed, he chatted with those sitting around the table at a Hilton whose main conference room had been converted to an autographing epicenter. Meanwhile, newcomers elsewhere in the spacious room posed for photos in their MLB team's jerseys and sat down at other tables to sign cards that will end up in 2015 Panini Prizm packs.
"Oh yeah, oh yeah, I remember gum in packs. I remember to get an autograph was unheard of back then," said Donaldson, who hit .255 with 29 home runs last season. "When I was young, you pretty much just wanted the Rookie Cards. When I was getting back into it, I got back into it collecting a bunch of the oldschool guys. Then I started busting open some of the new football."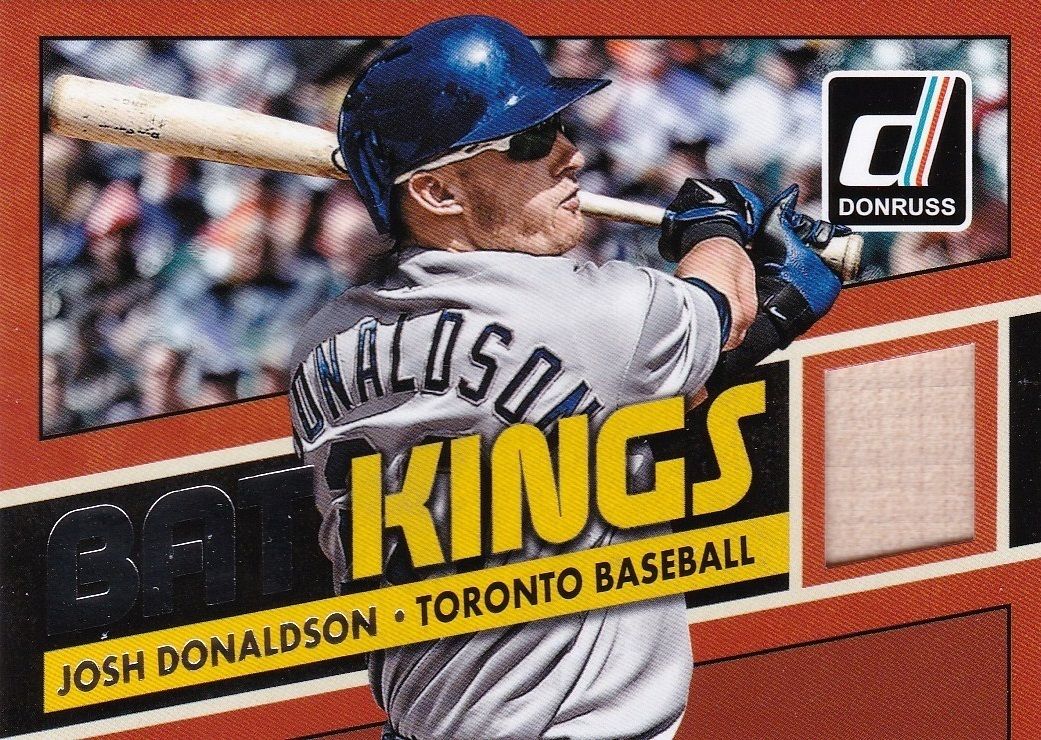 Donaldson said his collecting habits are more traditional for baseball — and different for other sports. Like many others, he had collected as a kid and returned to the hobby in recent years after he started appearing on cards himself back in 2007.
"I collect a lot more of the modern-day football and I collect a lot of the high-end vintage baseball," he said.
What got him back into the hobby? It was an off-season trip to the card shop and a box of football cards that got him hooked.
"In 2012, we had just gotten knocked out of the playoffs against the Tigers and I went to my buddy's house like an hour and a half from Oakland," Donaldson said. "He's one of my good friends, so I stayed with him for like a week and literally one of the last days I was there his dad reminded him, 'Hey have you taken Josh to that card shop that's right by your house?'
"I said, 'OK, let's go.' So I go there and I'm haggling with this guy over a Roberto Clemente card — it said Bob Clemente — and I like the upper-line football and I asked the guy if he had any," Donaldson remembered. "He goes and grabs a box, the best thing he had at the time. … So I started busting. I'm not really getting anything and all of a sudden a card slips on my ring finger and I flip it back up and it's an Andrew Luck 1/1 die-cut auto. It's tough to top that."
Donaldson is now an active collector who dabbles in a bit of everything that interests him. (That new contract that kicks in this season with truly big-league money helps.) There are perks of being an MLB player, too, like visiting the MLBPA offices in New York.
"Me and [Pat] Neshek went there one time and we literally busted like 25 boxes apiece — of everything," he said.
Donaldson said he does collect his own cards from time to time — and collecting is easier when some past teammates are interested.
"I played with Neshek and we talk about cards all the time. I haven't really talked to [Brad] Ziegler about it," he said. "I try to get a couple of my cards — the ones that I like — just because I think it's cool to have your own card."
His first cards came after the Cubs drafted him 48th overall in 2007, a first-rounder and only one of six players the team drafted that year to make it to the majors. TRISTAR, Just and Donruss/Playoff, which is now Panini, had him in card sets that first year.
"At Auburn they made a card, but it wasn't like a real card — a stadium giveaway — but it was neat to finally have a card." he said. "As a kid you collect cards and stuff like that all the time."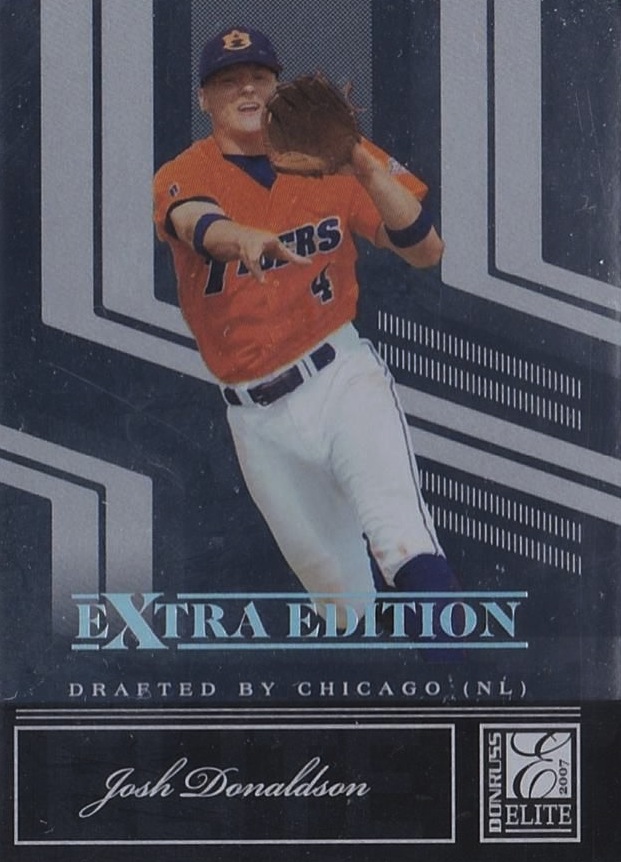 It wasn't an overnight road to success in the majors for Donaldson, who was a catcher when he arrived in the Oakland system as part of the Rich Harden trade in 2008. In fact, he cited his status on cardboard as one motivator.
"I remember the guy who I buy cards from — I was leaving and I went to see if my Rookie Card was even in the Beckett — and it wasn't, which it shouldn't have been. But I was like, 'My goal this year is to get into the Beckett,'" said Donaldson, laughing.
With that comment, this writer grabbed the latest Beckett Baseball from a bag so we could check on Donaldson's prices today. I struggled to find his 2010 MLB autos — but they were in there. Then I flipped to the 2007 Donruss Elite Extra Edition page.
"Vitters is listed," I said, noting the guy who the Cubs drafted 45 picks ahead of him and third overall that year.
"C'monnnn man," said Donaldson, his voice seeping with drawl and disappointment, "that's messed up!"
Josh Vitters was the third pick in the same draft class as Donaldson but has just 36 big-league games from back in 2012 on his stat sheet.
Donaldson also mentioned that he dabbles with graded cards encapsulated by Beckett Grading Services as well as other companies.
"The [Michael] Jordan 10s are ridiculous," he said. "Beckett's tough. Especially on vintage cards they are super-tough."
He also said he collects fellow Auburn guys — b0th on the diamond and the gridiron.
"Huddy (Tim Hudson) and I are good friends, so I have some stuff of his. I have one of Frank Thomas' misprints with no name and with Auburn on there. I have that card, and I have one that has his name on it that's a 10. There's definitely a few guys out there that I collect," Donaldson said during a Box Busters video. "I have some Bo Jackson stuff. From when I went to school there, you have Jason Campbell, Carnell Williams, Ronnie Brown, Carlos Rogers and one of the most recent guys, Tre Mason of the St. Louis Rams."
Since his first cardboard appearances, Donaldson has signed plenty of autographs and appeared on more than 700 different cards. He said things really started to pick up in terms of demand for his autograph during the last couple of years in Oakland.
"Yeah, a lot more demand," he said. "It was kind of one of those things where almost overnight it changed. I could chat with the fans because I like to do that and then sign 15, 20 things. Now, if I go over there to the stands there's a bunch of people coming in."
A new contract and a new team might lead to new cardboard when he has the time — but this summer it will mean more new fans and new autographs to sign, too.
"It definitely think it makes you appreciate it more," he said. "Coming from a small-market team and starting to get recognized more it makes it all more rewarding."
Chris Olds is the editor of Beckett Baseball and Beckett Sports Card Monthly magazines. Have a comment, question or idea? Send an email to him at colds@beckett.com. Follow him on Twitter @chrisolds2009.
—
[youtube]https://www.youtube.com/watch?v=o_lCXDnEahk[/youtube]
In case you missed it: Beckett Baseball's Chris Olds catches up with MLB All-Star and serious card collector Josh Donaldson of the Toronto Blue Jays for this episode of Box Busters — with some 2015 Donruss Pack Wars — during Day 2 of the Panini America Spring Training Road Trip in Tampa, Fla. Click here to enter our Donaldson card contest.