Liam Fitzgerald Receives Upper Deck Card
[youtube]https://www.youtube.com/watch?v=KJex_ZFDUCs[/youtube]
By Stephen Laroche | Beckett Hockey Editor
Sometimes there's more to life than hockey cards or even the game itself, yet there are occasions when the things that are truly important intersect with the hobby and create positive feelings for everyone involved.
A perfect case of this recently took place when the team at Upper Deck paid tribute to one of the sport's greatest fans, Liam Fitzgerald. For those of you that are unfamiliar with his story, he was the star of a viral video where he fist-bumped several members of the Boston Bruins and his story should serve as an inspiration for all of us.
Just eight years old, he was born with Down Syndrome and has already defeated cancer after being diagnosed with Acute Lymphoblastic Leukemia in December, 2009. For nearly three-and-a half years, he endured tremendous adversity and finally "kicked cancer's butt" with his final chemotherapy treatment in May, 2013. Soon after, his family began a fundraising campaign to "Bump Out Cancer" and earlier this season, the hockey world took notice of this incredible young man.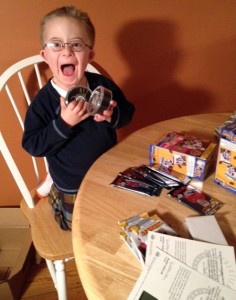 Upper Deck has been very active with their Heroic Inspirations campaign in recent years and they worked together with the Bruins and the Fitzgerald family in conjunction with a recent promotional event where they were giving away packs of cards at the March 26 battle with the Anaheim Ducks. During the first timeout, Blades, the team mascot, presented Liam with an oversized copy of his very own trading card.
Soon after, he signed some standard-sized copies of his card at the Bruins' team store and Upper Deck will be providing details on how collectors can obtain a copy of the card in the near future.
Fans and collectors that wish to donate to the 10-week campaign to help Bump Out Cancer can make and donation here.
Stephen Laroche is the editor of Beckett Hockey. Have a comment, question or idea? Send an e-mail to him at SLaroche@beckett.com. Follow him on Twitter @Stephen_Laroche.