Other options for doggone 2012 Allen & Ginter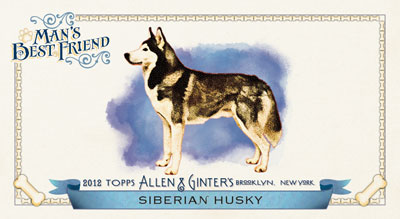 By Chris Olds | Beckett Baseball Editor | Commentary
Topps may have left some collectors howling on Wednesday when it teased one of the insert sets in its soon-to-be-announced 2012 Topps Allen & Ginter baseball card set.
The insert? Man's Best Friend — a collection of dog breeds all noted on the style of the 1880s tobacco cards that did, indeed, include unusual sets just like this.
It shouldn't be a surprise to anyone who is familiar with tobacco cards from the past — nor with anyone who has indulged in a little Ginter since Topps' revival of the brand in 2006. In fact, I think many a collector "gets" Ginter and its inclusions — though I might fall in line with many who have been at times overwhelmed by the mini madness that meant too few baseball players and too many inanimate objects.
But don't think for a second that I feel this one is for the dogs. It's got legs. Throw me a bone here before you decide to attack and let me tickle your cat fancy for a bit with some other Ginter-dog past realities and future possibilities.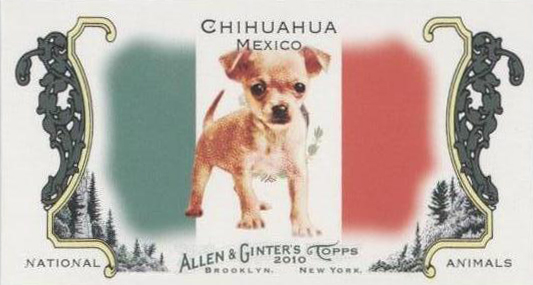 Past Reality: Man's best friend has had Ginter cards made by Topps before — most notably the Chihuahua found in the National Animals set from 2010. This little guy ain't alone, either — go look around and you'll find other canine cohorts.
—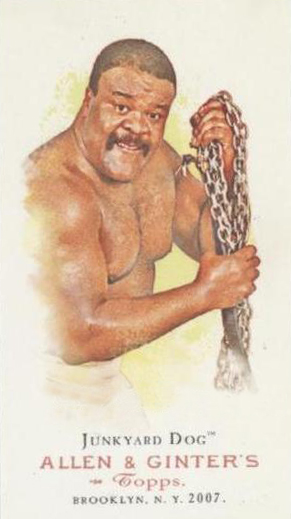 Past Reality: Then, of course, over in the WWE Heritage ranks, the late Sylvester Ritter — aka The Junkyard Dog — was among the WWE Legends to get a Ginter mini in 2007. Grab them cakes … err cards. The British Bulldog, aka Davey Boy Smith, had one of these, too.
But those aren't the only dogs found on Ginter from the last six years — and that's not a statement of quality, either.
—
Past Reality: Another dogged inclusion in past Topps Ginter sets? That started in the debut set from Topps with hot dog eating champ Takeru Kobayashi in 2006 and then later Joey Chestnut. 
That's it for living in the past … for now.
—
Future Possibility: Ok, now who might I want to see in a dog-eat-dog kind of  Ginter release? Diamond Dogs, of course:
— Fred McGriff, aka The Crime Dog.
— Greg Maddux, aka Mad Dog.
— Orel Hershiser, aka Bulldog.
— Mo Vaughn, aka Hit Dog.
— Rex Hudler, aka Wonder Dog.
— Bill Madlock, also aka Mad Dog.
— Jim Bouton, also aka Bulldog.
Yep, I'd like to see some more baseball players among my Ginter inserts — or at least baseball-related themes. I want baseball players and the eccentric stuff inside Ginter — stadium cards, announcer cards, sportswriter cards, equipment cards, myths of the game cards …
The ideas, the possibilities, are out there — maybe even a few dogs, too.
Chris Olds is the editor of Beckett Baseball magazine. Have a comment, question or idea? Send an email to him at colds@beckett.com. Follow him on Twitter by clicking here.
Loading ...
Loading ...