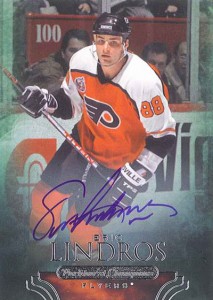 By Susan Lulgjuraj | Contributing Editor
As collectors began to open Upper Deck's 2011-12 Black Diamond, which released today, some got a little surprise in their boxes. Upper Deck included previously unannounced autograph cards of Eric Lindros and Sidney Crosby.
Lindros' cards wound up in Black Diamond because they were supposed to be part of an earlier product. But Upper Deck didn't get the cards back in time. Rather than insert redemptions into a product, it put the cards into the next available product.
The Lindros cards were to be included in 2011 Parkhurst Champions, and Upper Deck states these cards should be considered rare.
The Crosby cards are buybacks. There are just nine total autograph buybacks in Black Diamond, making them extremely hard to find. Represented in the product are three copies of each: Premier Cuts, Pride of Canada and Run for the Cup.
For the Crosby cards, Upper Deck wants to ensure that collectors get what they pay for. UD included a Certificate of Authenticity with each of the buybacks and warns collectors not to purchase these cards without the COA.
The COA states: "You have received a trading card that was originally released unsigned in a previous product, re-purchased and newly autographed by Sidney Crosby. The autograph was signed in the presence of a company representative and/or sent from, and certified as to its authenticity by, Sidney Crosby. This card is manufactured with an anti-counterfeit technology. Any attempts to tamper with this card will jeopardize its authenticity."
The anti-counterfeit technology refers to matching numbered hologram on the back of the COA and the card itself.
One of the Run for the Cup buybacks has already been pulled and is on eBay with a $2,499 price tag.
Susan Lulgjuraj is a contributing editor for Beckett Media. You can email Susan here. Follow her on Twitter here.