Topps tops Topps Precision with more Tebow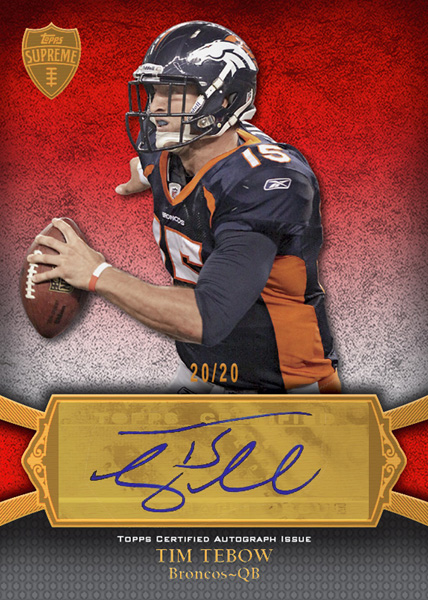 By Andrew Tolentino | Football Editor
If you can forgive the over-alliterative headline, we've got good news for you Tim Tebow lovers.
Joining in on what appears to be mass hysteria over the Mile High Messiah, Topps confirmed today that its soon-to-release Precision line will include just what the world needs — more Tebow.  The company has added 50 more Tebow autographs in the product by way of redemption cards.
While collectors will have to wait to get their hands on the T-bonus, Topps has a decent reason for not including the actual cards in the pack-out.
The extra cards are apparently called 'Tim Tebow Precision Comeback Autographs' — which doesn't precisely fit the name of the brand, but gives the company an opportunity to strike while the iron is hot this season.
Aptly-named Comeback autographs will showcase Tebow's fourth-quarter clout, including the overtime "miracle" he recently pulled off against the Steelers. Collectors can likely count on any other come-from-behind playoff victories to be highlighted in the extra autograph set.
Each card from the last-minute inclusion will be numbered to nine or less, which should make these commemorative cards a hot commodity when they finally land.
For the Tebow-obsessed fan who just can't wait to stock up on his signatures, the company also pointed out a few major chase factors in its freshly-released (as in, on shelves today) 2011 Topps Supreme brand:
Base Autograph (#'d to 27)
Base Autograph Red Parallel (#'d to 20)
Base Autograph Green Parallel (#'d to 10)
Base Autograph Platinum Parallel (1/1)
Base Autograph Printing Plates (4 versions) (Each 1/1)
Triple Autograph w/ Newton, Bradford (#'d to 10)
Quad Autograph w/ Newton, Sanchez, Ryan (#'d to 5)
Stay tuned to Beckett.com for more information about Tebow's Comeback Autographs as images and  other details emerge.
Loading ...