Collector Column: A divide seen on cardboard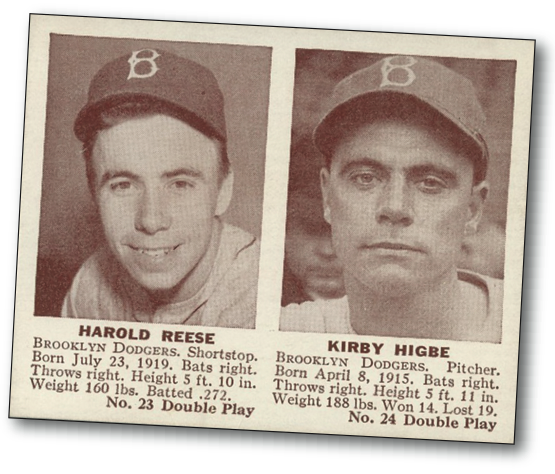 Editor's note: This piece originally appeared in Beckett Baseball No. 94 (January 2014).
—
By Ben Aguirre | Guest Commentary
During my two-plus decades of collecting Rookie Cards, I've come across some interesting facts about players I've never known. Sometimes it's the facts that come as a surprise, and then other times it is the actual player whose existence was previously unknown to me.
Earlier this summer, I had the pleasure of learning something from both ends of the spectrum, and it was particularly timely with the release of the movie 42, the tale released in April depicting Jackie Robinson's entrance into Major League Baseball in 1947 effectively breaking the color barrier that had stood for more than half a century.
When it comes to collecting RCs, ones featuring single players typically are more desirable than those featuring multiple players. In fact, most players really have RCs featuring just themselves. Jackie Robinson has two: 1949 Bowman and 1949 Leaf, both of which feature just Robinson.
But in the case of teammate and Hall of Famer Pee Wee Reese, who is always depicted as being an ally of Robinson, he has two Rookie Cards — one featuring just himself, and then another showing him and another teammate. Reese's "true" RC is the 1941 Play Ball issue, which has a colorful rendition of the second base- man. But I'd argue that the sepia toned 1941 Double Play XRC is historically more important — and should be more desirable — because of the irony of who else is pictured on the card, fellow Dodger Kirby Higbe.
Now unless you're a hardcore Dodgers fan or an aficionado of the Robinson story, Higbe's name and relevance may be lost on you. If so, it's OK. It was initially lost on me, too. Heck, before watching the movie — admittedly I was not well- versed in some of the details of the Robinson story — I saw the Reese/Higbe as being inferior to the Reese Play Ball card. Aside from carrying an XRC label, the card also had a player whose identity was relatively unknown to me.
Before watching the film, I had two vivid images of Reese engrained in my mind, the one of him turning a double play as shown on his 1953 Bowman Color card, and one depicting Reese and Robinson embracing in front of the cameras in the locker room. Bottom line, Reese was always considered a "good guy" in the stories about Robinson. But now let's discuss Higbe, pictured on the other half of the card being discussed here. The 12-year big-league veteran and two-time All-Star was born in South Carolina and was very much against the idea of having Robinson play in MLB. And he wasn't alone.
There was a small contingent of the team that signed a petition seeking to stop Robinson from suiting up for Brooklyn. Along the way, Higbe — the most vocal of the bunch — and other players stated that they would rather be traded than play next to an African-American, which I know seems ludicrous by today's standards. But remember, this was some 65 years ago. The world is a much different place now that it used to me. Well, Higbe got his wish — shortly after the start of the season, he was shipped to the Pittsburgh Pirates with four others in exchange for Al Gionfriddo, a player who wound up leaving his mark in the 1947 World Series. Even though the Dodgers lost to the Yankees that year, Gionfriddo is credited with making a great play by robbing Joe DiMaggio of at least extra bases — and possibly a home run — in Game 6.
On a side note, although Gionfriddo played four years in the majors, he has less than a dozen cards and none of them are actually designated as an RC. His first card is a 1948 Swell Sport Thrills issue, which actually shows him making the aforementioned catch, but is not an RC partly because it's a high- light card.
But back to the Higbe and Reese. After watching the film, I almost immediately began my play for a Reese RC. I moved a few cards around to gather the funds to make my purchase. And when it came time to pull the trig- ger on a Reese, I then realized the irony of this specific card. On the left, there is Reese, a mighty ball-player who for the most part is documented as standing next to Robinson during the early stages of this historical transition in the sport and society. Reese's place in history is very much in a positive light. Whereas Higbe, shown on the right, is remembered as being a villain whose beliefs in segregation ultimately led him to being remembered in a negative one.
What makes this specific card even more interesting is that it was not some brainchild of a card company who thought it'd be interesting to pair these two people given the circumstances. This card was created some seven years before Robinson became a Dodger.
Throughout the history of this hobby, there have been many multi-player rookie cards that have had some interesting pairings. The 1968 Topps Nolan Ryan and Jerry Koosman card showcases a pair of pitchers who collectively racked up more than 8,000 strikeouts. Clearly the majority was tallied by Ryan (5,714), but Koosman's total of 2,556 isn't shabby. The 1973 Topps pairing of Hall of Famer Mike Schmidt and 17-year veteran Ron Cey (and John Hilton) isn't a bad one. Schmidt clearly is the headliner there, but Cey wound up being a solid ball-player. And, of course, there is the 1978 Topps quad-player card headlined by Hall of Famer Paul Molitor and 20-year veteran and four-time Gold Glove Award winner Alan Trammell. But still, the 1941 Double Play Reese/Higbe takes the cake in my opinion as the most significant multi-player Rookie Card. And with the history that is shown on this specific card, how can the dual-player Reese/Higbe XRC not be more desirable than Reese's solo-player Rookie Card?
Ben Aguirre can be reached on Twitter @cardboardicons.