English Teen Chases Vintage Baseball Cards
Of the thousands who attended the 36th National Sports Collectors Convention in Chicago recently, it's likely few travelled as far as 13-year-old Owen Randell.
It's a long way from England to Chicago.
Randell was attending his first National with his grandfather, Joe Kroes, a resident of upstate New York. The 13-year-old from West Sussex, England, was visiting his grandfather in the States (Joe's daughter is Owen's mother) and, since Owen wanted to add to his vintage baseball card collection, Kroes thought it would be a great opportunity to head to Chicago and attend the industry's biggest event.
Besides, Owen had already taken the tour of Fenway Park – home to his beloved Boston Red Sox. So while the two made the trip from New York to Chicago, Owen's adventure began when he left his hometown south of London to fly to America.
So how does a kid smack in the middle of England's Premier League soccer fan base come to checking out daily MLB highlights online – which Owen does through ESPN, MLB and YouTube? "I just started watching baseball when I would come over and visit family in the U.S.," says Owen. "I really like it."
A typical day for Owen consists of all the things kids his age do – school, sports, family. The big difference is while his friends are talking about the latest exploits of Chelsea's Eden Hazard, Owen is checking to see how Big Papi fared the night before or looking into baseball's rich history to get a better understanding of how the game itself has become so much a part of American history.
"Yeah, they're not all that interested," he says about his friends back home.
Owen's interest in baseball began with a school report on Jackie Robinson. No other kid in the classroom was thinking historic baseball when the assignments were made, but Owen was hooked on the sport his grandfather, Joe, followed. And from that report on Robinson came more writing, and soon Owen was writing for himself, just to get the words on paper. He wrote and edited a piece on collecting Gaylord Perry. He wrote and edited a piece on deadball-era pitcher Bill Dinneen (what American kid does that let along an English kid?); and he wrote and edited a piece on collecting the E92 back variations.
"The last two years," Kroes says, "he's really taken to the history of the game."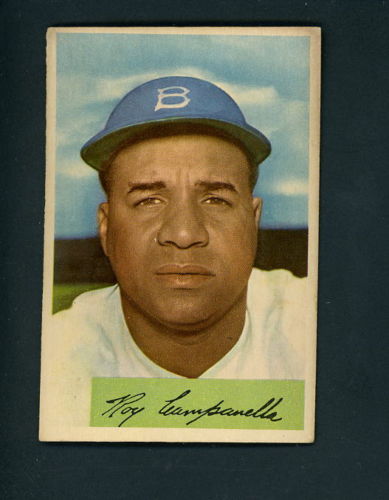 At the National, Owen had picked up two cards he has wanted for some time: a 1954 Bowman Roy Campanella and a 1956 Topps Luis Aparicio. There they will reside in what Owen calls "the Randell Collection." Suffice to say, it's unlike any other collection among his circle of friends. Chances are they have never even heard the name "Gaylord Perry."