Arizona Diamondbacks pitcher Brad Ziegler collects "quality over quantity" with his baseball cards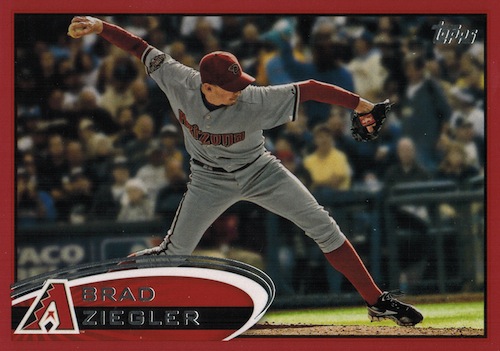 By Chris Olds | Beckett Baseball Editor
If you're a collector and you don't see Brad Ziegler throwing for the Arizona Diamondbacks, there's a good chance you've seen him on the highlight reels elsewhere.
You may have seen him in videos doing online breaks because he's also a collector.
The sixth-year MLB sidearmer says he chases his own cards while also chasing "quality over quantity" as his collection is filled with autographs, bat barrels and bat knobs of some of the biggest names in the game.
"My three big personal collection guys are Jackie Robinson, Stan Musial and Roberto Clemente," he said. "But I try to get as many different Hall of Famers as I can. My dream collection would be a bat Relic, a jersey Relic and an autograph of every Hall of Famer. I know it's not realistic, but I'm trying to get as close as I can."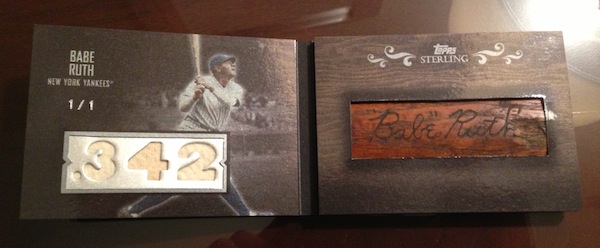 Beckett Media caught up with Ziegler (click here for his checklist) to talk even more collecting in an exclusive interview for the upcoming SuperCollector Issue of Beckett Sports Card Monthly. We won't give all of that away here — just some highlights.
One is Ziegler's discussing the state of the hobby — and the secondary market — in his eyes.
"I don't have major issues with the card companies," he said. "I know people always want improvements in products and customer service, and there are always room for great improvements there. My biggest complaint with the hobby, however, is in the secondary market — primarily on eBay.
"It always annoys me when eBay sellers list their good cards for obscenely high prices and then don't have a realistic view of the market. I have a limited budget for cards, so I'm always looking for a good (or at least fair) deal. I'll make offers sometimes that are based on previous similar card sales, and I'll get declined without a counter offer. I realize sellers aren't obligated to sell the card, but it feels like their only purpose in listing it, if they don't get an outrageous offer, is to just show it off."
So, like fellow collector and big-leaguer Pat Neshek, yep, he's got a budget for his collection — even if he's searching for high-end cards.
—
SIX SAMPLES OF SUCCESS
Here are six of Ziegler's favorite cards in his collection:
2010 Topps Sterling Babe Ruth bat barrel 1/1
2012 Topps Tier One Babe Ruth bat knob 1/1
2010 Topps Triple Threads Lou Gehrig bat knob/cut auto 1/1
2012 Topps Five Star Lou Gehrig bat barrel 1/1
2006 Topps Sterling Roberto Clemente cut auto/triple Relic 1/1
2012 Panini National Treasures Stan Musial bat knob 1/1 (pulled)
—
Look for more in the upcoming SuperCollector Issue of Beckett Sports Card Monthly, arriving in hobby shops next month.
Chris Olds is the editor of Beckett Baseball and Beckett Sports Card Monthly magazines. Have a comment, question or idea? Send an email to him at colds@beckett.com. Follow him on Twitter by clicking here.