Cheap Wax Wednesday Box Breaks: 2008 Razor Signature Series Baseball
2008 Razor Signature Series Baseball features a 200-card base set, highlighting players selected in the 2008 MLB draft.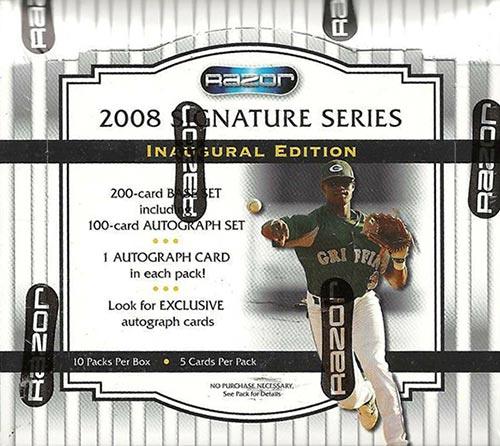 The big draw is the promise of an autograph in every pack. The signature checklist is 100 players long and features some notable names like Buster Posey, Eric Hosmer, Aaron Hicks, Wade Miley, Matt Wieters and Charlie Blackmon.
As far as being the "Inaugural Edition," Razor Signature Series was a one-and-done product. Since then, Razor released many different cut autograph products, as well as products in other sports and non-sports including poker and pop culture. The company evolved into the current form of Leaf.
Does a draft-focused product count as minor league? It is a stretch, but I am going with it anyways. If it helps to qualify this product for Minor League May, I will highlight mostly minor league facts about the players. 
2008 Razor Signature Series Baseball Box Break:
Cards per pack: 5
Packs per box: 10
Price paid: $30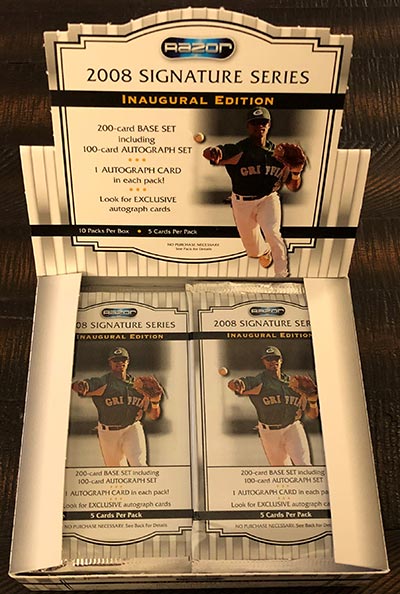 Pack 1 highlights:
Justin Smoak & Brett Hunter Autograph (0136/1499)
Hunter was drafted in the 7th round by Oakland, and would stay in the organization for all six of his minor league seasons. He did reach Triple-A for a couple of games but left baseball with a 4.72 minor league ERA.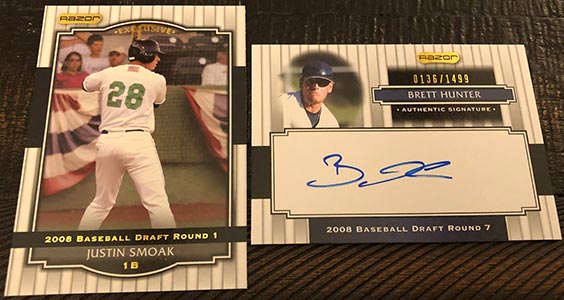 Pack 2:
Jason Castro & Kyle Lobstein Exclusive Autograph
Lobstein made his major league debut for the Tigers in 2014, starting six games and finishing with a 4.35 ERA. He has pitched in 34 major league games in his career, and is currently pitching for the Nationals Triple-A team. He has yet to allow a run in four games out of the bullpen this season.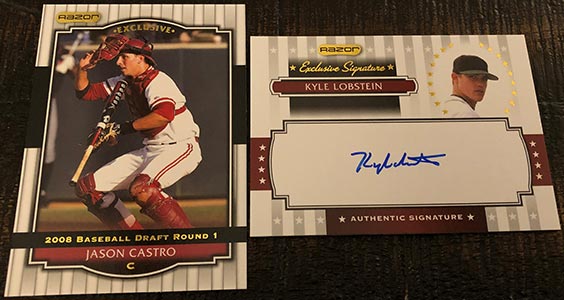 Pack 3:
Trey Haley Autograph (0211/1499)
Haley saw disastrous results playing rookie ball after being drafted in 2008. He pitched just 2 1/3 innings, and allowed 8 earned runs. He would settle in to professional baseball, though, and pitch in 323 games over 11 seasons. He has not pitched professionally since 2018.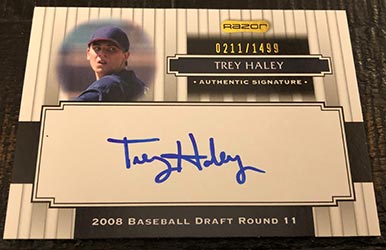 Pack 4:
Lonnie Chisenhall & Ryan Westmoreland Black Autograph (014/199)
Westmoreland was selected out of high school in the 5th round in 2008. He put up pretty impressive numbers in his first professional season, hitting .296 with 7 HR, 35 RBI & 19 steals in 2009. Entering the 2010 season, Westmoreland was ranked as the 21st best prospect in baseball. That is where things took a turn as Westmoreland started having health issues. He would undergo brain surgery in March, 2010 and was never able to return to baseball.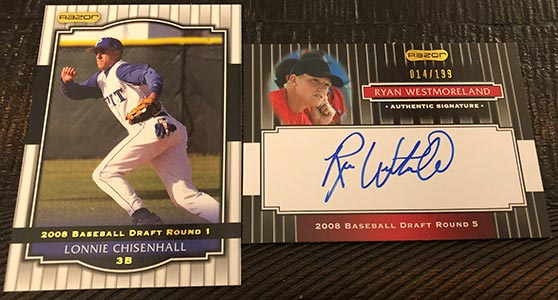 Pack 5:
Allan Dykstra & Brad Holt Autograph (0063/1499)
Brad Holt was a 1st round selection in the 2008 draft. He dominated in his first season in the minors, starting 14 games, and posting just a 1.87 ERA in 2008. He was ranked as a top-100 prospect prior to the 2009 season. He never did see the same success. He left baseball after five minor league seasons and one more playing independent ball.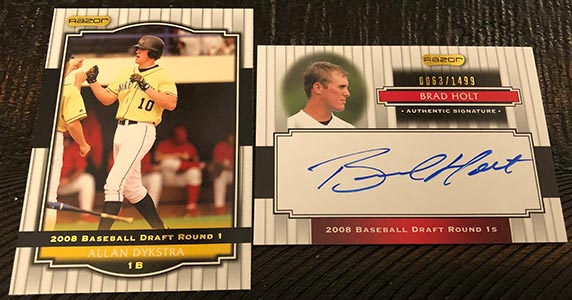 Pack 6:
Anthony Gose & Eric Hosmer Autograph (334/699)
You may have heard of Eric Hosmer. The four-time gold glove first baseman was selected 3rd overall by the Royals in 2008. He made his major league debut in 2011 and has been a pretty consistent producer since then. He currently has 1,532 major league hits, and a .279 career batting average.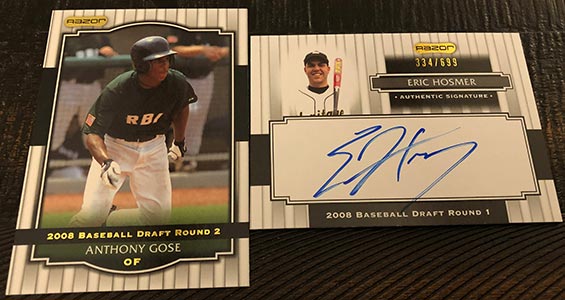 Pack 7:
Aaron Hicks Black (121/200) & Rolando Gomez Autograph (271/699)
Gomez was selected by the Angels out of high school in 2008. He played seven minor league seasons in the Angels organization, never rising above AA. He continued in independent baseball after leaving affiliated ball, playing for five different independent league teams through the 2019 season.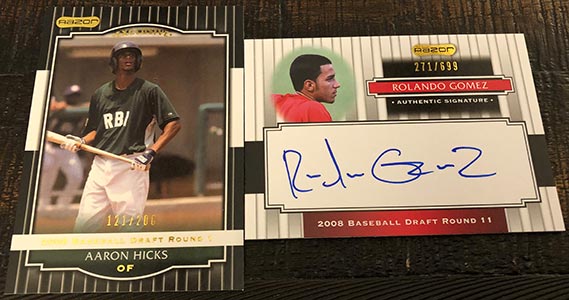 Pack 8:
Jordan Lyles Exclusive Autograph
Lyles has been in the major leagues for the last 11 seasons. He has pitched in 266 major league games for six different teams. He had, by far, his best season in 2019, going 7-1 with a 2.45 ERA for Milwaukee.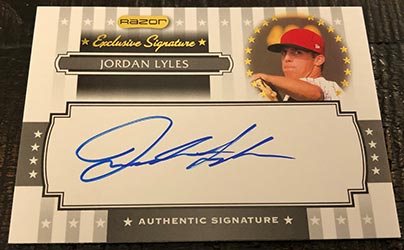 Pack 9:
Jordan Lyles, Tyson Ross & Jake Jefferies Autograph (0015/1199)
Jefferies played six minor league seasons following his 3rd round selection in 2008. He reached AAA, but never reached in the major leagues. He left baseball following the 2013 season, finishing his professional career with 360 hits and 15 home runs. 

Pack 10:
Buster Posey & Pete Hissey Black Autograph (146/199)
Hissey was selected out of high school in the 4th round of the 2008 draft. He spent his entire professional career in the Red Sox organization, reaching AAA in 2014. He left the game after 521 minor league games over seven seasons.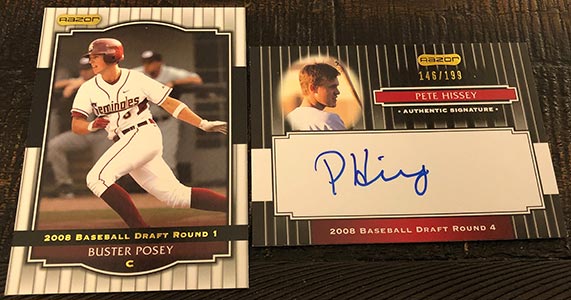 Lastly, the Buster Posey card back. If you didn't know, Posey was a stud in college as well.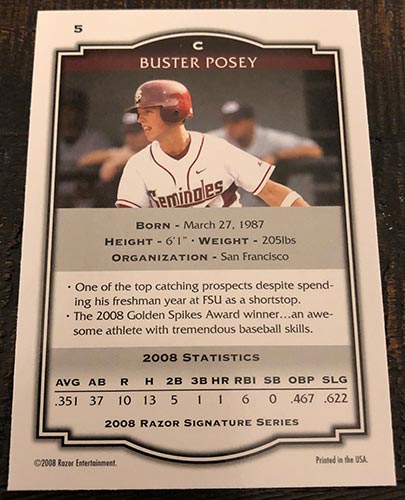 I actually thought this was a fun product. At the price, it is worth the shot at pulling some notable major leaguers. Luckily, I was able to pull one of the stars, Eric Hosmer. I was also landed two Black parallel autographs of former Red Sox prospects, which is a highlight for me.
With players in their college or high school uniforms, these cards still give me the feel of a minor league product.
Shop for 2008 Razor Signature Series Baseball on:
Want more installments of Shane Salmonson's Cheap Wax Wednesday? Check out his other breaks in the archives.