Cheap Wax Wednesday Box Breaks: 1995 Upper Deck Series 2 Baseball
1995 Upper Deck Series 2 had a lot to offer, even after opening the box. The base set features Rookie Cards of 1995's hottest rookie, Hideo Nomo.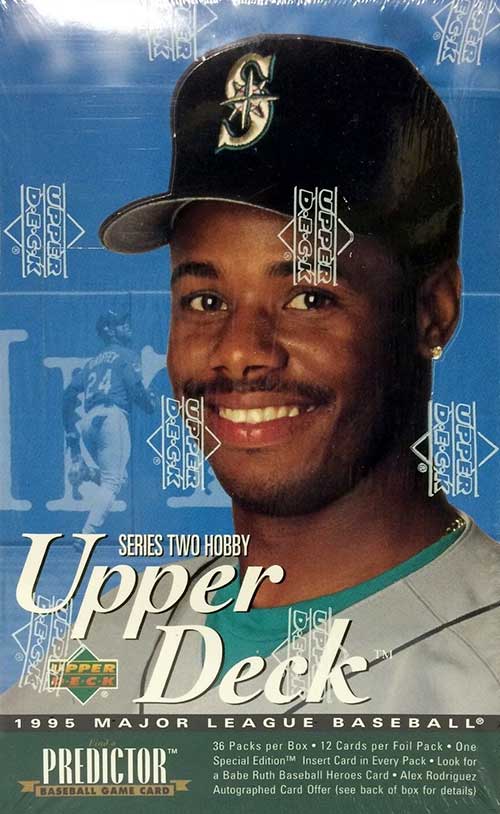 Upper Deck also featured an award winner Predictor set (very similar to something Topps unveiled this past season with the online-exclusive Topps Now Future Pack: 2019 Award Winners) and if your player won the stated award, you could redeem your card for a full Predictors set. Series 2 also has Trade cards good for a nine-card "update" set featuring players on their new teams. There were five Trade cards and 45 update cards in all.
If that wasn't enough for post-break involvement, Upper Deck also had a wrapper redemption in 1995. By sending in just 35 hobby wrappers (basically one box worth) and $5 shipping and handling you could receive a jumbo 8×10 autograph card. Series 1 wrappers would get you a Roger Clemens autograph, and Series 2 wrappers would net you an Alex Rodriguez jumbo autograph. Makes me wish I would've busted this box back in 1995.
Speaking of autographs, Series 2 also features an autograph set featuring just five players, with pretty reasonable odds. Redemption cards were found once in every two boxes, and each would be good for an on-card autograph of Reggie Jackson, Willie Mays, Frank Robinson, Roger Clemens, or Raul Mondesi. Not a bad list.
1995 Upper Deck Series 2 Baseball Box Break
Cards per pack: 12
Packs per box: 36
Price paid: $30

Pack 1 highlights:
Shawn Green, Gary Sheffield, Andre Dawson SE (one per pack) & Tony Gwynn Checklist (1 in every 17 packs)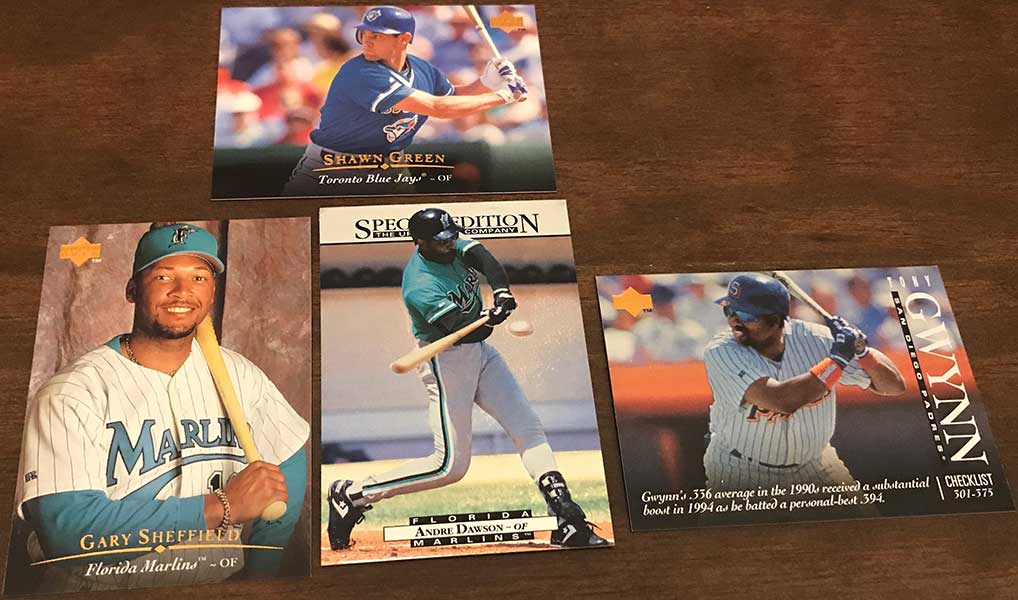 Pack 2:
Edgar Martinez (I love cards showing players in positions you wouldn't think of them playing. Even though Edgar did play some third base early in his career, from 1995 until the end of his career he appeared in just seven games at third.), Larry Walker and Geronimo Berroa SE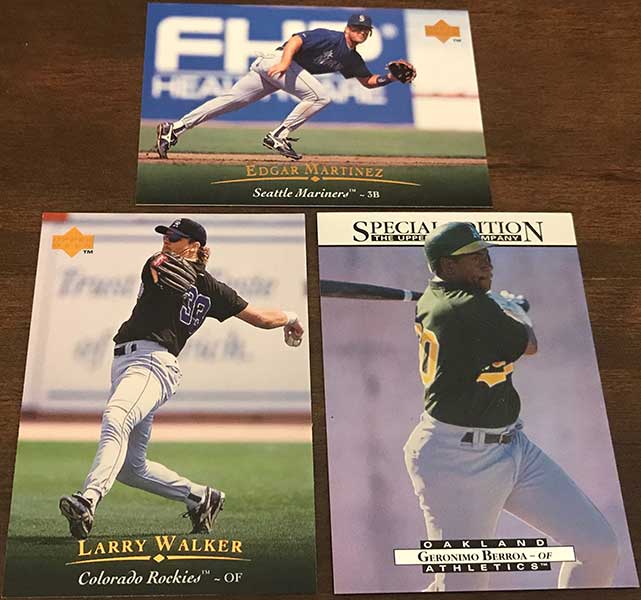 Pack 3:
Ray Durham SR, Reggie Sanders, Jim Edmonds & Eddie Williams SE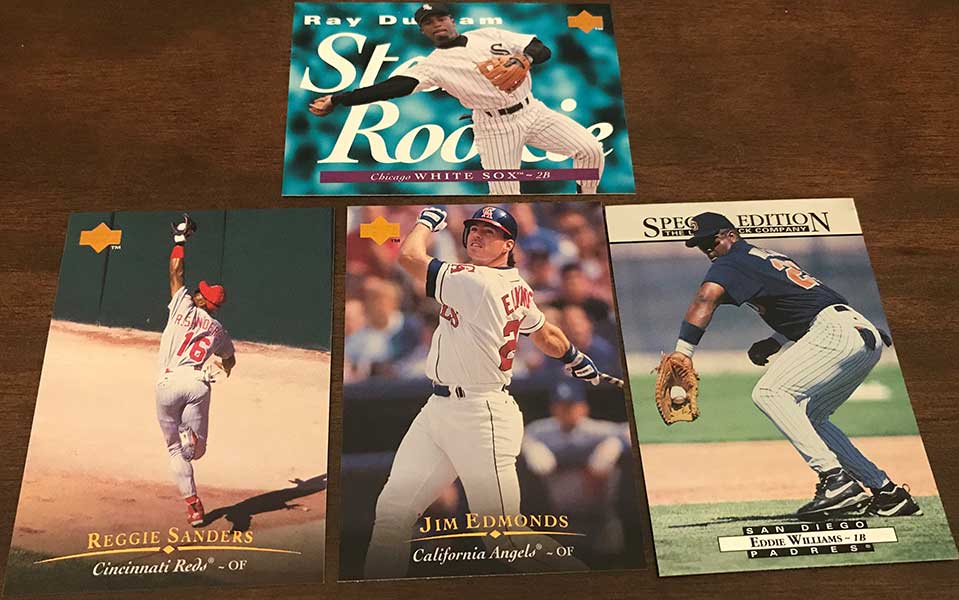 Pack 4:
David Cone, Barry Larkin, Albert Belle, Ken Caminiti SE & Gregg Jefferies Trade card (1:11 packs)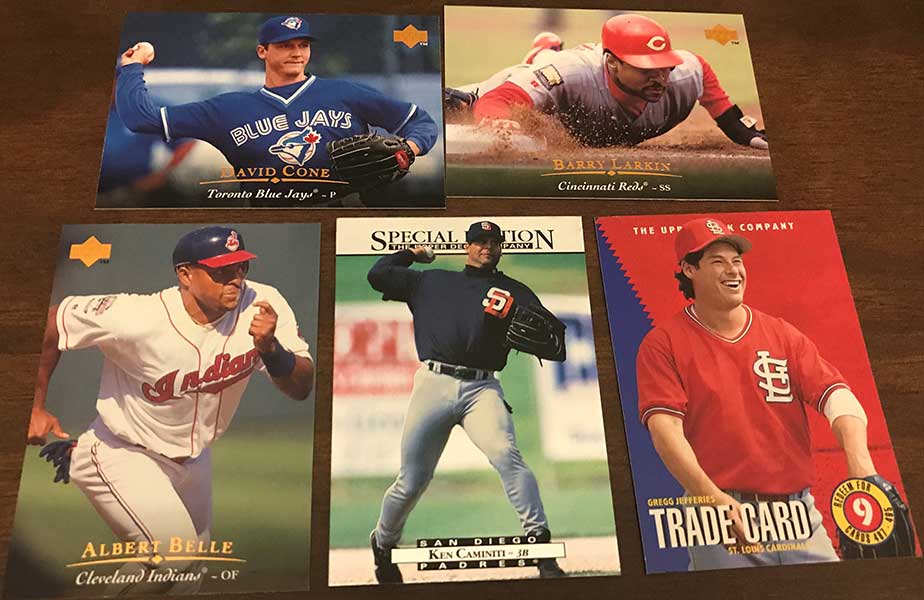 Now, Upper Deck says you could trade this card for nine new cards of the "hottest players on their new teams." The new teams part was 100 percent accurate. The hottest players part, not so much. This Jefferies card could've been traded in for Darren Lewis, Dave Burba, Ron Gant, Bret Saberhagen, Vinny Castilla, Frank Rodriguez, Andy Pettitte, Ruben Sierra and David Cone. Some decent names in there. That return was probably the best of the five trade cards available.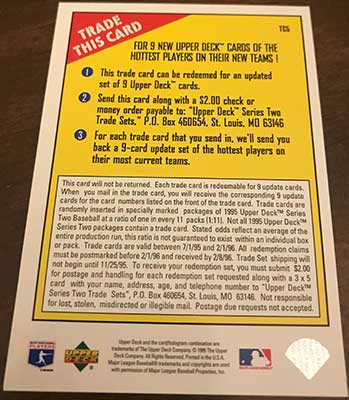 Pack 5:
Cal Ripken, Jr., Jeff Bagwell, Nolan Ryan & Jason Bates SE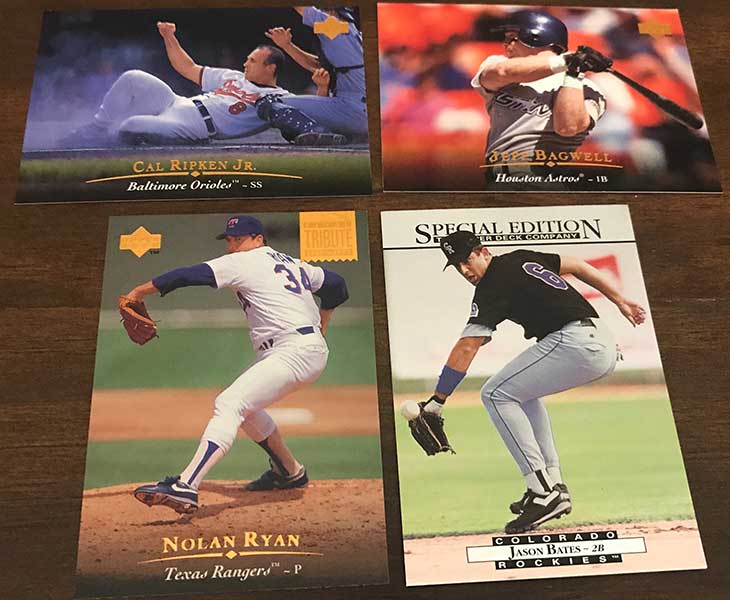 Pack 6:
Paul Molitor & Larry Walker SE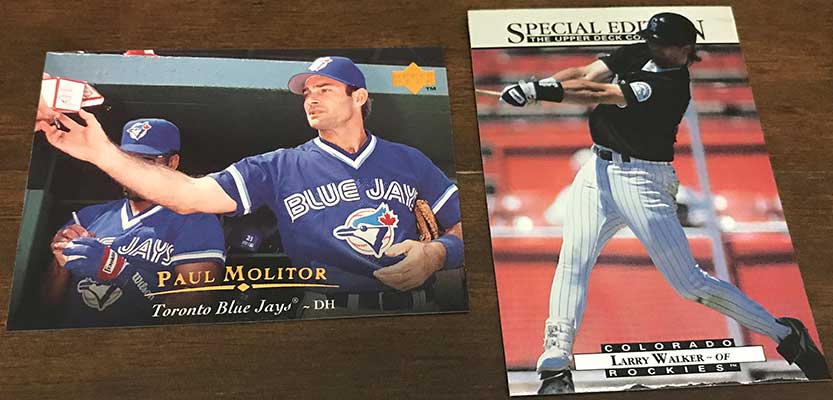 Pack 7:
Andre Dawson, Greg Vaughn, Sammy Sosa & Jimmy Key SE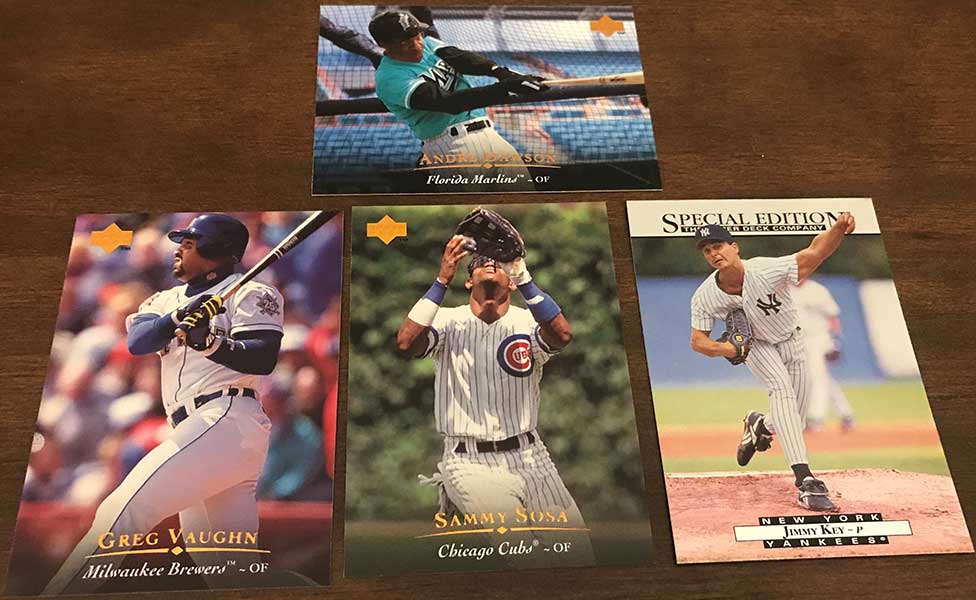 Pack 8:
Frank Thomas, Sammy Sosa, Greg Vaughn, Curt Schilling & Mike Schmdit SE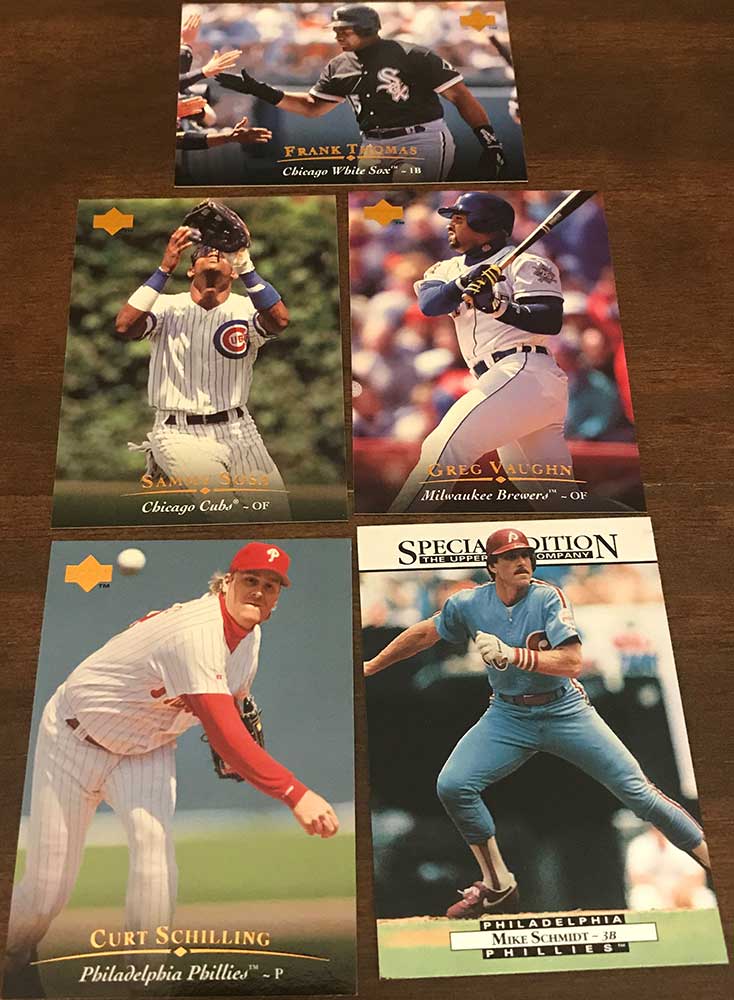 Pack 9:
Paul Molitor, Jim Abbott, Mike Schmidt & Matt Williams SE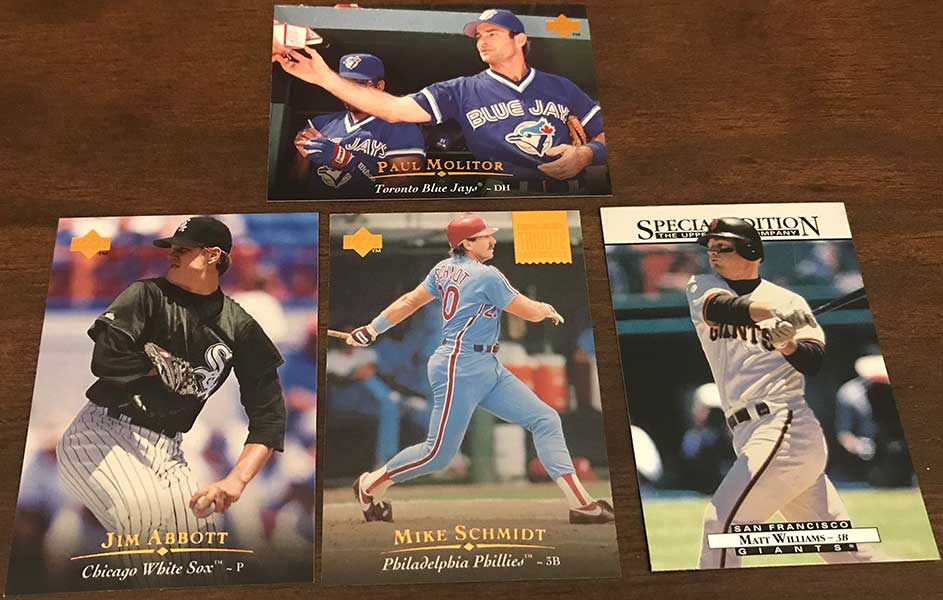 Pack 10:
Hideo Nomo SR RC, Will Clark, Carlos Baerga x2 & Rickey Henderson SE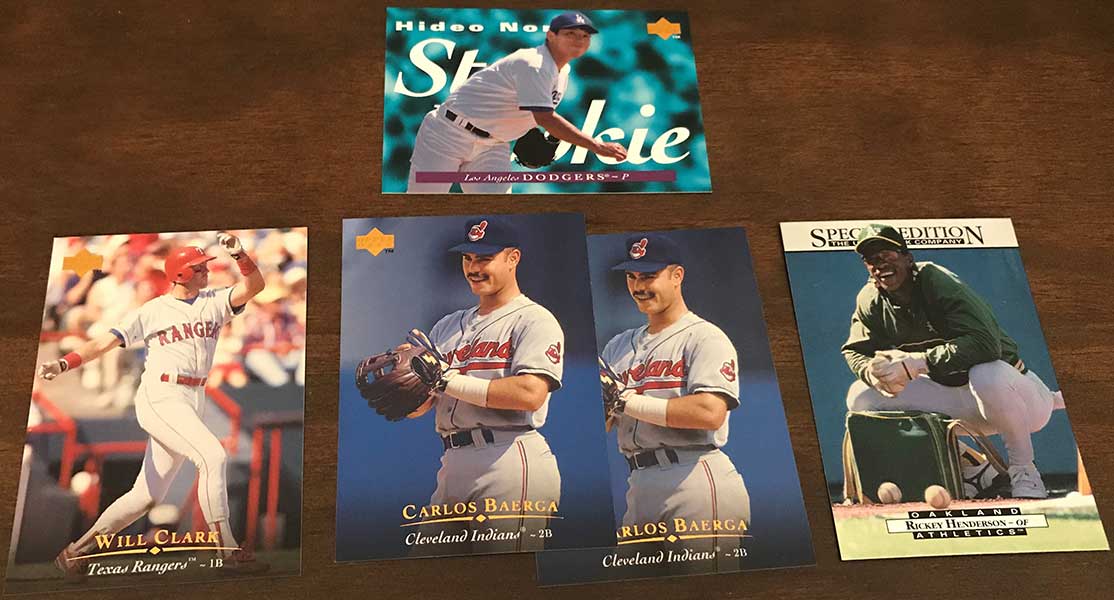 Pack 11:
Roger Cedeno SR, Ivan Rodriguez, dupe George Brett & Tom Glavine SE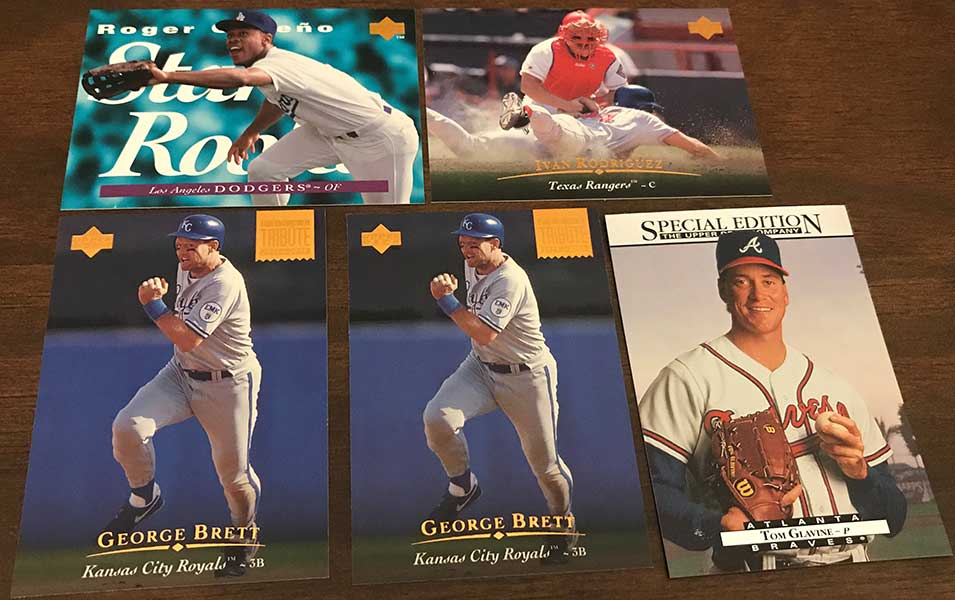 Pack 12:
Juan Gonzalez, Dante Bichette SE & Benito Santiago Trade (1:11 packs). The Santiago card could be traded for a pack of nine cards featuring Pendleton, Bonilla, Erickson, Kevin Brown, Dishman (who?), Plantier, Jefferies, Green & Slocumb.

Pack 13:
Brad Radke TP RC, Ryne Sandberg twice & Jose Canseco SE

Pack 14:
Tony Clark SR, Tim Salmon, David Justice, Barry Bonds, Mike Piazza (one of my favorite cards from the set) & Dennis Eckersley SE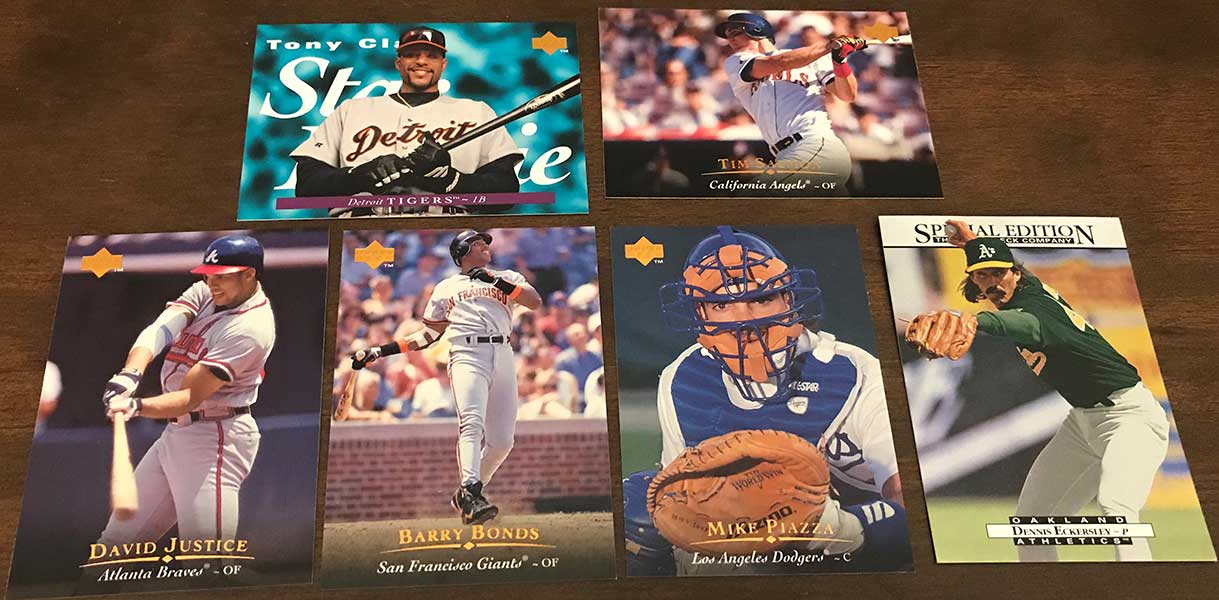 Pack 15:
Paul Molitor, Jose Valentin SE & Scott Cooper SE Gold (1:35 packs)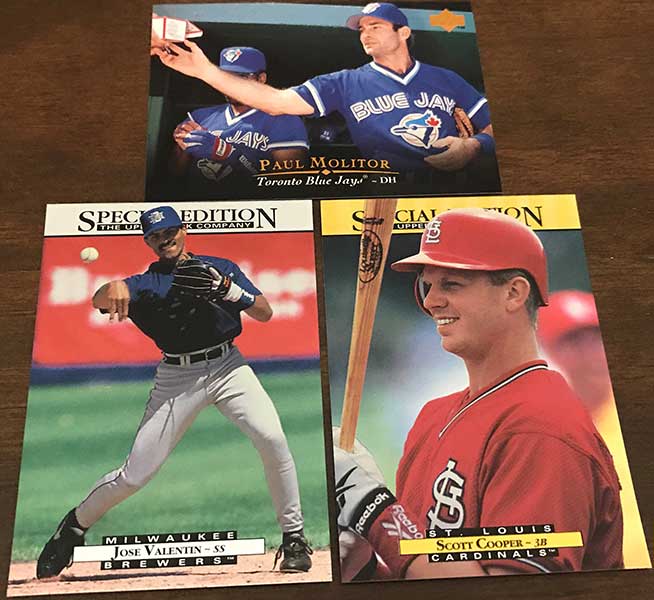 Pack 16:
Greg Vaughn, Wade Boggs & Danny Jackson SE

Pack 17:
Chipper Jones, Mike Greenwell, Sammy Sosa, Joe Girardi & J.R. Phillips SE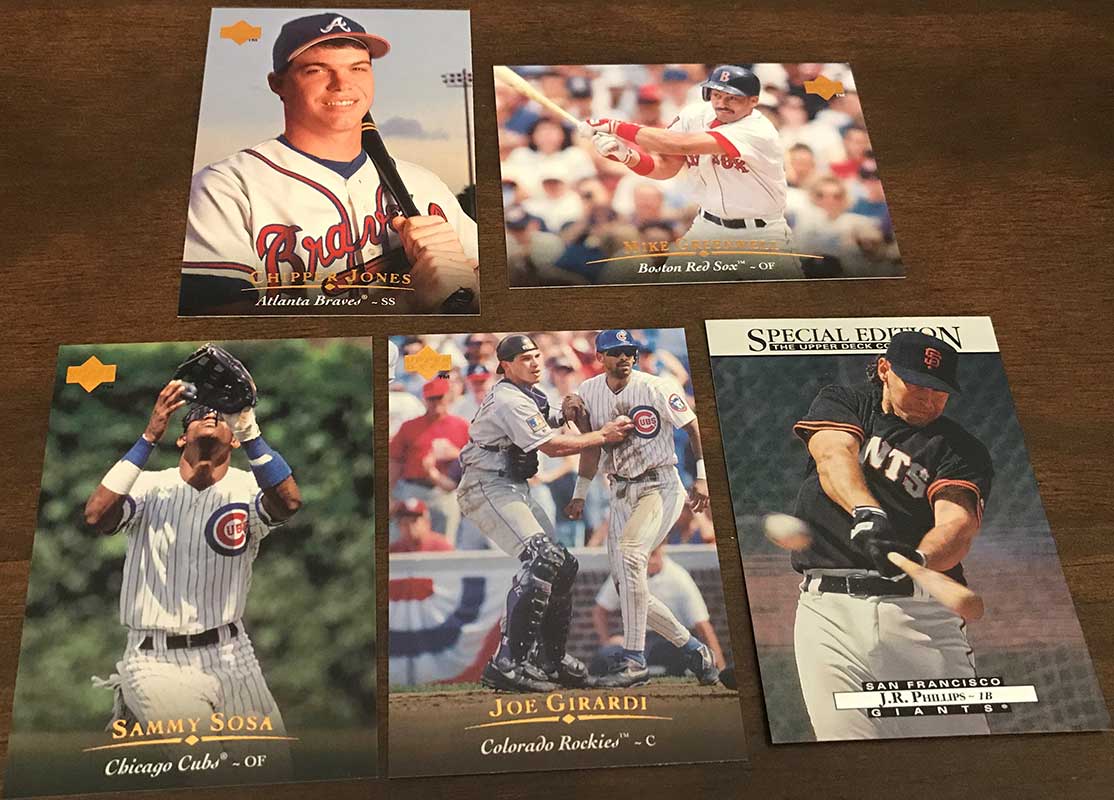 Pack 18:
Andres Galarraga, Mark Whiten SE & Quilvio Veras Predictor (1:30 packs). Unfortunately Veras didn't win the NL Rookie of the Year award. The winner that year? Hideo Nomo.
Pack 19:
Ken Caminiti, Pedro Martinez, Juan Gonzalez & Al Martin SE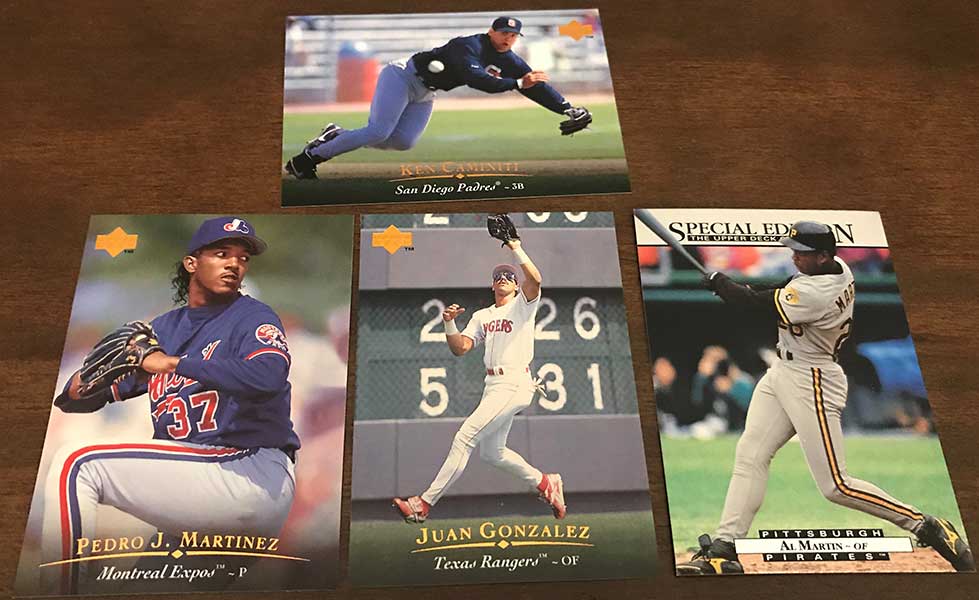 Pack 20:
Benito Santiago Trade (1:11 packs) & Quilvio Veras SE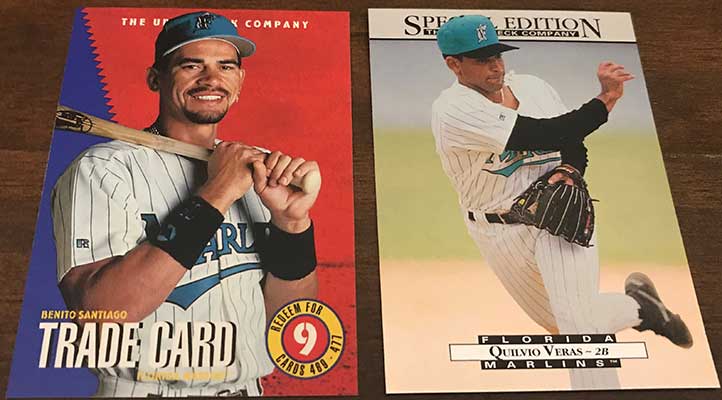 Pack 21:
Albert Belle & Cal Eldred SE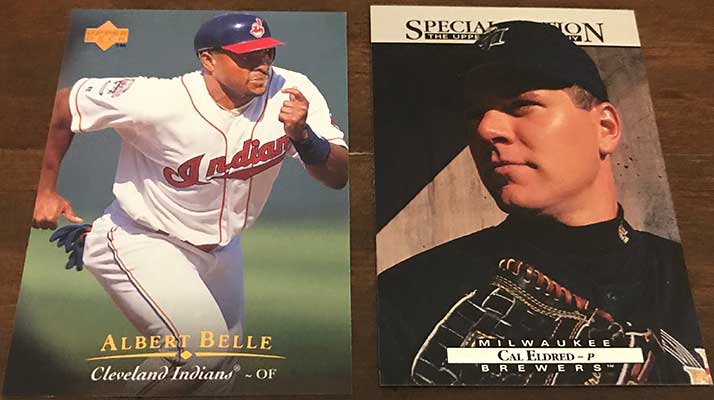 Pack 22:
Barry Larkin, Edgardo Alfonzo TP, Nolan Ryan & Scott Cooper SE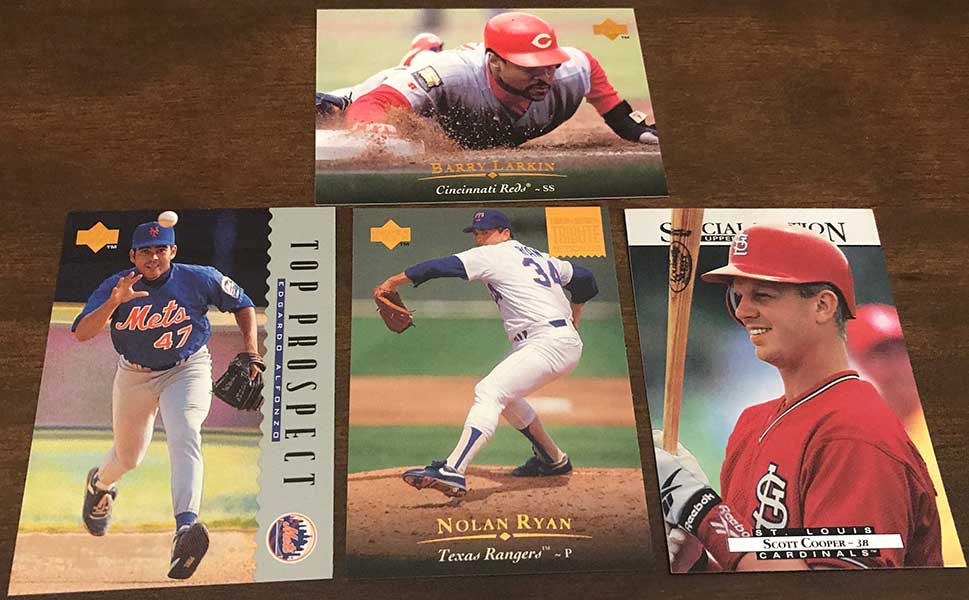 Pack 23:
Omar Vizquel, Rafael Palmeiro, Mike Piazza & Jeff Montgomery SE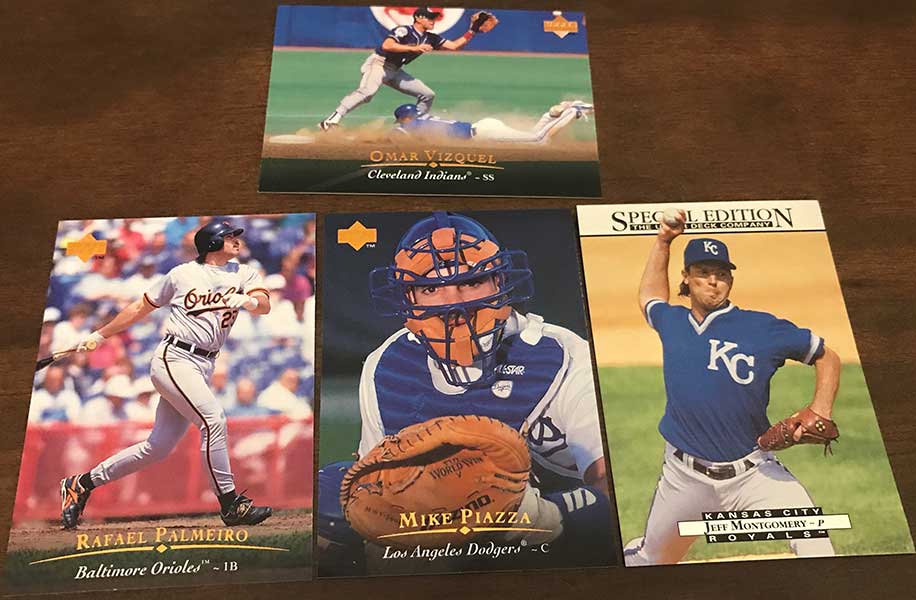 Pack 24:
Chipper Jones, Wade Boggs & Chili Davis SE

Pack 25:
John Smoltz, Pedro Martinez, Will Clark & Jeff Conine SE

Pack 26:
Ivan Rodriguez, Omar Vizquel, Rod Beck SE & Babe Ruth Baseball Heroes (1:34 packs)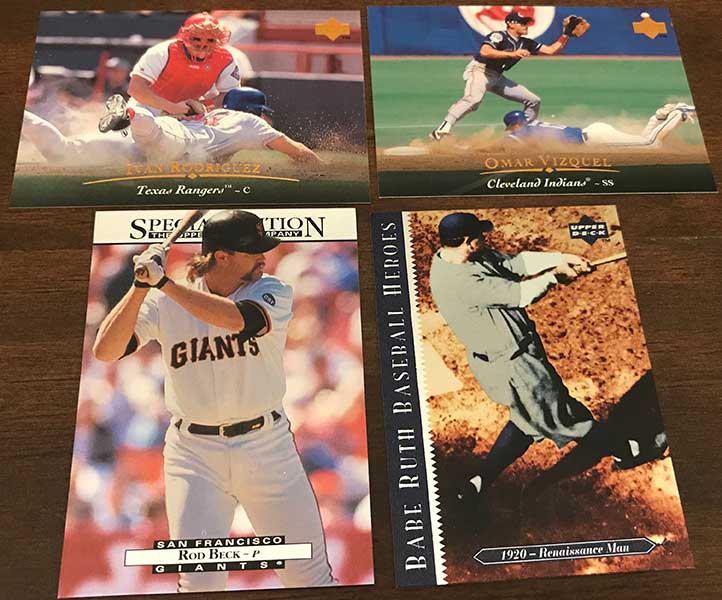 Pack 27:
Ken Caminiti, Andres Galarraga & Joey Hamilton SE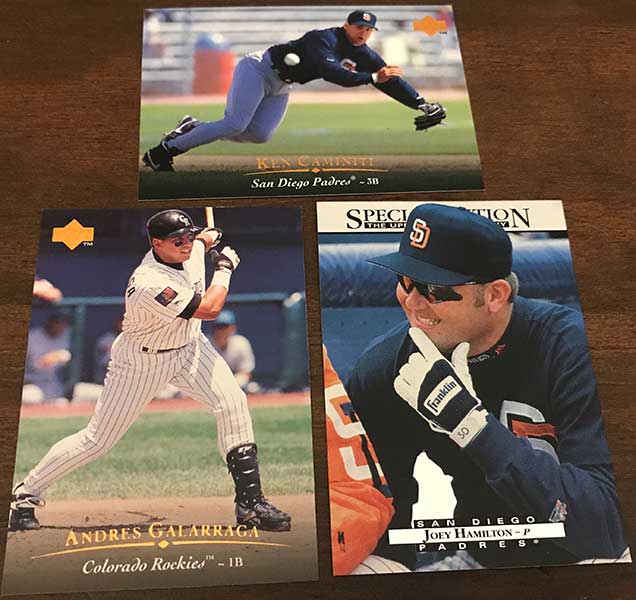 Pack 28:
Fernando Valenzuela, Chipper Jones, Gary Sheffield, Cecil Fielder, Orel Hershiser Trade (1:11 packs) & Lee Smith SE. The highlight of the Hershiser trade would've been Jim Abbott.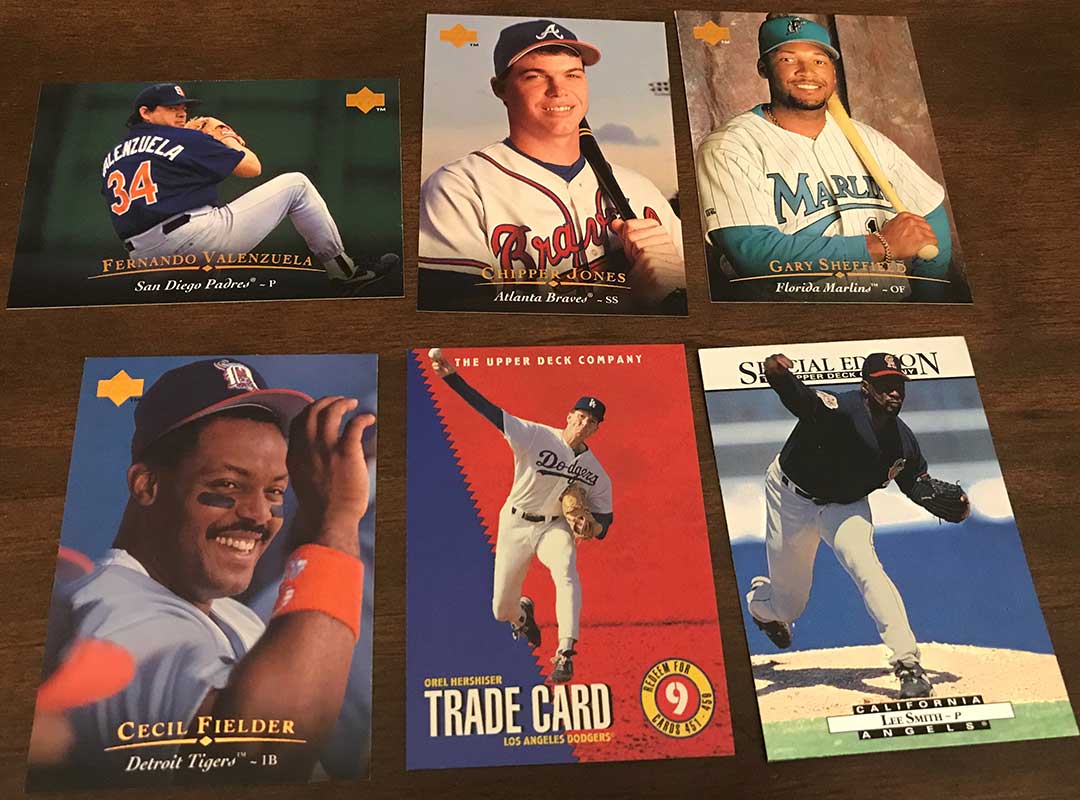 Pack 29:
Omar Vizquel & Harold Baines SE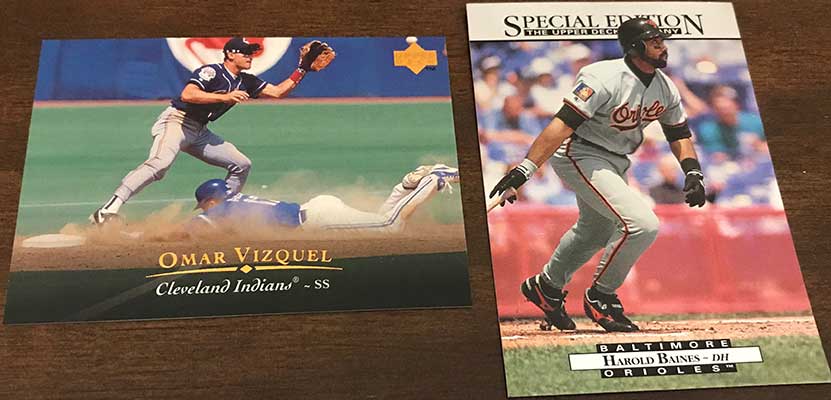 Pack 30:
John Smoltz, Kirby Puckett & Terry Pendleton SE

Pack 31:
Barry Larkin, Pat Mahomes (maybe you've heard of his son, Super Bowl-winning quarterback Patrick Mahomes?) & Moises Alou SE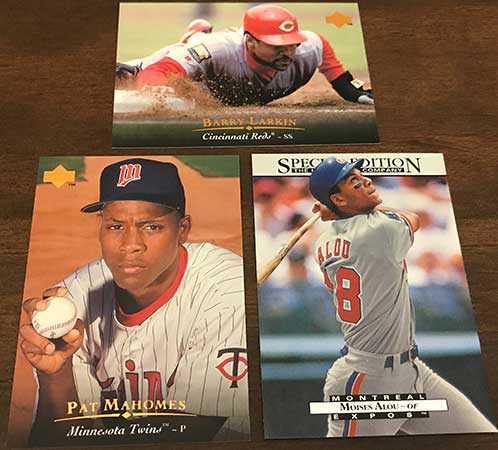 Pack 32:
Barry Bonds & Steve Finley SE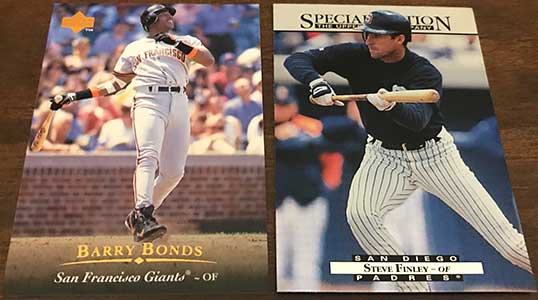 Pack 33:
Pedro J. Martinez (not to be confused with former Padres, Astros, Mets & Reds reliever Pedro Martinez), J.T. Snow SE & Babe Ruth Baseball Heroes (1:34 packs)

Pack 34:
Hideo Nomo SR RC, Frank Thomas & Javy Lopez SE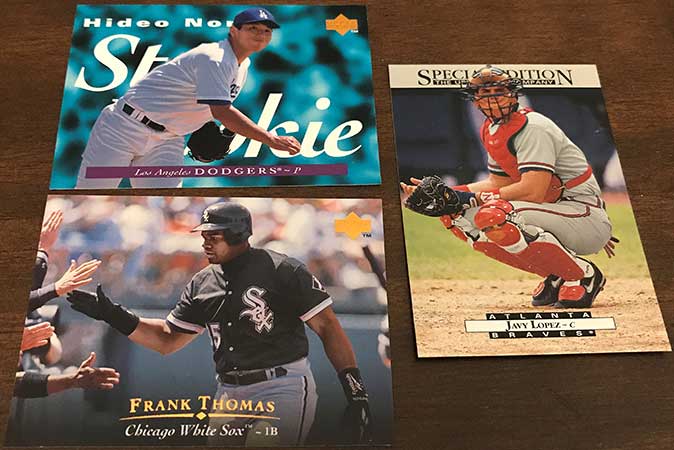 Pack 35:
Mike Greenwell & Mark McGwire SE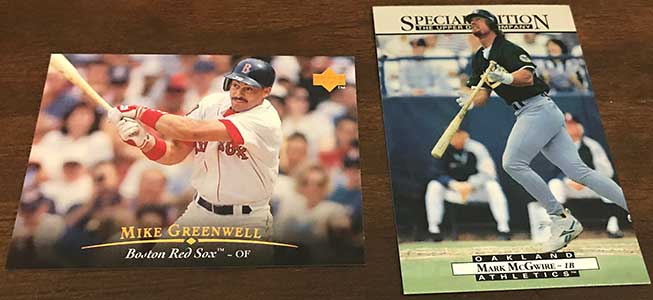 Pack 36:
Tim Salmon, Mike Schmidt & Chad Curtis SE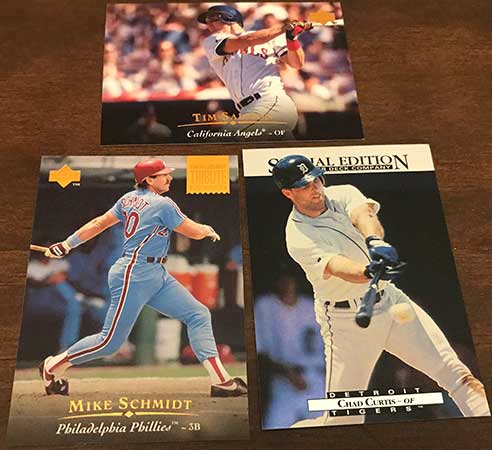 Lastly, the Big Hurt card back. And what a simple card back it is. Different picture (great choice, by the way) and Frank's career stats — I like it.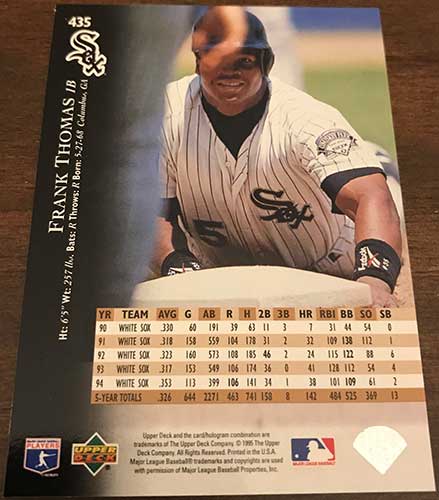 Unfortunately I didn't pull an autograph. Considering they were all redemption cards, maybe that is for the best.
The base set design was very familiar for me. Back in 1995 I didn't open any of this product, but did open some 1995-96 Upper Deck basketball. The two sets share the same exact design. I can still picture the Kevin Garnett Rookie Card in my head.
Not a bad break. I pulled a few of the Nomo Rookie Cards, which was probably a hot card when this product was released. The highlight of this box for me? Pulling two of the Babe Ruth Baseball Heroes inserts. At 1:34 pack odds, that is not easy to do. I am a sucker for the inclusion of legends into modern sets.
Shop for 1995 Upper Deck Baseball on:
Want more installments of Shane Salmonson's Cheap Wax Wednesday? Check out his other breaks in the archives.