Cheap Wax Wednesday Box Breaks: 2004 Upper Deck R-Class Baseball
The 2000s were wild times in baseball cards, especially for Upper Deck. They were willing to try just about anything and were releasing all kinds of new products. In 2004 alone, Upper Deck churned out 13 different full-release products. Some worked and stuck around for a few years while others did not. 2004 Upper Deck R-Class Baseball was one of the products that really didn't work, and it wasn't released again.
It was a retail exclusive product, and featured a 180-card base set. The set is split equally with 90 veterans and 90 rookies. Unfortunately, not all of the 90 rookies are considered actual Rookies Cards. This includes a few of the big names at the time like Joe Mauer, Bobby Crosby, Rickie Weeks, and Delmon Young. The biggest actual RC in the checklist was probably Kazuo Matsui.
There was only one insert set, Taking Over!, which was exclusive to blaster boxes. The only chase cards in full boxes were R-Class Jerseys (two per box) and First Class Autographs. While there are some big names in the autograph checklist like Barry Larkin, Ken Griffey, Jr. and Miguel Cabrera to name a few, they were extremely tough pulls. One autograph was found in every 120 boxes.
2004 Upper Deck R-Class Baseball Box Break
Cards per pack: 6
Packs per box: 24
Price paid: $20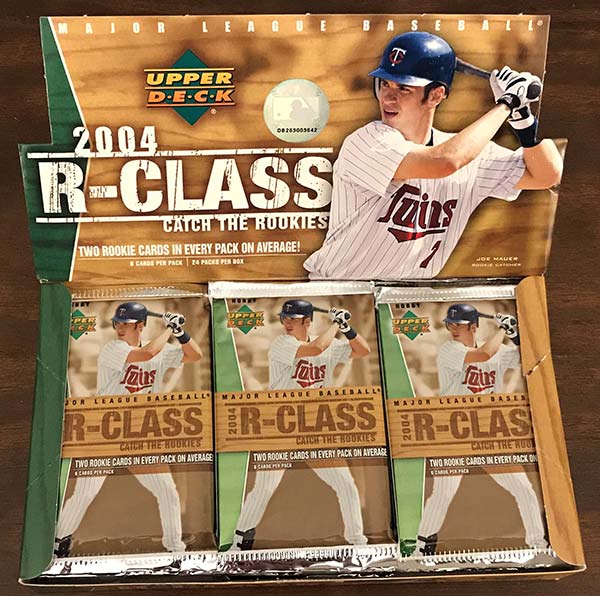 Pack 1 highlights:
Barry Zito & Manny Ramirez
Zito put up some impressive numbers as a rookie in 2000, going 7-4 with a 2.72 ERA. However, that was only good enough for a distant sixth place in the AL Rookie of the Year balloting.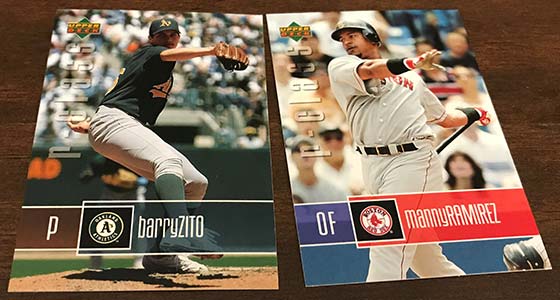 Pack 2:
Ivan Rodriguez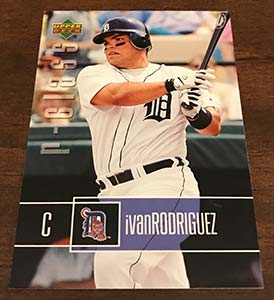 Pack 3:
Mark Prior & Eric Chavez
Prior was coming off the only all star appearance of his career in 2003. He would finish the season 18-6 with a 2.43 ERA. He also racked up 245 strikeouts.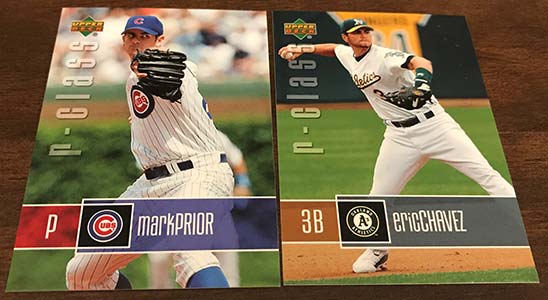 Pack 4:
Lance Berkman, Alfonso Soriano & Derek Jeter

Pack 5:
J.D. Drew, Orlando Cabrera, Sammy Sosa & Delmon Young
Delmon Young was the first overall pick of the 2003 MLB draft. He would make his debut in 2006, at just 20-years old. As a 21-year-old in 2007, he played all 162 games for Tampa Bay, finishing second in the AL Rookie of the Year voting. Dustin Pedroia won the award. 

Pack 6:
Jim Thome, Albert Pujols, Roy Halladay & Frank Thomas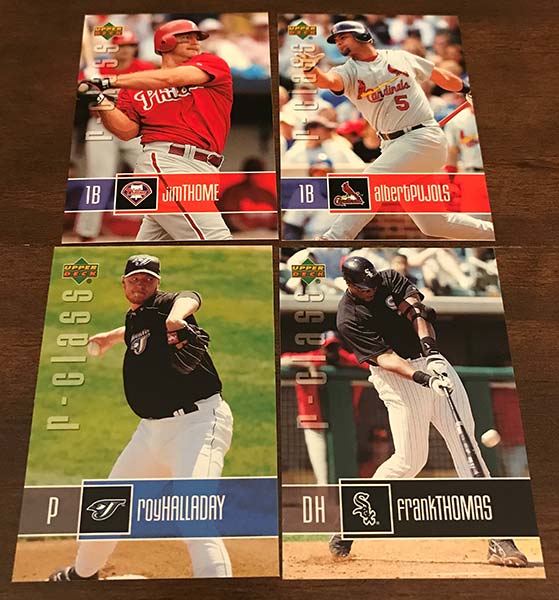 Pack 7:
Curt Schilling & Shawn Green
Both of these pictures appear to be from Spring Training, which is something I appreciate.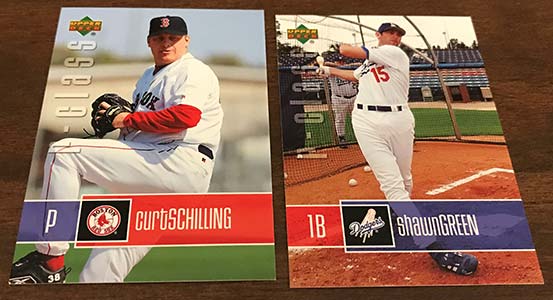 Pack 8:
Dontrelle Willis, Johan Santana, Jose Reyes, Jeff Bagwell & Chipper Jones R-Class Jersey (1:12 packs)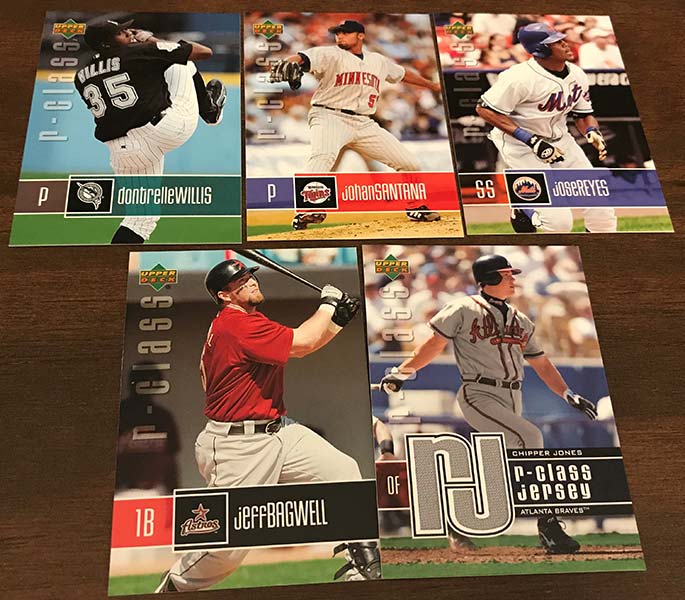 Pack 9:
Roy Oswalt & Jeff Kent
When was the last time the Astros wore these reddish jerseys? I kind of dig them.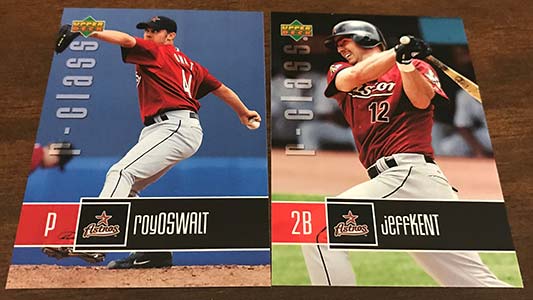 Pack 10:
C.C. Sabathia, Chipper Jones & Mark Teixeira

Pack 11:
Carlos Beltran, Greg Maddux & Mike Piazza
Piazza just played in the Mets Old Timers game at Citi Field. I saw some video of batting practice, and 53-year-old Piazza can still hit the ball out of the ballpark. 

Pack 12:
Pedro Martinez, Miguel Cabrera & Dontrelle Willis R-Class Jerseys (1:12 packs)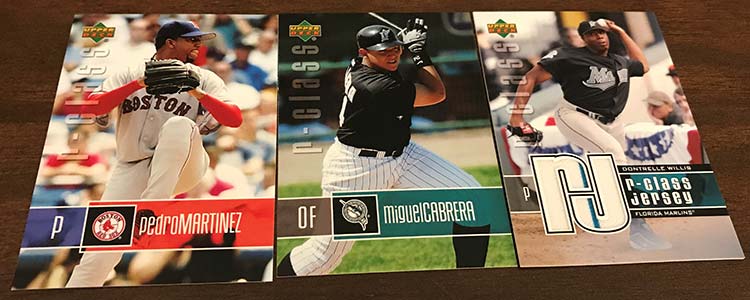 Pack 13:
Vladimir Guerrero & Todd Helton
I still think Helton gets into the Hall of Fame someday. I know he played his whole career in Colorado, but he stacked up some impressive numbers. Over 2,500 hits and a career .953 OPS. That OPS has him ranked 23rd all-time.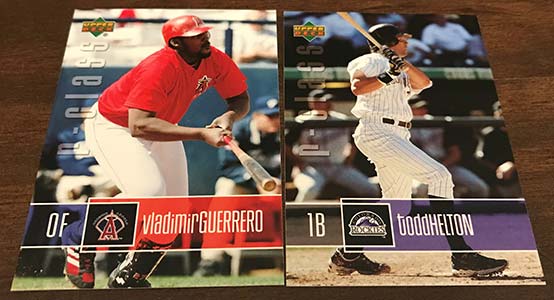 Pack 14:
Josh Beckett, Roger Clemens & Kazuo Matsui RC 

Pack 15:
Andy Pettitte, Ken Griffey, Jr. & Bobby Crosby
Bobby Crosby won the 2004 AL Rookie of the Year award. He did so while batting .239 with 22 HR and 64 RBI. 

Pack 16:
Pat Burrell, Hideo Nomo & Alex Rodriguez

Pack 17:
Tim Hudson, Bobby Abreu & Mike Lowell
Believe it or not, Bobby Abreu ranks 81st all-time in on base percentage. That puts him ahead of a long list of Hall of Famers including Honus Wagner and Rod Carew. 

Pack 18:
Gary Sheffield, Garret Anderson, Randy Johnson & Magglio Ordonez

Pack 19:
Hideki Matsui & Ichiro Suzuki
"Godzilla" Matsui played every single game his first three seasons in New York. His average season his first three years? .297 average with 23 HR and 110 RBI.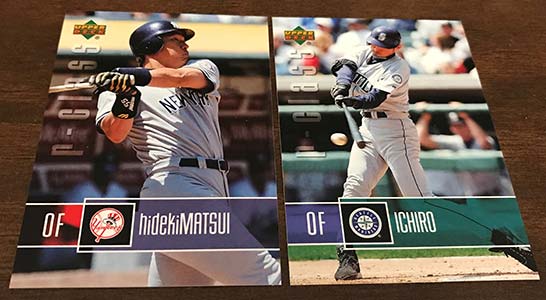 Pack 20:
Scott Rolen, Torii Hunter, Carlos Delgado & Adam Dunn

Pack 21:
Jim Edmonds & Jason Giambi
Edmonds won eight Gold Glove awards in nine seasons 1997-2005. The only time he didn't, 1999, he played just 55 games because of injury.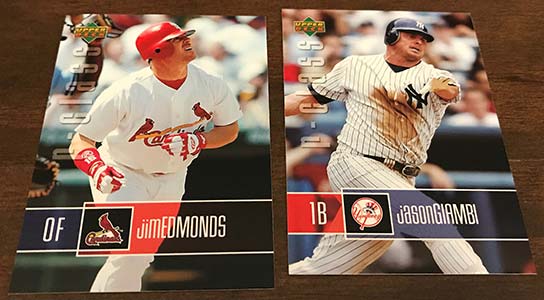 Pack 22:
Nomar Garciaparra, Rafael Palmeiro, Andruw Jones & Miguel Tejada

Pack 23:
Mike Mussina & Kerry Wood
Kerry Wood won the 1998 NL Rookie of the Year award. He went 13-6 with a 3.40 ERA while racking up 233 strikeouts in just 166 2/3 innings. Unfortunately, he would miss the whole 1999 season with an arm injury.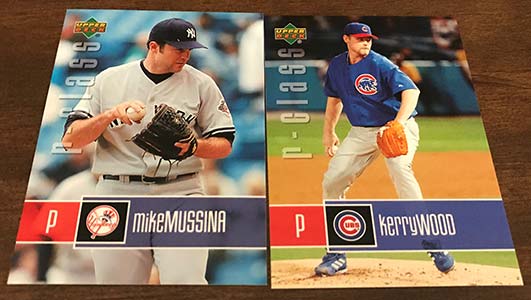 Pack 24:
C.C. Sabathia, Mark Teixeira, Jeff Kent & Joe Mauer

Lastly, the Ichiro card back. Ichiro was impressive right from the start, huh?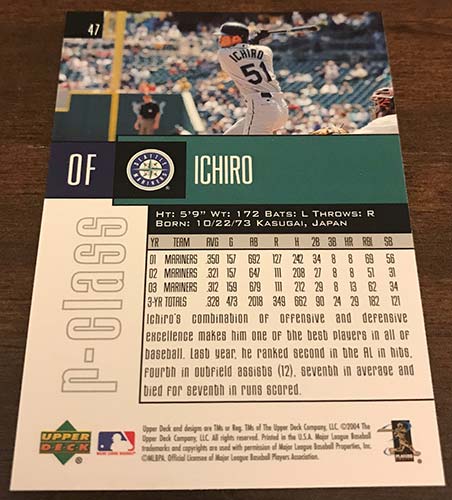 As you can see, there's not exactly a whole lot going on in this one. No parallels and no inserts aside from the R-Class Jerseys. I think a full set parallel could have gone a long way in this one.
I can certainly see why this product was one and done, and never released again. The weak 2004 rookie class certainly did not help. The only saving grace for this one was the very solid R-Class Jerseys checklist. I was lucky to pull a Hall of Famer in Chipper.
Shop for 2004 Upper Deck R-Class Baseball cards on:
Want more installments of Shane Salmonson's Cheap Wax Wednesday? Check out his other breaks in the archives.