Cheap Wax Wednesday Box Breaks: 2000 Team Best Rookies Extended Baseball
Minor League May has arrived! I look forward to featuring minor league products every May. Why do I enjoy these products so much? They are just different. Where else can you find cards of Josh Hamilton playing for the Hudson Valley Renegades? Or Brett Myers playing for the Piedmont Boll Weevils? It is fun to see notable players in their minor league duds.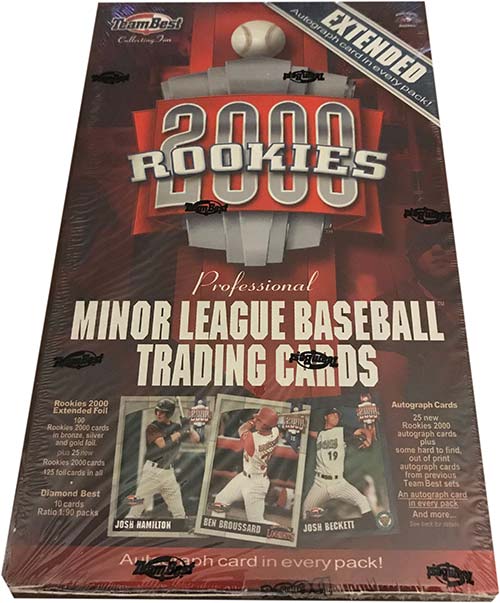 2000 Team Best Rookies Extended Baseball features a 250-card base set. There are also three foil parallel levels: Bronze, Silver and Gold.
The checklist has just one regular insert set, Diamond Best. These are tough, landing 1:90 packs. The Diamond Best checklist includes Josh Becket, Josh Hamilton and Jimmy Rollins.
This product was also loaded with autographs with one in every pack.
2000 Team Best Rookies Extended Baseball Box Break
Cards pack pack: 6
Packs per box: 12
Price paid: $11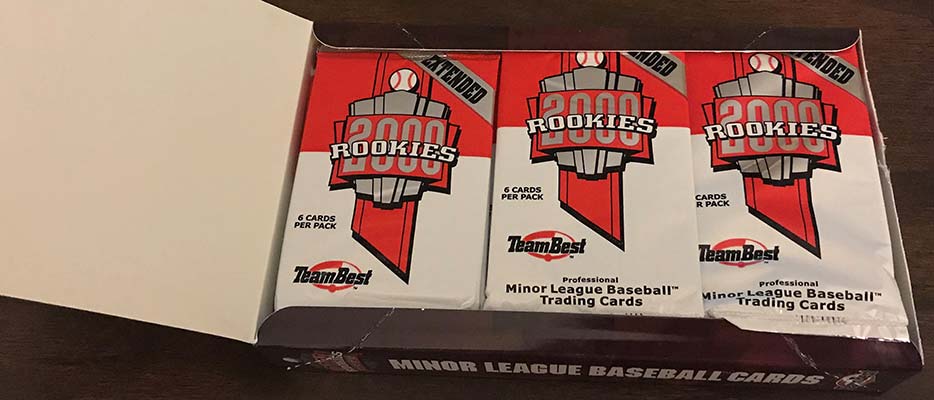 Pack 1 highlights:
Josh Hamilton, Brett Myers Silver & Nick Bierbrodt Autograph
How did Josh Hamilton fair in his first professional season? As an 18-year-old in 1999, Hamilton played in 72 games split between rookie ball and low-A, and hit ten home runs to go with 55 RBI and 18 stolen bases.

Pack 2:
Josh Beckett & B.J. Garbe Autograph
Josh Beckett dominated as a 20-year-old playing for the Kane County Cougars in 2000. He started 12 games and maintained a 2.12 ERA. He would be even better in 2001, starting 25 minor league games and boasting a 1.54 ERA. Beckett made his major league debut on September 4, 2001, allowing just one hit over six innings against the Cubs.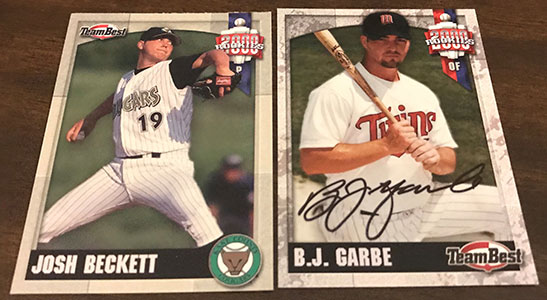 Pack 3:
Barry Zito & Jon Garland Autograph
Jon Garland was an All-Star once during his 13-year major league career. In 2005, Garland won 18 games and featured a 3.50 ERA.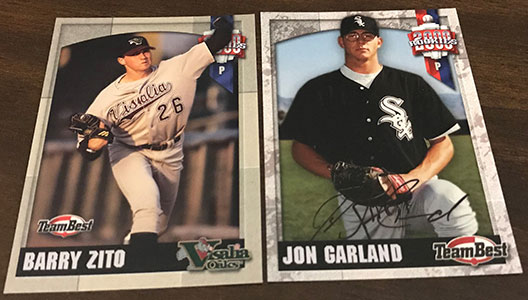 Pack 4:
Ben Sheets & Adam Everett Autograph
Ben Sheets was a solid major league pitcher, turning in a 3.78 ERA over a ten injury-riddled years. Sheets earned over $50 million during his playing career. Not too shabby.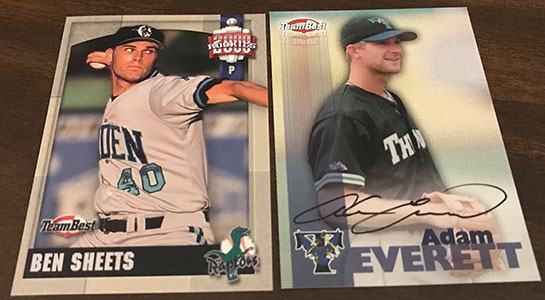 Pack 5:
2007 World Series champion and current Rays pitching coach, Kyle Snyder Silver & Shane Heams Autograph
Heams pitched at every level of the minor leagues but never made the majors. He finished his professional career with a 3.85 ERA over 321 games, nearly all out of the bullpen.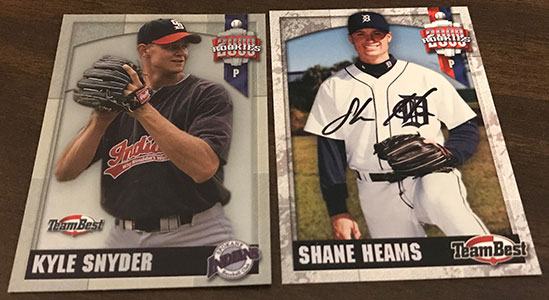 Pack 6:
Wily Mo Pena Bronze & Brad Wilkerson Autograph
Brad Wilkerson finished second to Jason Jennings in 2002 NL Rookie of the Year balloting. Playing primarily in the Montreal outfield, he hit .266 with 20 home runs and 59 RBI.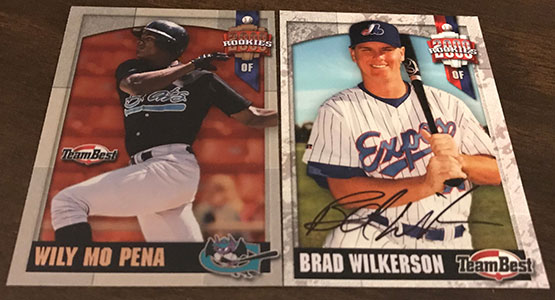 Pack 7:
Ben Broussard Gold & Junior Herndon Autograph
Herndon pitched in a total of 12 major league games, all in 2001, posting an unimpressive 6.33 ERA for the Padres.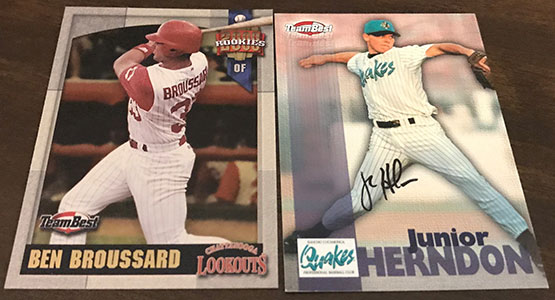 Pack 8:
Kyle Snyder Bronze & Roosevelt Brown Autograph
Brown was selected by the Braves in the 20th round of the 1993 draft. He was just 17-years old at the time. He would end up playing parts of four major league seasons with the Chicago Cubs. In 2000, he hit .352 in 45 games.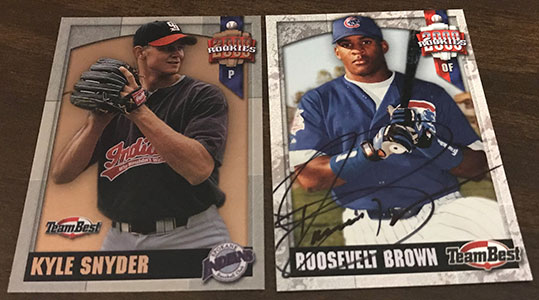 Pack 9:
Mike Maroth & Milton Bradley Autograph
Mike Maroth was part of the dreadful 2003 Detroit Tigers team that lost 119 games. The pitcher had a rough 2003 season, "leading" the league with 21 losses and 34 home runs allowed.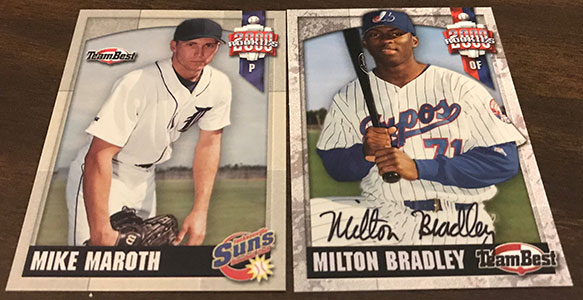 Pack 10:
Ryan Ludwick Bronze & Frank Catalanotto Autograph
Frank Catalanotto played for five major league teams over a 14-year career. He finished with a .291 career batting average and over 1,000 major league hits.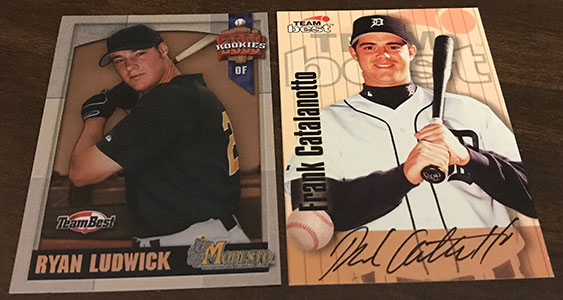 Pack 11:
Wily Mo Pena, John Lackey Bronze & Keith Ginter Autograph
Pena had a monster 2001 season playing in the minor leagues, hitting 26 home runs and driving in 113 runs as a 19-year-old.

Pack 12:
Ryan Ludwick & Danny Peoples Autograph
Peoples was drafted in the 59th round of the 1993 draft. He opted to go to college, instead. That turned out to be a smart move as he played himself into a first round pick in 1996. He hit 34 minor league home runs during the 1997 season. Peoples ended up playing six minor league seasons, never making the majors.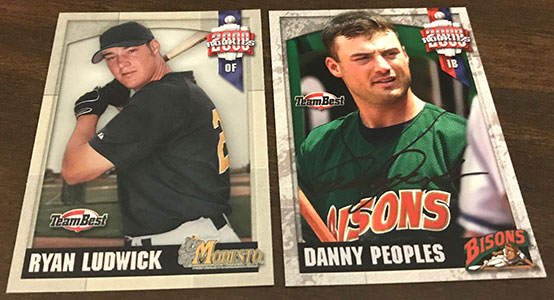 Lastly, the Barry Zito card back. Remember how good Zito was in the early 2000s?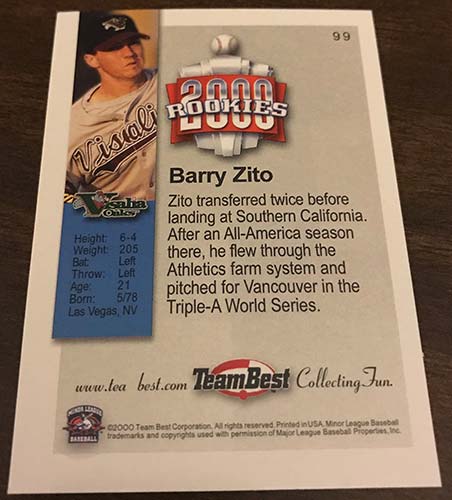 See what I mean about minor league products being fun? Where else can you find a box with twelve autographs under $20? And yes, these boxes can still be found for under $20. No, the autographs aren't going to all be big names, but there are some big names from the period mixed in like Josh Hamilton and Barry Zito.
There are a ton of similarly cheap Team Best products out there.
Check back next week for more minor league fun!
Buy 2000 Team Best Rookies cards on: