Cheap Wax Wednesday Box Breaks: 1995 Topps Series 2 Baseball
Baseball was in a tough spot in 1995. The strike started in August, 1994, ending the season without a World Series. If that wasn't bad enough, the 1995 season was delayed as well, with teams playing just 144 games (out of a regular 162). A lot of fans, and collectors, turned their backs on the sport, at least for a while.
Topps announced they were adjusting print runs for their 1995 flagship release, with production numbers way down compared to years past. In response to the strike, they also created a parallel card called CyberStats. These cards featured something Topps called Spectra Light foil, and the card backs show projected stats as if the 1994 season had been played in full. For instance, Fred McGriff had 34 home runs at the time of the strike in 1994. Topps projects that he would have hit another 12 long balls had the season been played to completion. If that were the case, McGriff would be sitting on 505 career home runs instead of 493. Kind of a big deal, right?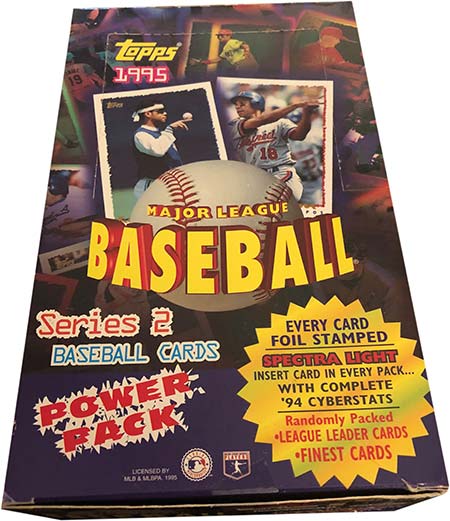 Anyways, we are getting off topic. Lets rip some packs!
1995 Topps Series 2 Baseball Box Break
Cards per pack: 13
Packs per box: 36
Price paid: $14

Pack 1 highlights:
Moises Alou, Cal Ripken, Jr., Bobby Bonilla & Joey Cora CyberStats (one per pack)
Alex Cora's brother, Joey, is currently the third base coach for the New York Mets.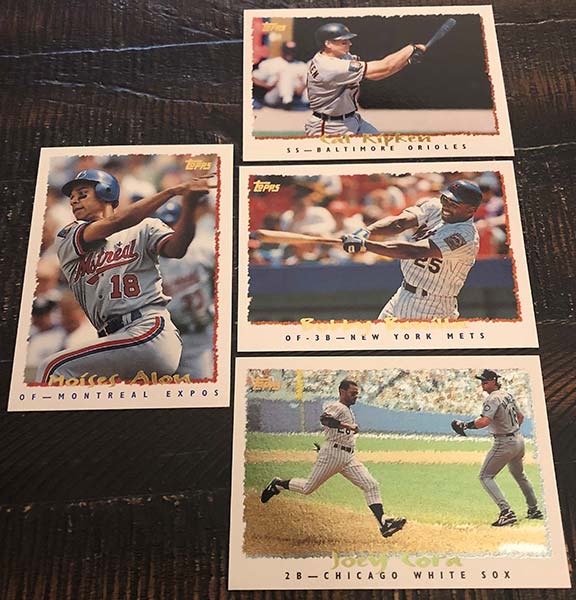 Pack 2:
Brett Butler, Bailey/Hatteberg, Mark McGwire, Jeff Bagwell Total Bases (1:36 packs), Bernie Williams & Jeff King CyberStats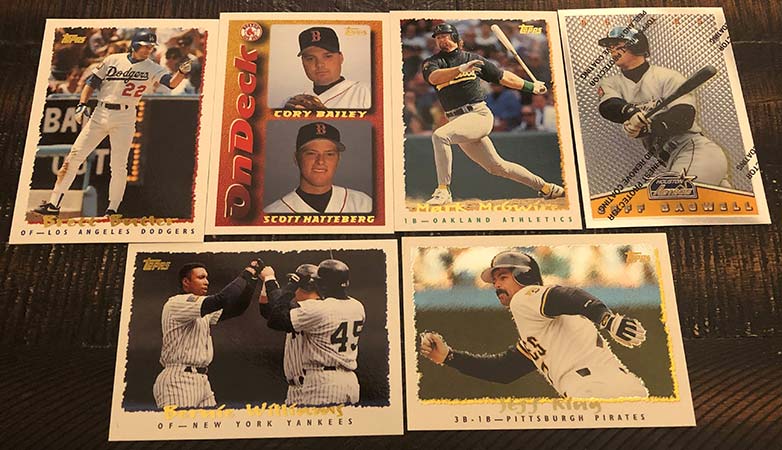 Pack 3:
Robin Ventura, David Wells, Perez/Kendall/Diaz/Hemphill, Kevin Brown, Bill Risley CyberStats & Chuck Knoblauch League Leaders (1:6 packs)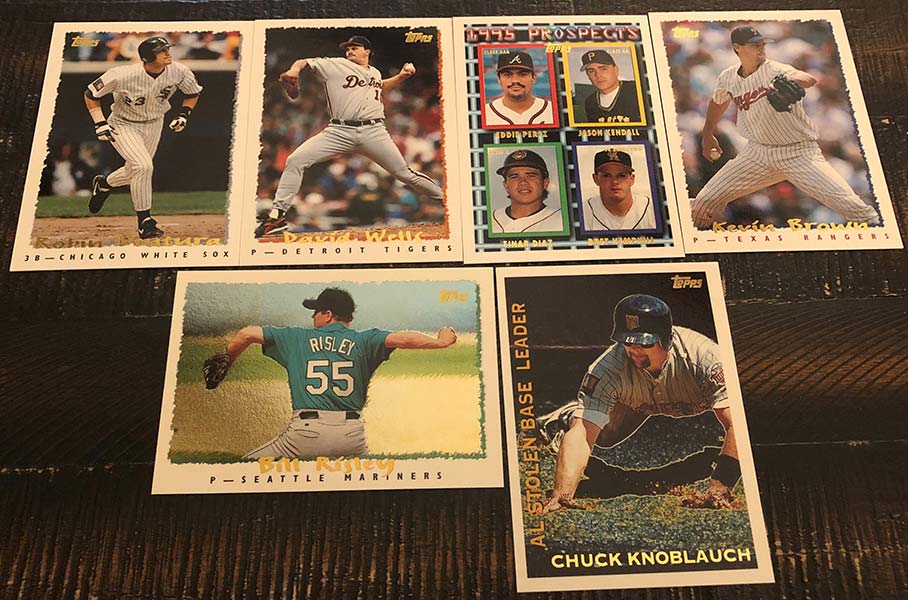 Pack 4:
Albert Belle, Chuck Finley, Holbert/Ordonez/Orie/Metcalfe & Rico Brogna CyberStats
The strike didn't affect Belle's hot bat at all. During the 1995 season, he led the AL with 121 runs, 52 doubles, 50 home runs, 126 RBI and a .690 slugging percentage. He somehow finished second in the MVP voting, barely getting edged out by Mo Vaughn.

Pack 5:
Mike Piazza, Bo Jackson & Carlos Delgado CyberStats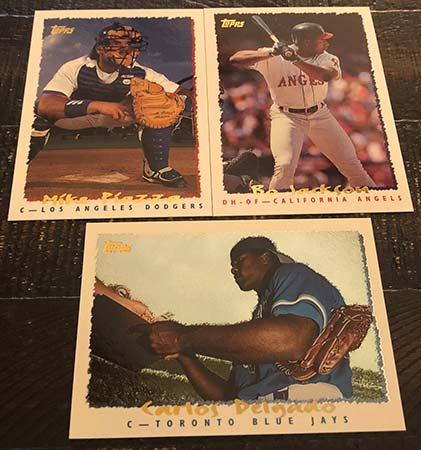 Pack 6:
Perez/Kendall/Diaz/Hemphill, Greg Vaughn & Larry Walker CyberStats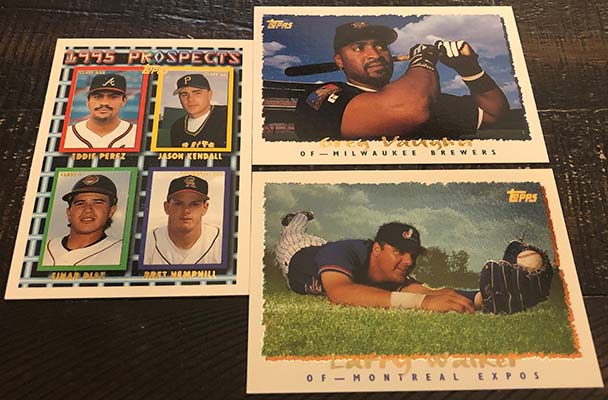 Pack 7:
Bernie Williams, Steve Finley, Andy Pettitte/Ruben Rivera & Mark Lemke CyberStats
Remember how guys used to wear their hats underneath their helmets? When was the last time you saw that?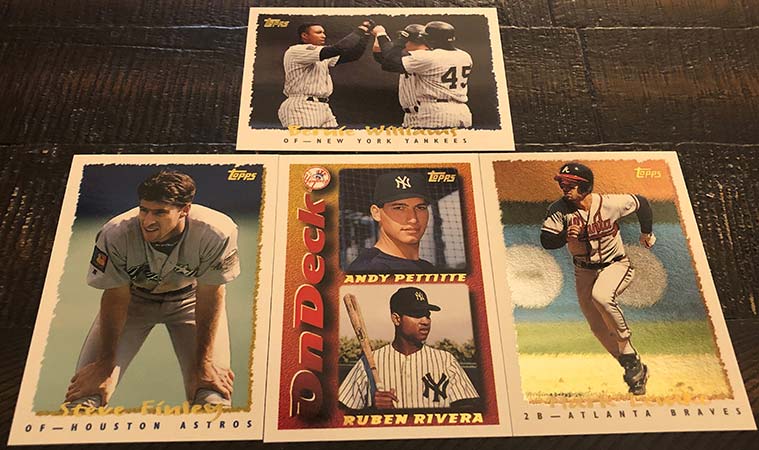 Pack 8:
Alan Trammell, Will Clark, Andres Galarraga & Darren Daulton CyberStats

Pack 9:
Kevin Brown, John Olerud, Pat Kelly CyberStats & Jeff Bagwell League Leaders (1:6 packs)

Pack 10:
Brady Anderson & Bernie Williams CyberStats
Brady Anderson hit a career high 50 home runs in 1996. His second best season? 24 in 1999.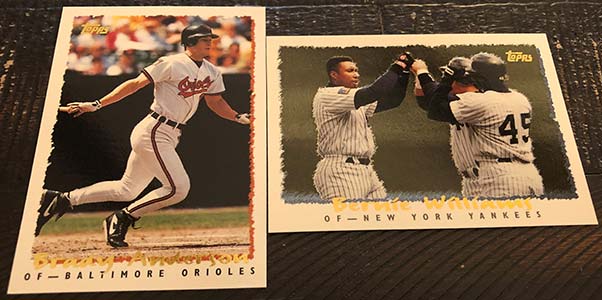 Pack 11:
Kirk Gibson, Nomar Garciaparra DP & Billy Brewer CyberStats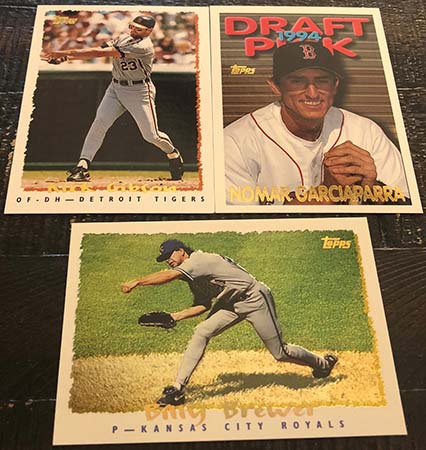 Pack 12:
Chipper Jones, Roberto Alomar, Carlos Baerga, Pedro Martinez & Eric Karros CyberStats
And the award for Pack With the Best Photography goes to…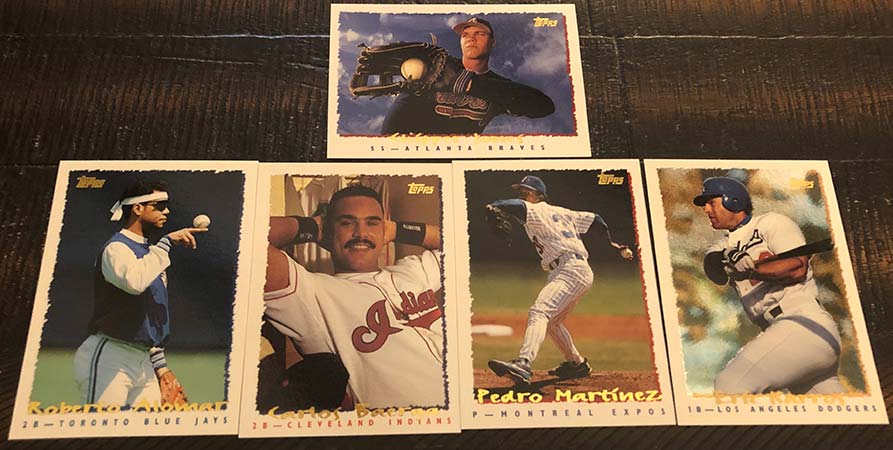 Pack 13:
Jimmy Key, Bo Jackson & Albie Lopez CyberStats
Bo Jackson didn't play another major league game after the 1994 season. That year he played in 75 games, mashing 13 home runs.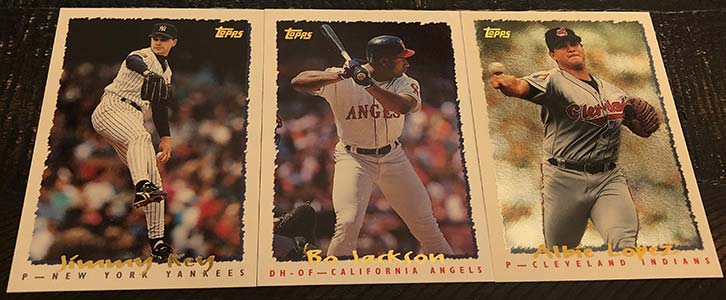 Pack 14:
Sandy Alomar, Jr., Tony Gwynn, Brett Butler & Jeff Bagwell CyberStats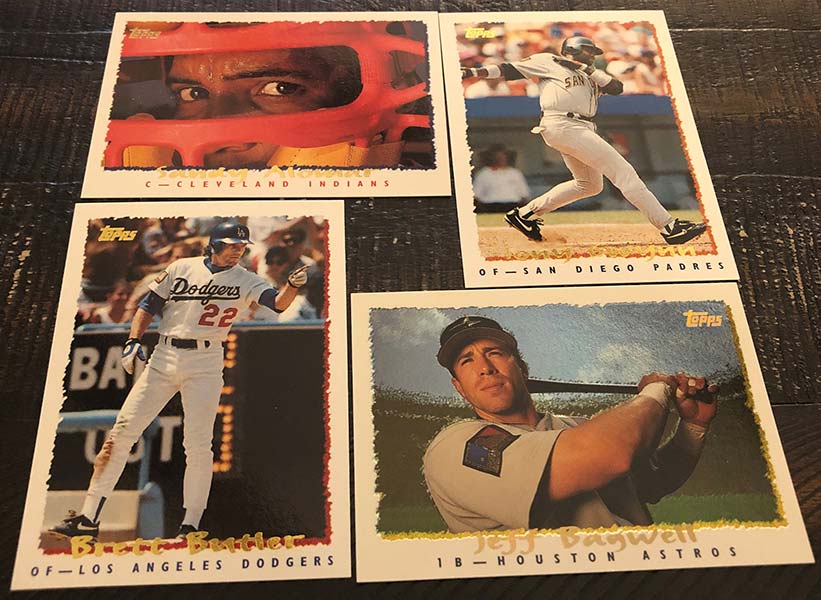 Pack 15:
Gary Sheffield, Ron Gant, Scott Livingstone CyberStats & Cecil Fielder League Leaders (1:6 packs)

Pack 16:
Bell/Chimelis/Diaz/Boone & Tom "Flash" Gordon CyberStats
Gordon recorded a career high 46 saves for the Red Sox in 1998.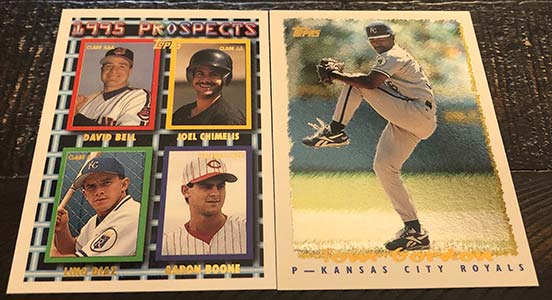 Pack 17:
Rockies teammates Andres Galarraga & Marvin Freeman CyberStats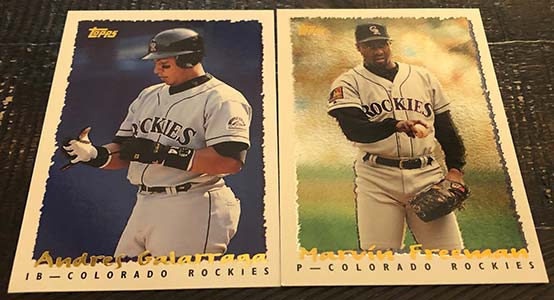 Pack 18:
Alan Trammell, Cal Ripken, Jr., Mike Piazza, Cedeno/Coomer, Ken Griffey, Jr. & Chuck Finley CyberStats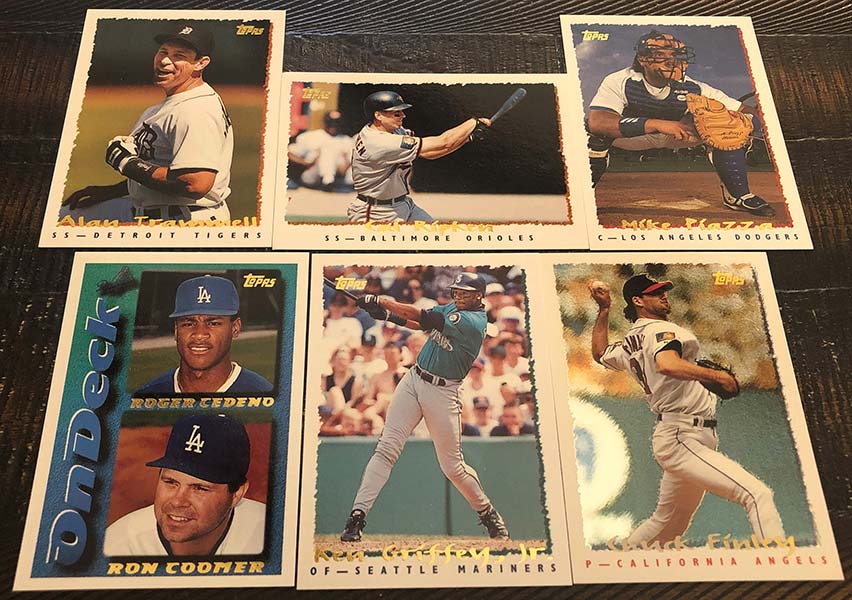 Pack 19:
Bobby Bonilla, Brady Anderson, Lee Smith & Jody Reed CyberStats
Speaking of saves, Lee Smith ranks third all-time with 478 saves, trailing only Mariano Rivera and Trevor Hoffman.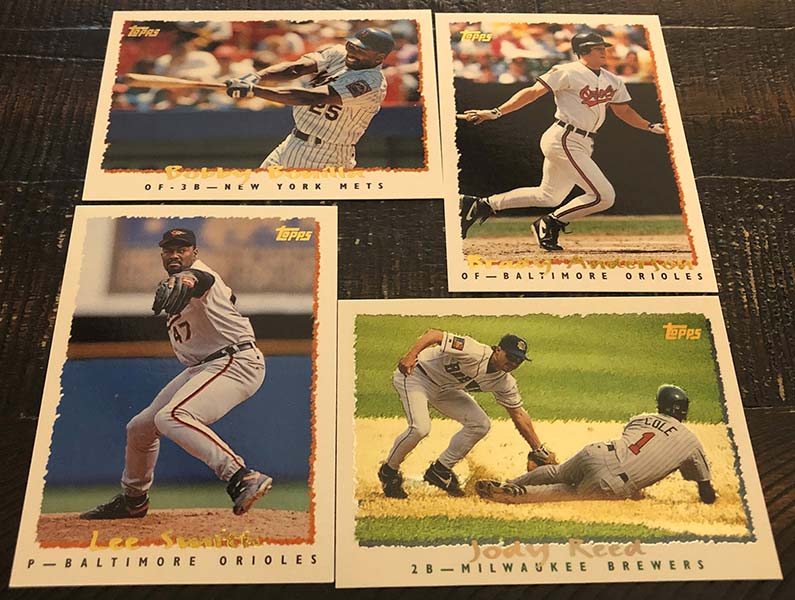 Pack 20:
Robin Ventura, Cliff Floyd, Pedro Martinez & Pete Schourek CyberStats

Pack 21:
Darryl Strawberry, Gregg Jefferies, Eric Karros, Tony Gwynn, Greg Colbrunn CyberStats & Marquis Grissom League Leaders (1:6 packs)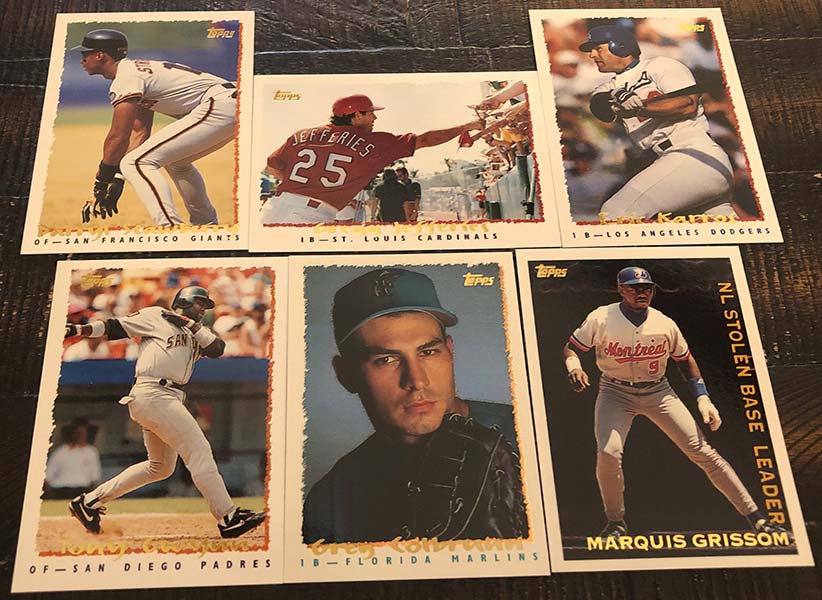 Pack 22:
Larry Walker, Jay Payton DP, Chuck Finley & Mike Piazza CyberStats
The Larry Walker card is one of my favorites from this set.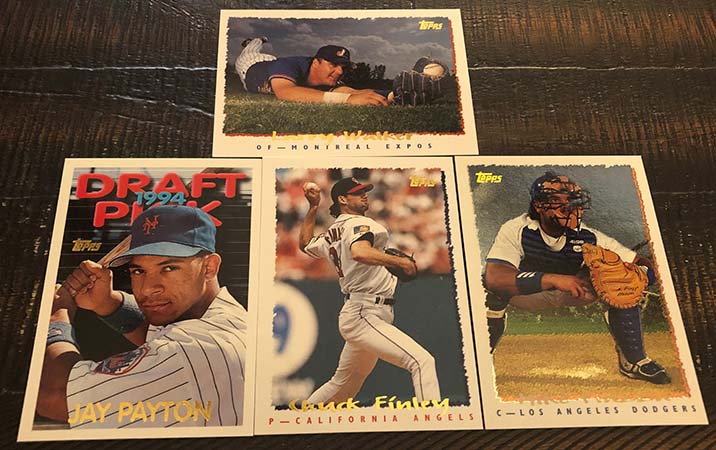 Pack 23:
Jeff Bagwell, Greene/Percival, David Justice & Bryan Eversgerd CyberStats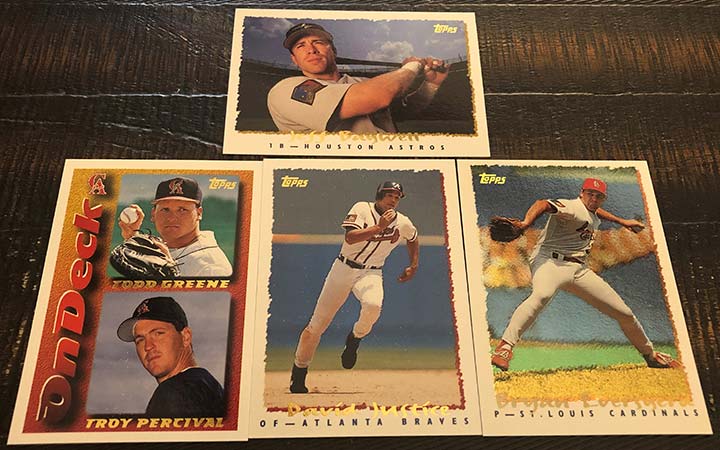 Pack 24:
Reggie Sanders, Timmons/Goodwin/Damon/Abbott, Isringhausen/Roberts & Mark McGwire CyberStats

Pack 25:
Alan Trammell, Rickey Henderson, David Wells & Cliff Floyd CyberStats
David Wells pitched for nine different teams, racking up 239 wins.

Pack 26:
Paul O'Neill, Albert Belle & Rich Monteleone CyberStats

Pack 27:
Ivan Rodriguez, Jack McDowell, Deion Sanders, Holbert/Ordonez/Orie/Metcalfe, Omar Daal CyberStats & Paul O'Neill League Leaders (1:6 packs)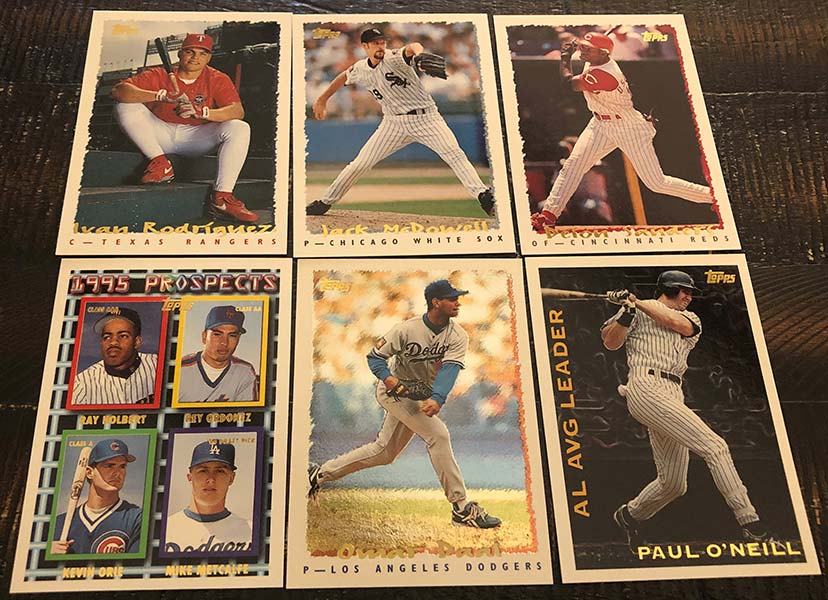 Pack 28:
Don Mattingly & Dave Fleming CyberStats
1995 would be Mattingly's final season. He finished the year batting .288 with seven home runs and 49 RBI.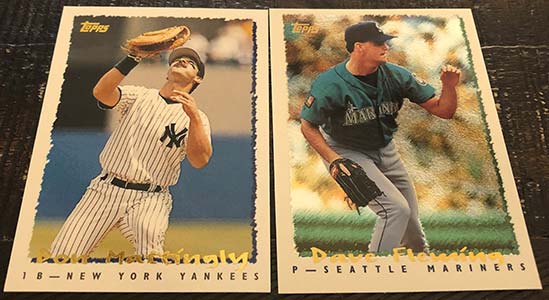 Pack 29:
Kirby Puckett & Alan Trammell CyberStats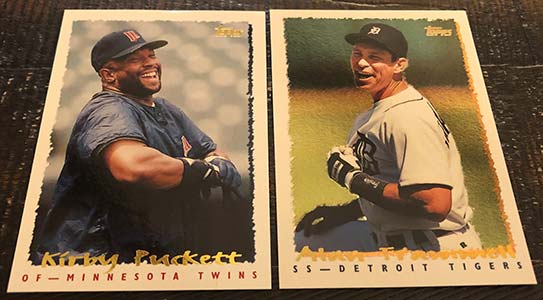 Pack 30:
Carlos Delgado, Perez/Kendall/Diaz/Hemphill, Pettitte/Rivera & Andujar Cedeno CyberStats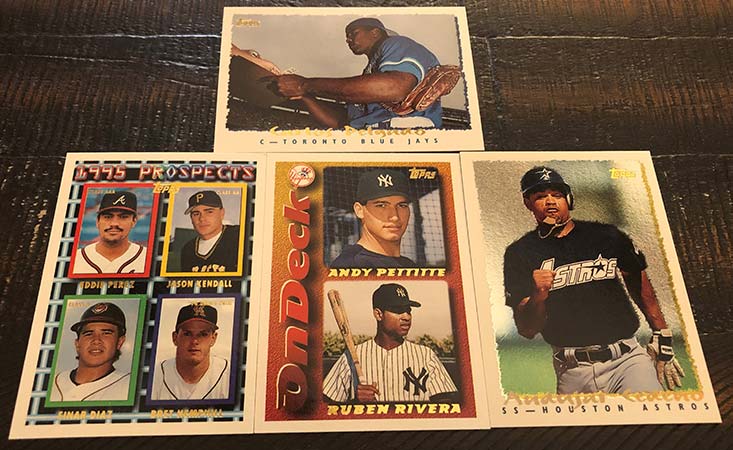 Pack 31:
Tony Gwynn, Moises Alou & Tony Eusebio CyberStats
Moises Alou finished his career with an impressive .303 batting average. Even more impressive? Over two partial seasons with the Mets to round out his career, he hit .342.

Pack 32:
Steve Avery, Mike Piazza & Willie Banks CyberStats

Pack 33:
Greg Vaughn, David Wells, Kurt Abbott CyberStats & Kenny Lofton League Leaders (1:6 packs)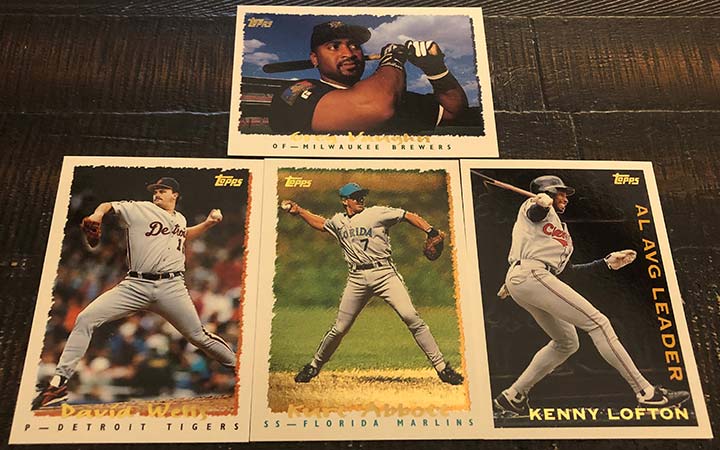 Pack 34:
Vinny Castilla, John Olerud, Albert Belle, Pettitte/Rivera & Jim Leyritz CyberStats
With almost no fanfare, John Olerud put together a very nice major league career. He finished with a .295 batting average, 2,239 hits, 500 doubles, 255 home runs, and a .398 career on base percentage.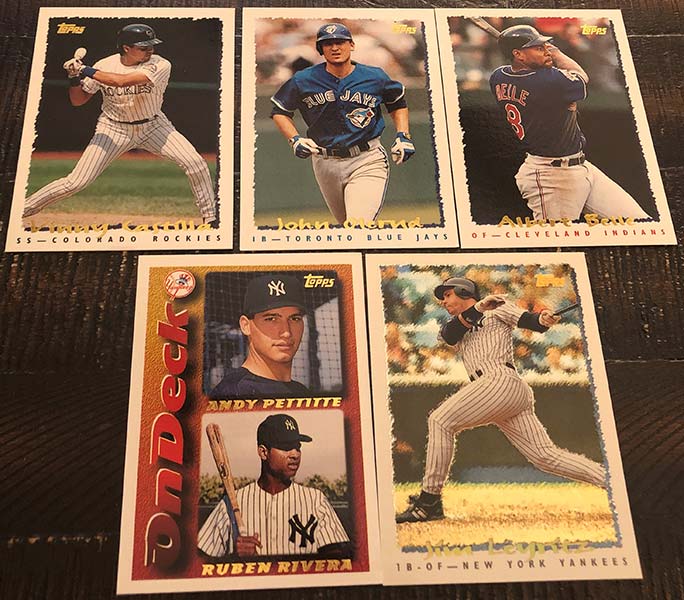 Pack 35:
Kirby Puckett, Isringhausen/Roberts & Lou Frazier CyberStats

Pack 36:
Robin Ventura, Shawn Green, Andres Galarraga & Pat Meares CyberStats

Lastly, the Kirby card back. Kirby didn't love to walk, but man could he hit.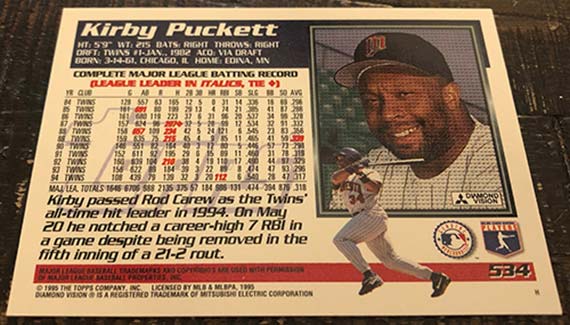 I do love the CyberStats cards, but it feels like this box was missing something. Today, Topps flagship sets feature a ton of inserts. This wasn't the case back in 1995. The one-per-box Total Bases cards, and the retail-exclusive League Leaders cards were it when it came to inserts.
We may not have noticed back in '95, but now that we have gotten used to finding a multitude of different inserts, it just seems odd.
Having said that, for the price I paid for this one (it came in a lot with a Series 1 box), there is no reason I wouldn't try 1995 Topps Series 2 again.
Shop for 1995 Topps Baseball on:
Want more installments of Shane Salmonson's Cheap Wax Wednesday? Check out his other breaks in the archives.