Cheap Wax Wednesday Box Breaks: 1991 Pinnacle Football
When you click on links to various merchants on this site, like eBay, and make a purchase, this can result in this site earning a commission.
By the mid-to-late '90s Pinnacle was known for their inserts and parallels. Once it got going, Dufex technology was an annual inclusion in Pinnacle sets, no matter the sport. In 1991, though, the Pinnacle brand was just getting started. Their debut football release contains no inserts at all.
1991 Pinnacle Football features a 415-card base set. And that's it. There are no inserts, which seems strange knowing what Pinnacle became. There are some subsets, however, and fun ones at that including Tech, Idols, Sidelines, Game Winner and Head to Head. A total of 74 different Rookie Cards are also found on the checklist.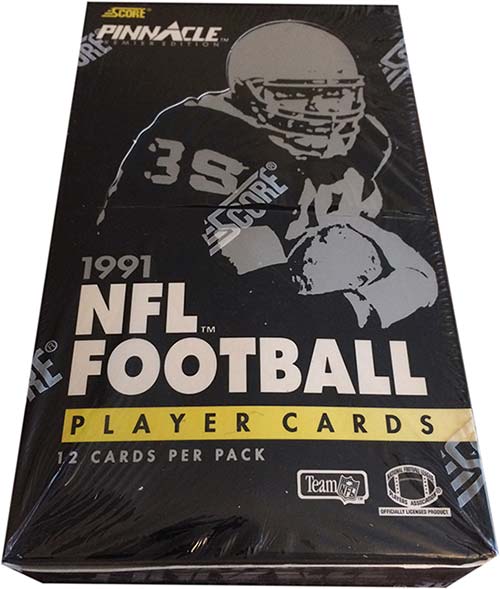 1991 Pinnacle Football Box Break
Cards per pack: 12
Packs per box: 36
Price paid: $10

Pack 1 highlights:
Phil Simms, Greg Lewis RC & Brian Noble Sideline
Noble was the host of his own television show, Hitting the Outdoors. On the show, Noble and a co-host talked about outdoor recreational sports, including his most-loved outdoor activities, hunting and fishing.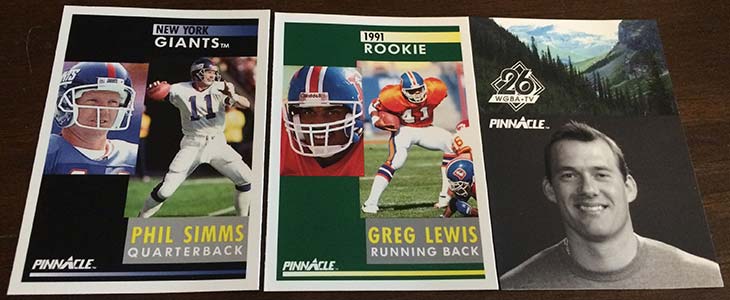 Pack 2:
Troy Aikman & Ted Washington RC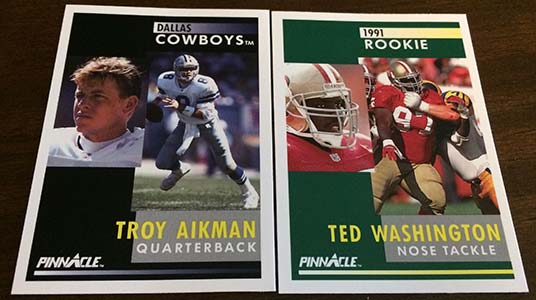 Pack 3:
William Perry & Cris Carter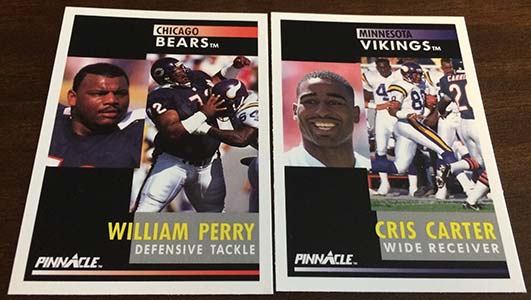 Pack 4:
Ottis Anderson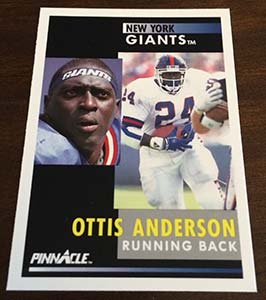 Pack 5:
Randall Cunningham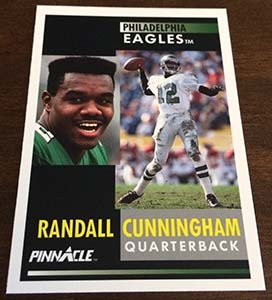 Pack 6:
Thurman Thomas, Jim Harbaugh, Ed McCaffrey RC & Esera Tuaolo
Tuaolo, in full uniform, sang the national anthem before one of his own games with the Packers.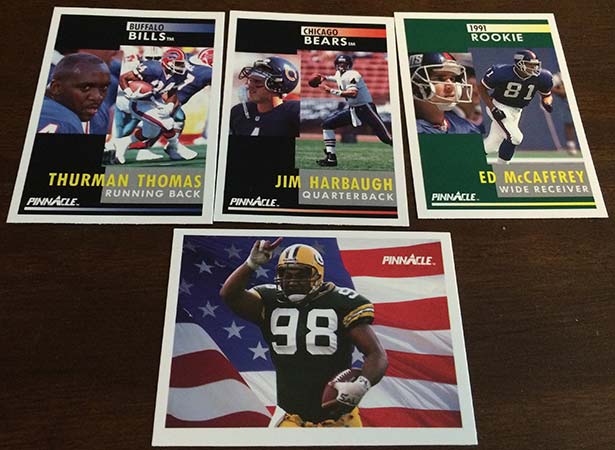 Pack 7:
Jerry Rice & Craig Heyward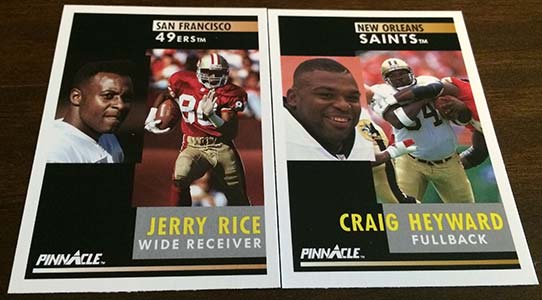 Pack 8:
A RC hot pack; Mike Pritchard RC, Derek Russell RC, Keith Traylor RC & Russell Maryland RC

Pack 9:
Michael "Playmaker" Irvin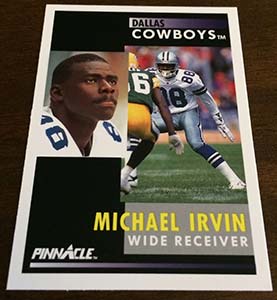 Pack 10:
William "Refrigerator" Perry & Kenny Walker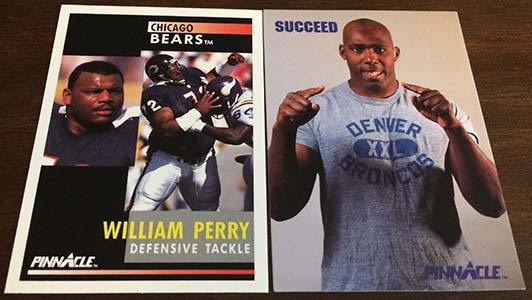 Pack 11:
Boomer Esiason, Ronnie Lott/Mark Carrier IDOL & Earnest Byner/Kevin Mack IDOL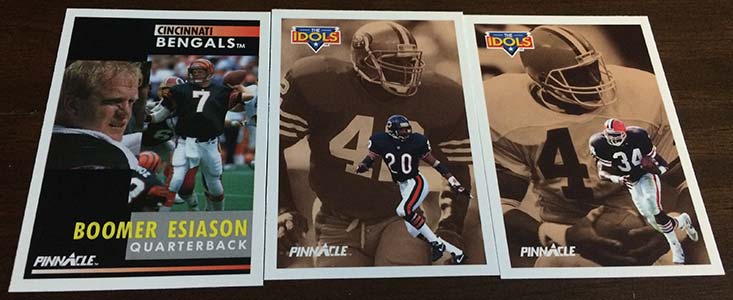 Pack 12:
Howie Long, Oscar Robertson/Steve Jordan IDOL & Ted Hendricks/Darryl Talley IDOL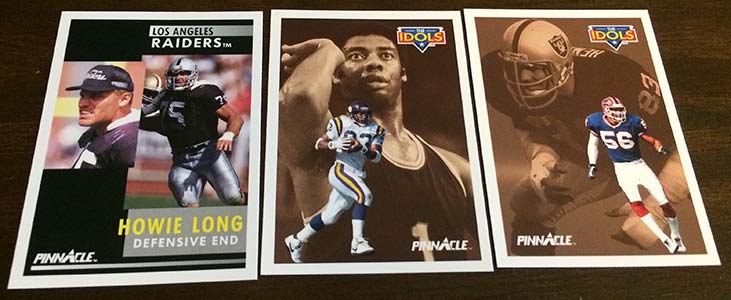 Pack 13:
Andre Rison & Emmitt Smith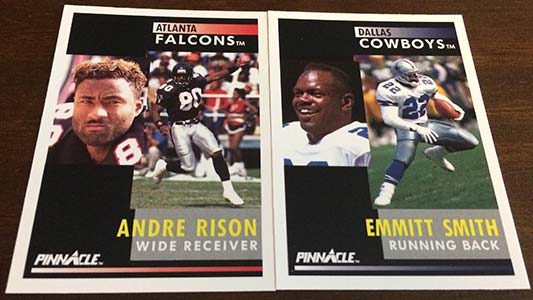 Pack 14:
Andre Reed, Barry Sanders, Art Monk SL, Roger Staubach/Troy Aikman IDOL & Bob Hayes/Henry Ellard IDOL
Art Monk was an avid fisherman, often competing in bass fishing tournaments during the offseason.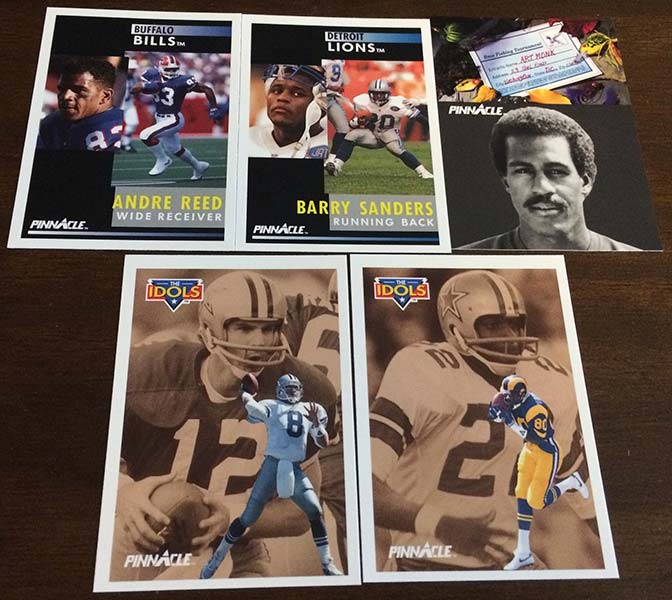 Pack 15:
Barry Sanders GW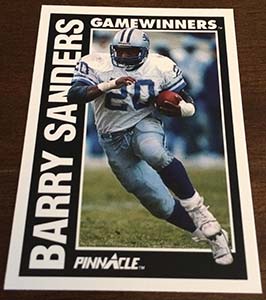 Pack 16:
Rod Woodson, Mike SIngletary, Wesley Walker/Al Toon IDOL & Ottis Anderson/Rodney Hampton IDOL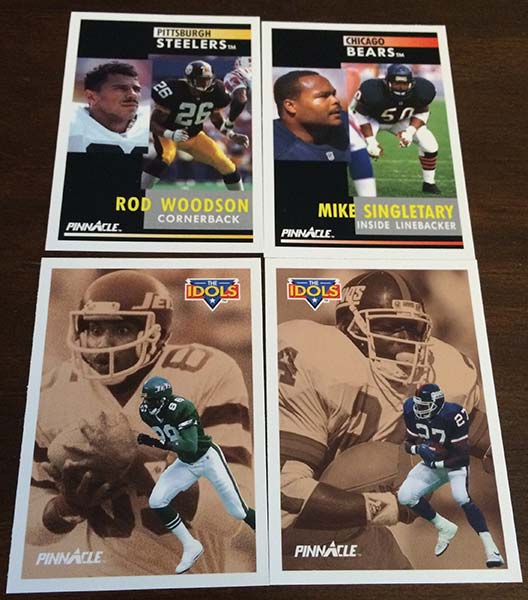 Pack 17:
Charles Haley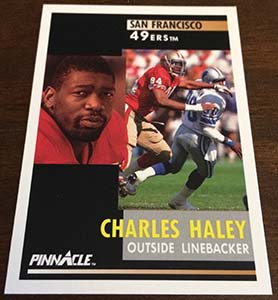 Pack 18:
Earl Campbell/Thurman Thomas IDOL & Charley Taylor/Ronnie Lott IDOL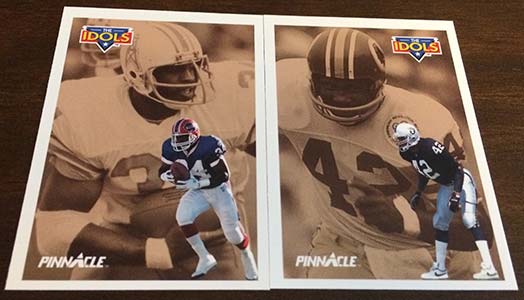 Pack 19:
Thurman Thomas GW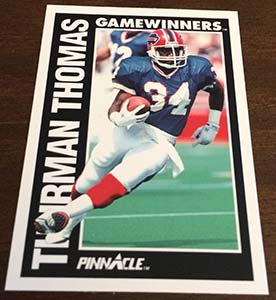 Pack 20:
Rod Woodson, Howie Long & Mike Singletary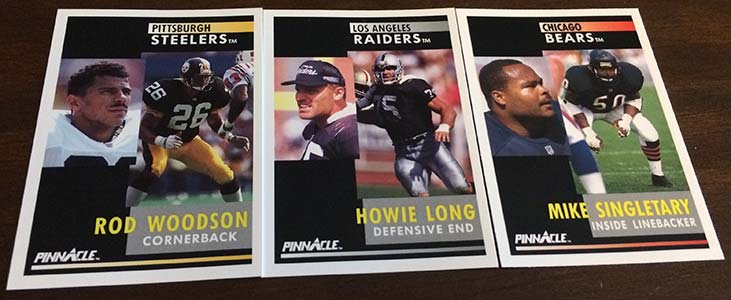 Pack 21:
Richard Tardits SL
Tardits, a Patriots linebacker, was also a member of the French bobsled team at the 1992 Winter Olympics.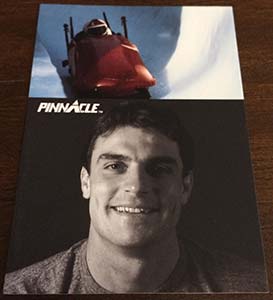 Pack 22:
Jerry Rice, Staubach/Aikman IDOL & Terry Bradshaw/Dan Marino IDOL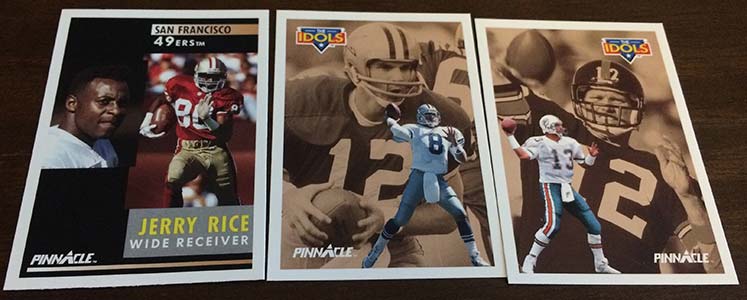 Pack 23:
Herschel Walker, Derrick Thomas, Jim McMahon & Marcus Allen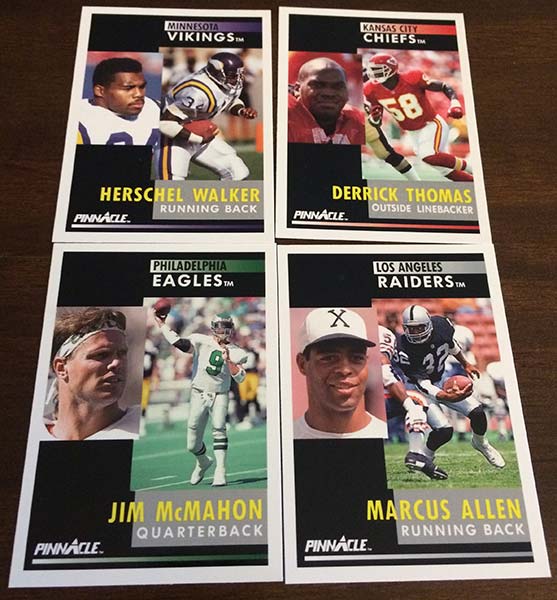 Pack 24:
Steve Young & Lawrence Taylor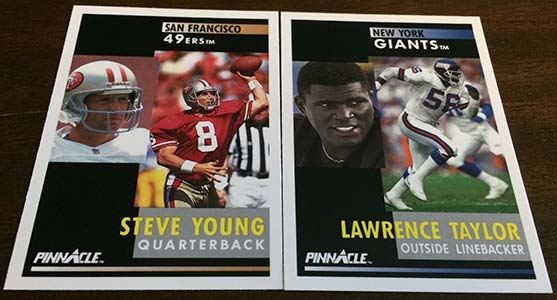 Pack 25:
Reggie White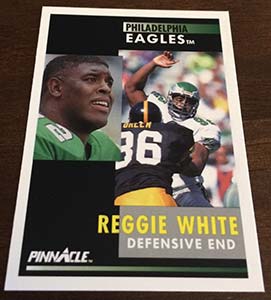 Pack 26:
Hayes/Ellard IDOL & Campbell/Thomas IDOL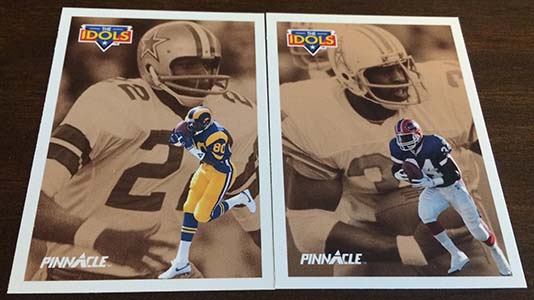 Pack 27:
Bruce Smith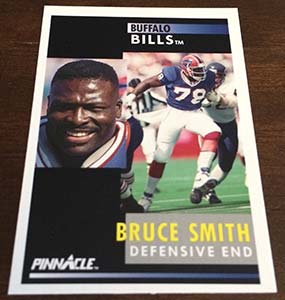 Pack 28:
Barry "The Human Joystick" Sanders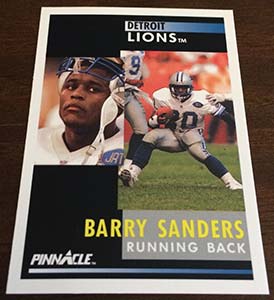 Pack 29:
Roger Craig, Jan Stenerud/Jim Breech IDOL & Rodney Hampton GW

Pack 30:
Howie Long, Rod Woodson & Herschel Walker GW

Pack 31:
Dan Marino, Byner/Mack IDOL & Roman Gabriel/Steve DeBerg IDOL

Pack 32:
Vai Sikahema
A native of Tonga, Sikahema's specialty was punt and kick returns. In his first two seasons in the NFL he led the league in punt return yards.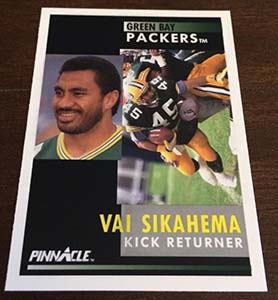 Pack 33:
Daryl Johnston, Boomer Esiason, Rodney Hampton, Phil Simms, Robertson/Jordan IDOL & Hendricks/Talley IDOL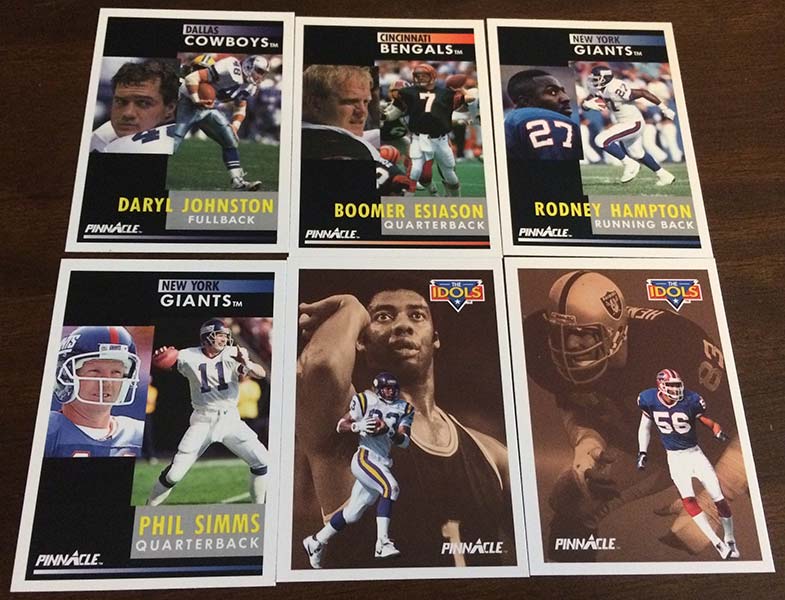 Pack 34:
Deion Sanders & Sean Landeta TECH
I remember these TECH subset cards being super cool when I was a kid.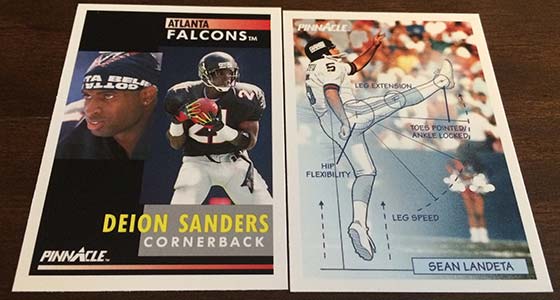 Pack 35:
Junior Seau, Mo Lewis RC & Barry Sanders GW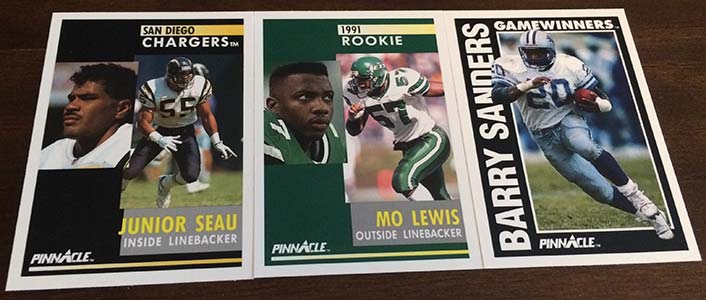 Pack 36:
Andre Reed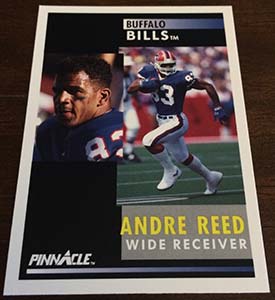 Lastly, the Andre Reed card back. Reed and QB Jim Kelly made quite the tandem in Buffalo.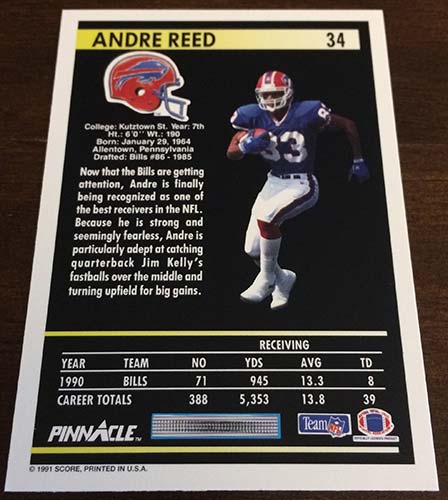 Were there good inserts to chase? No. Are there big hits in this product? No. Are there some fun subsets to be found on the lengthy checklist? Absolutely. These alone make this product worthwhile., not to mention the price. At three packs for $1, it's an absolute no-brainer.
Shop for 1991 Pinnacle Football on:
Want more installments of Shane Salmonson's Cheap Wax Wednesday? Check out his other breaks in the archives.