Black Krrsantan Comic Timeline
When you click on links to various merchants on this site, like eBay, and make a purchase, this can result in this site earning a commission.
Season One of The Book of Boba Fett on Disney+ is drawing near to its end. Now, I have to admit that I have not watched an episode yet as I'm prone to binge-watching. However, it's been hard to ignore the chatter about the show favorite, Black Krrsantan. Yes, the Chewbacca-hating bounty hunter Wookie has roots in comics. So, for those of you who like a little back story, here are five key comics to catch you up to speed in the Black Krrsantan Comic Timeline.
Star Wars: Darth Vader #1
It's hard to believe that Marvel released the first ongoing Vader series in the spring of 2015. One would have thought that Vader would have garnered his own series well before then. Still, in April of that year, Kieron Gillen and Adi Granov teamed up to give Vader his long-overdue comic series. On the pages of Star Wars: Darth Vader #1, readers will find the first appearances of Doctor Cylo and Black Krrsantan. Cylo's comic timeline will have to wait for another day, as it's Krrsantan who we are interested in, and this is where it starts. Of note, this book has nearly 20 variant covers, each of them as cool as the next. A fun chase for the completist collector.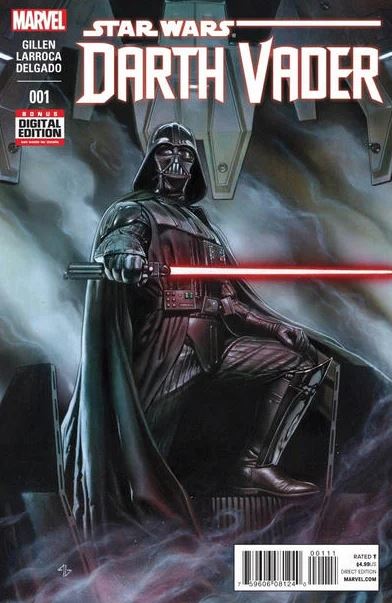 Star Wars: Vader Down #1
Black Krrsantan receives his first cover treatment in November 2015 on simultaneous books. Variants from Mile High Comics and ZBOX offered collectors exclusives from Skottie Young and Pasqual Ferry, respectively. Now, Krrsantan is featured among other characters on each of these covers, but the Mile High Comics variant is the more desired version of the two. Young's distinct "baby" characterization gives it a slight edge.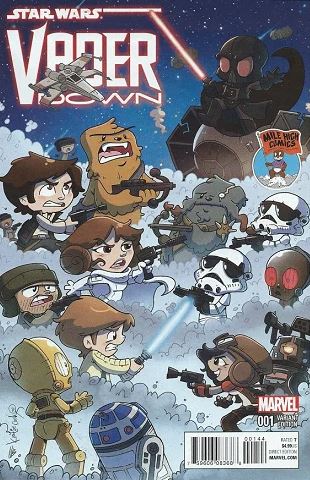 Star Wars #20
The next book on our Black Krrsantan Comic Timeline is Star Wars #20. Released in August of 2016, Jason Aaron and Mike Mayhew offer readers a look at Krrsantan's early life. Not a complete origin story by any means, however, the scar he received from Obi-Wan is explained. This book does have one cover variant as well. A 1:100 sketch cover by Mayhew.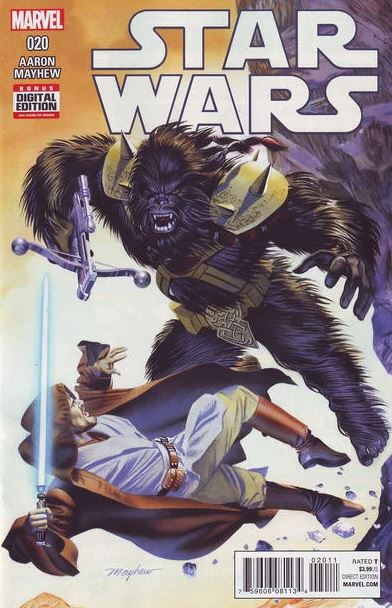 Star Wars: Doctor Aphra #1
The fourth book on the list is Star Wars: Doctor Aphra #1. From what this writer can gather, the variant cover by John Tyler Christopher is Black Krrsantan's first solo cover. If I am wrong there please let me know in the comments. Now, it should go without saying that these Action Figure covers are very popular with comic and toy hobbyists. So, keep that in mind when looking to pick up a copy.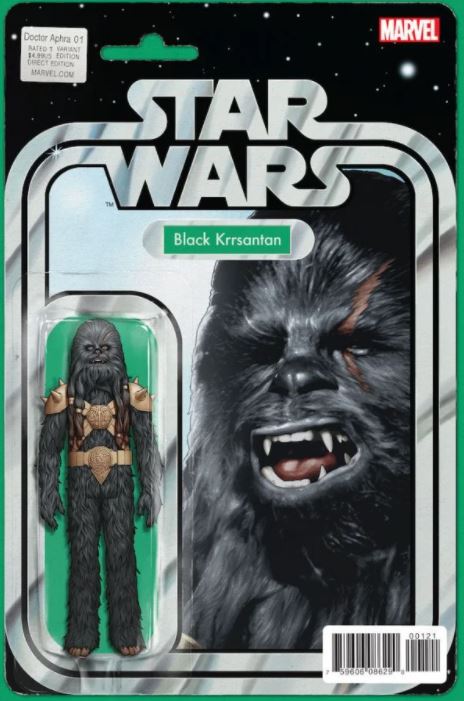 Doctor Aphra Annual #1
Our final book in the Black Krrsantan Comic Timeline is Doctor Aphra Annual #1. Published in October of 2017, Kieron Gillen and David Nakayama finally give Krrsantan a thorough origin in his first solo story. That took about two years, but Star Wars fans don't seem to have cared too much. The point is that the Wookie Bounty Hunter got his due.