Cheap Wax Wednesday Box Breaks: 1991 Action Packed Rookie Update Football
1991 Action Packed Rookie Update Football features an 84-card checklist. The first 75 are Rookie Cards, while the last nine cards showed veteran players. The base cards, just like every other Action Packed set, have embossed or textured card fronts. It is difficult to show in photos, but the players are raised up off of the cards. While all the cards feature gold colored foil, cards using 24 KT. foil were randomly inserted. The most notable name on the checklist is Brett Favre.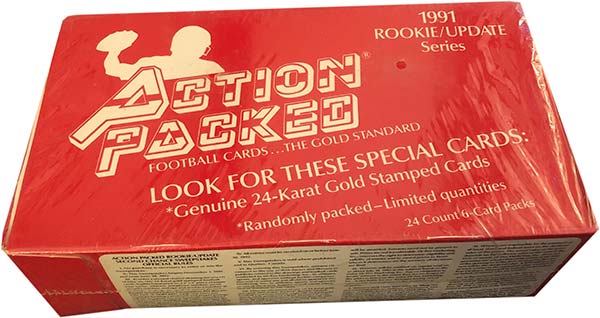 1991 Action Packed Rookie Update Football Box Break
Cards per pack: 6
Packs per box: 24
Price paid: $14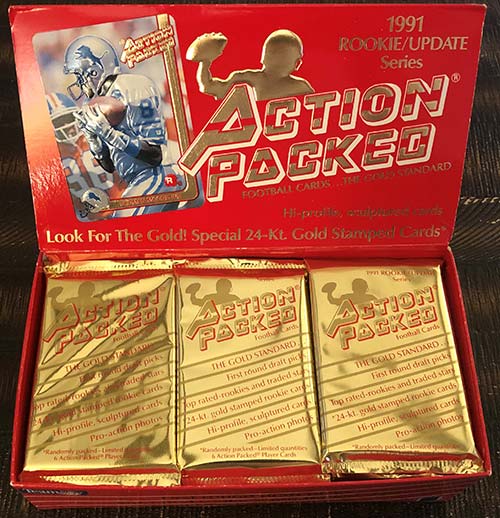 Pack 1 highlights:
Really no notable names in this one. It was all RCs though: Tuaolo, Gardner, Colon, Scott, Pegram & Joseph.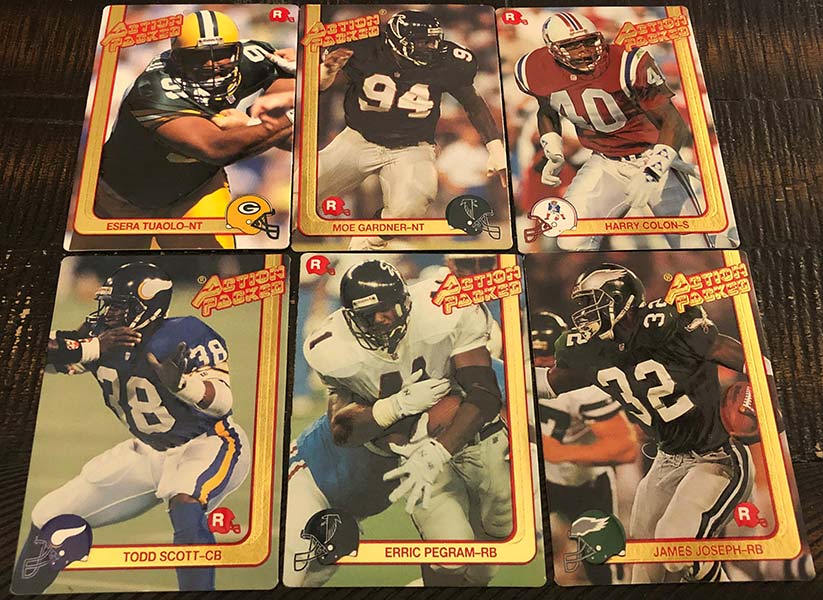 Pack 2:
Mo Lewis RC & Aeneas Williams RC
Williams, an eight-time Pro Bowler, was inducted into the Pro Football Hall of Fame in 2014.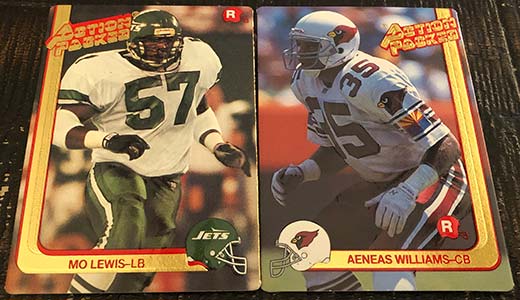 Pack 3:
Herman Moore RC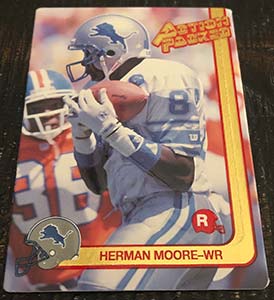 Pack 4:
Alvin Harper RC
Harper was a Dallas first round draft pick, and won two Super Bowls with the '90s Cowboys.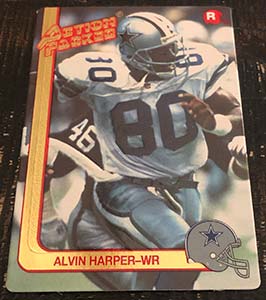 Pack 5:
Eric Swann RC & Ted Washington RC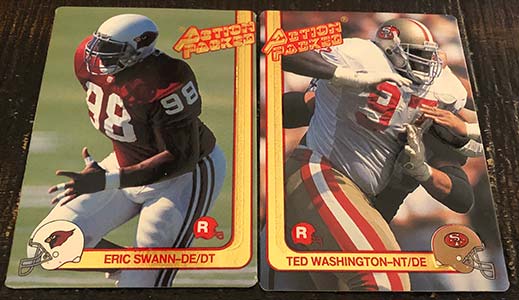 Pack 6:
Michael Jackson RC
Not nearly as famous as the musician, Jackson did put up a 1,000 yard season in 1996, while also leading the league with 14 touchdown receptions.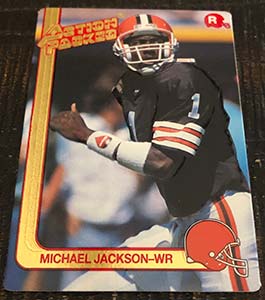 Pack 7:
Cornelius Bennett & Todd Marinovich RC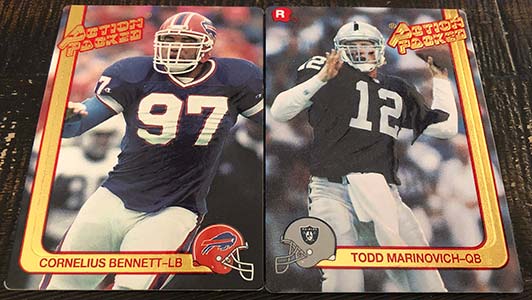 Pack 8:
Brett Favre RC! That is the one I was looking for!
The second round draft pick would go on to throw over 500 touchdown passes, though he didn't throw any for the Falcons, the team that drafted him.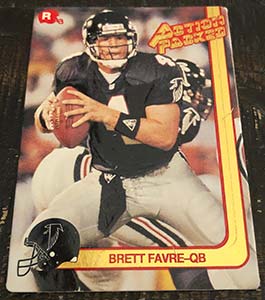 Pack 9:
Cornelius Bennett RC & Roger Craig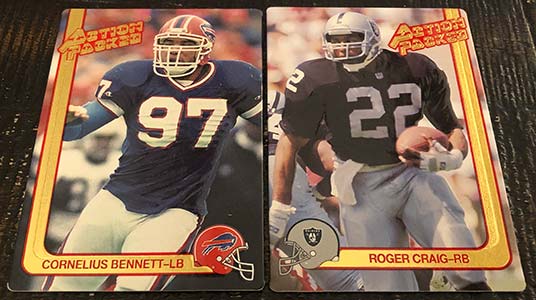 Pack 10:
Another Brett Favre RC & Eric Bieniemy RC
Currently the offensive coordinator for the Chiefs, Bieniemy recorded just over 2,800 yards from scrimmage over nine NFL seasons.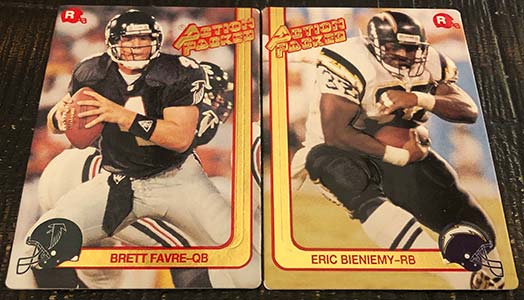 Pack 11:
Roman Phifer RC, Shawn Jefferson RC & Bryan Cox RC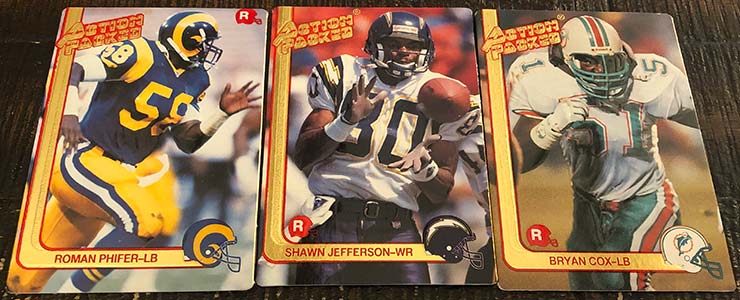 Pack 12:
This one is more about the photo than the highlighted player, Phil Hansen crushing Marino.
Hansen recorded 61 1/2 sacks over eleven seasons in Buffalo.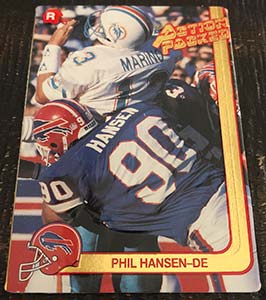 Pack 13:
Herman Moore RC & Alvin Harper RC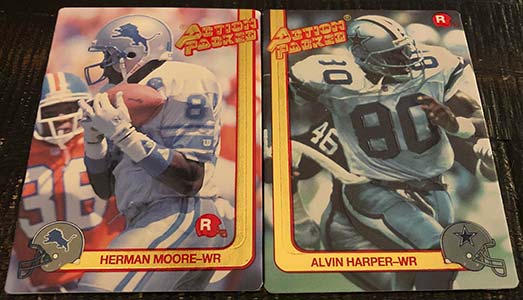 Pack 14:
The same wide receiver duo, Harper and Moore RCs
Though Moore did suit up in one game for the Giants, all of his career receptions came with the Lions. He posted three straight seasons with over 100 catches from 1995 to 1997.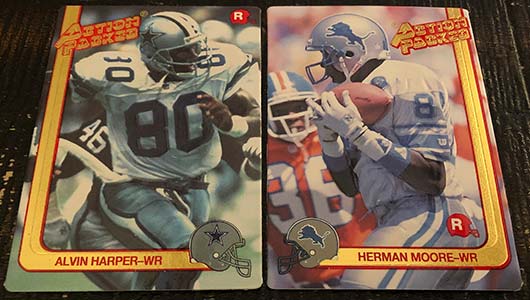 Pack 15:
Ted Washington RC & John Kasay RC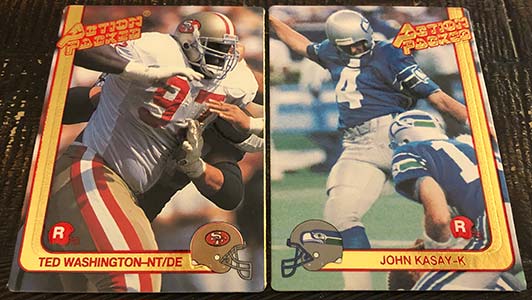 Pack 16:
David Daniels RC & Ernie Mills RC
Daniels and Mills were back-to-back third round picks in 1991. Mills was the only one of the two to put up any numbers though, including eight touchdowns for the Steelers in 1995.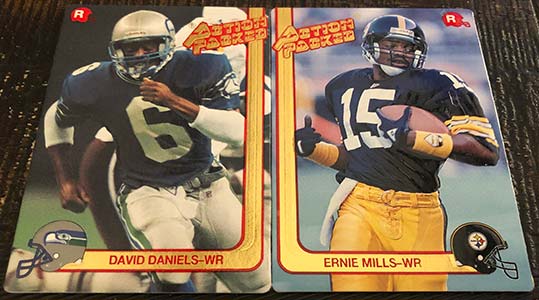 Pack 17:
Ronnie Lott & Ed McCaffrey RC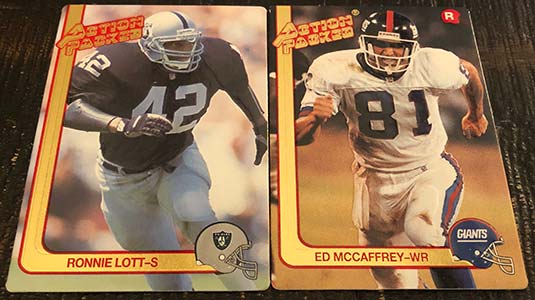 Pack 18:
Ronnie & Ed again
McCaffrey scored 55 touchdowns during his NFL career. His son, Christian, scored 15 touchdowns in the 2019 season alone.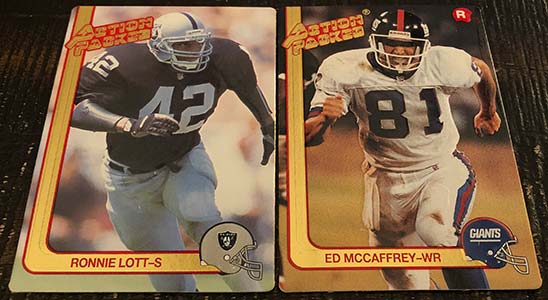 Pack 19:
Chuck Webb RC & Darren Lewis RC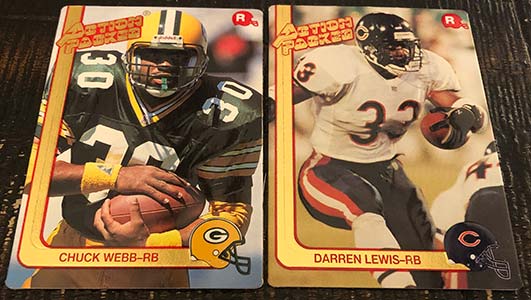 Pack 20:
Ricky Watters RC
Watters rushed for over 10,000 yards during his ten seasons in the NFL.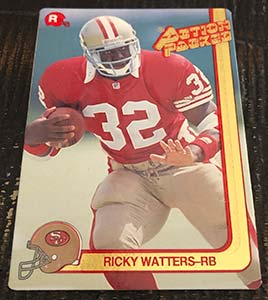 Pack 21:
Russell Maryland RC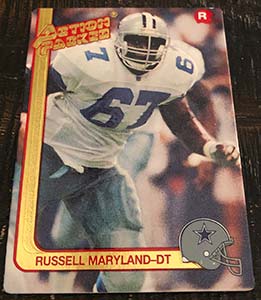 Pack 22:
Leonard Russell RC.
I had never heard of Russell but he did put up a couple of huge seasons at Mt. San Antonio College before transferring to Arizona State. He averaged over 150 rushing yards per game at Mt. San Antonio.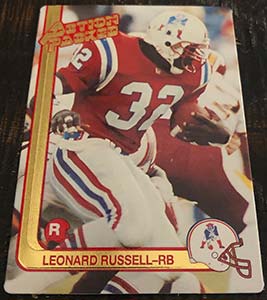 Pack 23:
Shawn Jefferson RC & Eric Swann RC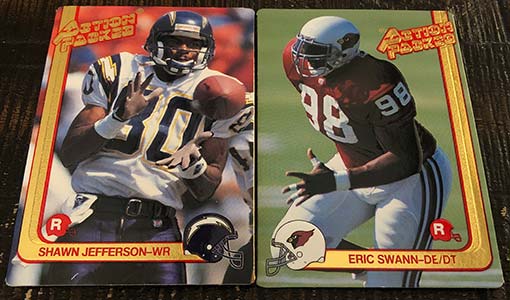 Pack 24:
Jon Vaughn RC
Vaughn was a fifth round draft pick after rushing for over 1,300 yards in his final college season as a Michigan Wolverine.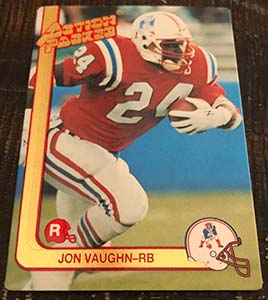 Lastly, the Favre card back. Looking at his college numbers you would've never thought he would have the NFL career that he did.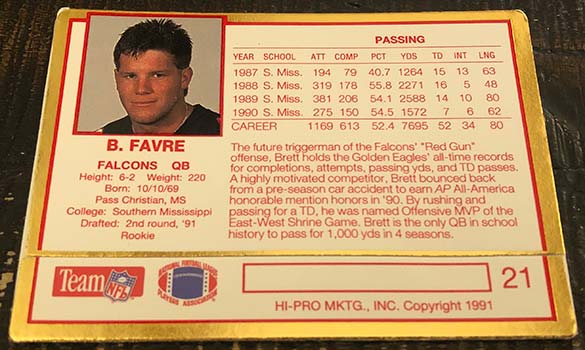 I didn't pull any 24 KT. foil cards in this one, unfortunately. I did, however, pull the one card I was looking for — twice in fact. The Favre Rookie Card doesn't fetch a whole lot of money on the secondary market, though some graded copies have sold for over $50. At just $14 for this box, it was well worth the price.
Shop for 1991 Action Packed Rookie Update Football cards on:
Want more installments of Shane Salmonson's Cheap Wax Wednesday? Check out his other breaks in the archives.