Changing places: Trades are part of collecting life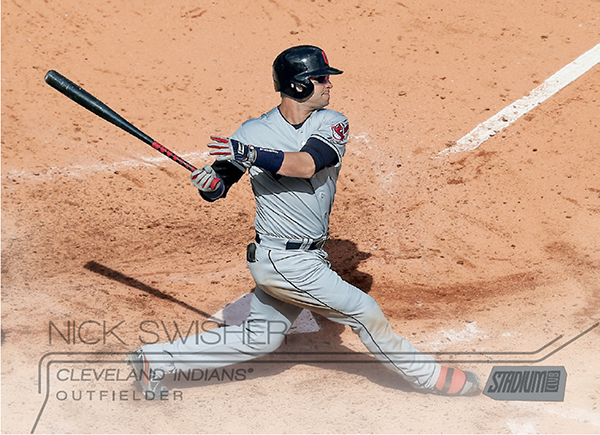 By Chris Olds | Beckett Baseball Editor | Commentary
Trades are a part of the life for some players as they come and go, working their way through their paths called careers with a hopeful final destination — beyond the stat sheets and databases — being Cooperstown and the National Baseball Hall of Fame.
Of course, that doesn't happen for most players and it's safe to say that a trade made today won't lead my player there.
But, it's a fresh start.
No, this wasn't a trade that involved a lopsided amount of cardboard. (Nolan Ryan for Kevin Maas? Those are far in my past.) But this trade is one that gives me hope that my favorite player, Nick Swisher, will appear on more cardboard this year. Why? Good or bad, the Atlanta Braves are a popular franchise and maybe — just maybe — he can get back to his past form there as part of a career that included 20 or more homers a year every year from 2005 to 2013.
When the trade went through earlier today, my Twitter feed was abuzz with collectors wondering what I thought. This isn't the first time Swisher has switched teams, and the one that riled me up was when he left Oakland for Chicago — a deal that landed the A's Fautino De Los Santos, Gio Gonzalez and Ryan Sweeney. (What did they do for Oakland? Not much.)
After that, the most-traumatic trade — at least as a collector — was him landing in New York as a member of the Yankees. Why? It's not easy to like the Yankees if you're an A's fan — it's that whole money part of Moneyball — and prices for Swisher autographs and memorabilia went wacky with key cards costing me four to five times what they had before. That move made it hard to collect him — even if he did win a World Series ring and (barely) make an All-Star team while there.
But that's life, that's collecting.
Swisher's homecoming to Cleveland — he is a former Ohio State star — was one I thought would be interesting, but ultimately it didn't spark a lot of cardboard interest except for a few pockets of Indians fans. Unlike the Yankees years, I've been able to pick off Swisher cards here and there much more comfortably. With the Braves being Swisher's third team in the last five years — and with the team struggling — I'm betting he might not get a whole lot of attention after the first wave of new hometown collectors pick off something that interests them. And, on the positive side, maybe some of those Cleveland collectors will suddenly want to jettison their cards …
Swisher hasn't had a whole lot of cardboard added to his resume this year — a reflection of the worst season of his career last year — but here's hoping that the move might lead to more cards I can add to my stash. He has more than 2,600 different cards in the Beckett.com database and I can say I probably have a good chunk of them, but, sadly, just 71 Swisher cards — that's it — have been released this year.
Here's hoping for a few more simply because of a new place to play — and, for old times sake, just maybe an appearance in the 2015 Topps Traded set.
Chris Olds is the editor of Beckett Baseball and Beckett Sports Card Monthly magazines. Have a comment, question or idea? Send an email to him at colds@beckett.com. Follow him on Twitter by clicking here.