Beckett Baseball's Hot & Not (mid-April): Mets rookie Matt Harvey steals the show
When you click on links to various merchants on this site, like eBay, and make a purchase, this can result in this site earning a commission.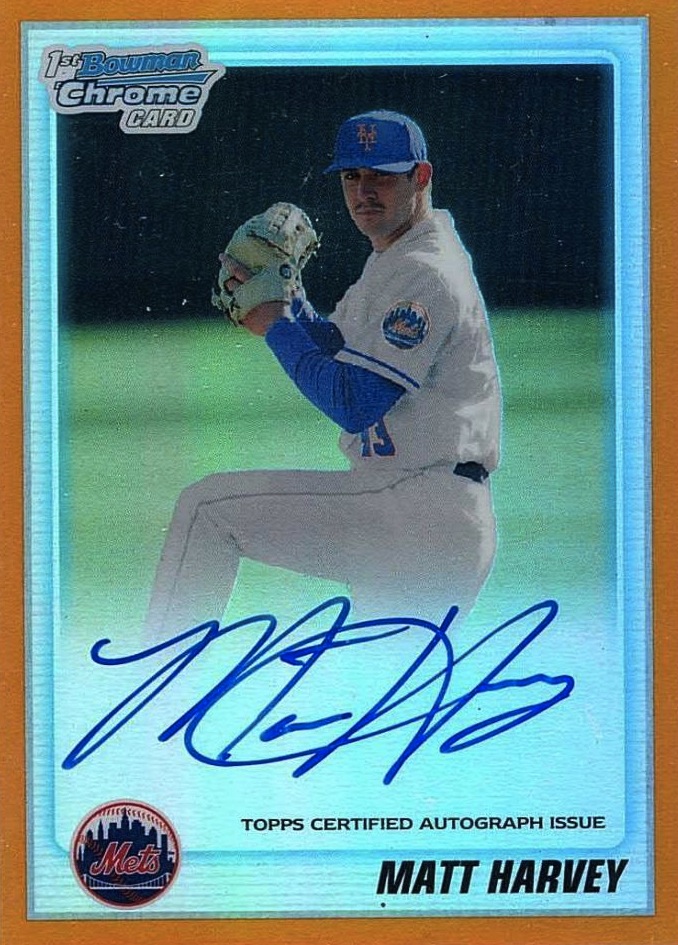 By Chris Olds | Beckett Baseball Editor | Commentary & Opinion
With the MLB season's first month half over, now's the time to look at who's hot and who's not …
HOT
Matt Harvey — SP, New York Mets (Beckett checklist & OPG here)
3-0, 0.82 ERA with 25 Ks and six walks in 22 innings
Harvey is the poster boy for red-hot baseball cards this season with his start on Saturday en route to NL Player of the Week honors. His next start on Friday will be just his 14th in MLB and he'll face a young pitcher many a collector may know, Stephen Strasburg. This guy already has some uttering Gooden and Seaver, so the Big Apple hype machine is primed. His earliest cards can be found in the 2006-07 USA Baseball set — he has plenty of autographs and game-used there — while his MLB prospect debut comes in 2010 Bowman Chrome Draft. That one has generated a lot of attention with a BGS 9.5 Orange Refractor recently selling for $825, while another copy has an even loftier asking price, like many Harvey cards across the board. Remember Ike Davis' start a couple years ago? We do, but we also remember Strasburg's.
Jose Fernandez — SP, Florida Marlins (checklist & OPG)
0-0, 0.82 ERA with 13 Ks and three walks in 11 innings
What happens with a young pitcher unexpectedly makes a team strip-mined of talent and actually pitches pretty well? You get asking prices like this. And then you get sales prices like this. His numbers look good but he's not gotten enough support. I'd tread lightly here — remember Josh Johnson? He never lit things up on cardboard.
–
Justin Upton
— OF, Atlanta Braves 
(checklist & OPG)
.348 average, seven home runs, 11 RBI, 12 runs in 12 games

Not long ago, he was tabbed as the next all-around talent, a guy that could amaze. I'm not sure if that ever really happened. At one time, his cards were scorchers, so maybe there's still room for movement here if he actually does put everything together. After all, he only hit 17 homers all of last season. If you're a former prospector, this may be your last chance to burn off your inventory you may have held. If you're a potential buyer, this may not be your best market to buy (
some pricey sales
) but your buying options should have some potential.
–
Bryce Harper
— OF, Washington Nationals 
(checklist & OPG)

.348 average, five home runs, 10 RBI, nine runs in 12 games

Let's face it, when you're The Next Big Thing and the savior of MLB — and its cardboard — you're supposed to produce. Harper is producing and, like always, fans are watching his cardboard —
and buying it, too.
As long as he delivers, this will continue to happen. Watch out for that first rough slump as a sophomore, though. It could be brutal.
–
Jackie Robinson
— Hall of Famer, Brooklyn Dodgers 
(checklist & OPG)
$27.5 million at the box office with 42

Robinson's tale of breaking MLB's color barrier opened with the best-grossing weekend of any baseball movie. Ever. He's no slouch on cardboard, but there have been some
pricey sales of late
and some much-smaller cards going for a bit more than normal as fans just want something showing the Hall of Famer. Will it translate into any up arrows in the next magazine? I'll leave that to the price guide crew.
–
Hot on the field … but not hot enough on cards? Yu Darvish, Justin Masterson, Clayton Kershaw.
—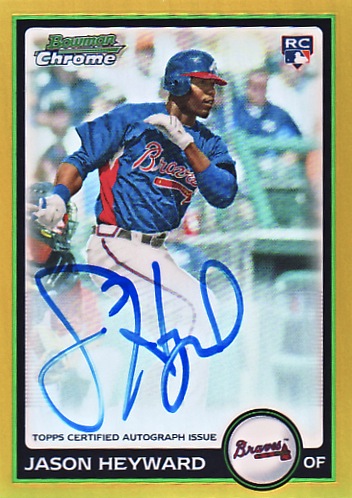 NOT
Jason Heyward — OF, Atlanta Braves (checklist & OPG)
.103 average, one home run, four RBI, seven runs in 12 games
Not long ago, he was a Beckett Baseball cover-worthy rookie. Oh how times have changed. With new talent in Atlanta, will Heyward's not-cheap earlier cards suffer?  That's debatable, but the batting average simply is not helping.
–
Roy Halladay — SP, Philadelphia Phillies (checklist & OPG)
1-2, 7.63 ERA with 14 Ks and seven walks in 15 innings
He's been a workhorse for years but nobody pitches forever. If it wasn't for his last start against the Marlins (eight innings one run and just two strikeouts) he'd be looking at an ERA well over 10 and 12 earned runs in little more than seven innings of work. It can get ugly in Philly and the Phans won't stand for that — even if it's from the 200-game winner and two-time Cy Young winner. His RCs are cheap, so the cards that could suffer here with time are his certified autos.
–
Jose Reyes
— SS, Toronto Blue Jays 
(checklist & OPG)
.395 average, one home run, five RBI, five runs in six games
He's on his third team in three years — and is a far cry from the days when it looked like he was going to be a cardboard icon. The numbers aren't awful — but his injured ankle simply will not help his performance no matter where he is. His 2001 Rookie Cards aren't cheap, so now one simply must ask … overpriced?
–
Josh Hamilton — OF, Los Angeles Angels (checklist & OPG)
.234 average, two home runs, eight RBI, six runs in 12 games
He's picked up the pace the last two games, but his comments about his former team's crowd and a crowded lineup that he's in now — along with an awful start — simply spell doom for his 1999 Rookie Cards. Trout will overshadow him and Albert Pujols unless we see an unprecedented trio of powerful performances this season.
–
Giancarlo Stanton — OF, Miami Marlins (checklist & OPG)
.167 average, zero home runs, zero RBI, one run in nine games
When you hit 37 home runs last season, all eyes are on you. When you're the only potential major-league bat left on the Marlins, even more are watching.  Hobby-wise, the Marlins are a scrap heap — save for a rookie pitcher for now — so that means Stanton is all that matters. And it's not going well at all. Keep an eye on his 2010 Topps Triple Threads RC. At $150, it's bound to be the most volatile of the bunch. If you believe in the slugger — or that he'll be jettisoned soon — this auto-jersey combo limited to 99 is worth keeping an eye on.
–
Also cold on the field … Ike Davis, Dustin Ackley.
—
Should somebody else have made either list? Tell us in the comments below.
Chris Olds is the editor of Beckett Baseball magazine. Have a comment, question or idea? Send an email to him at colds@beckett.com. Follow him on Twitter by clicking here.