2014-15 Panini Noir Basketball Details
As the parade of high-end basketball releases makes its way to store shelves before the 2015-16 NBA campaign begins, Panini America had just officially announced a late addition to its roster in the form of 2014-15 Panini Noir Basketball.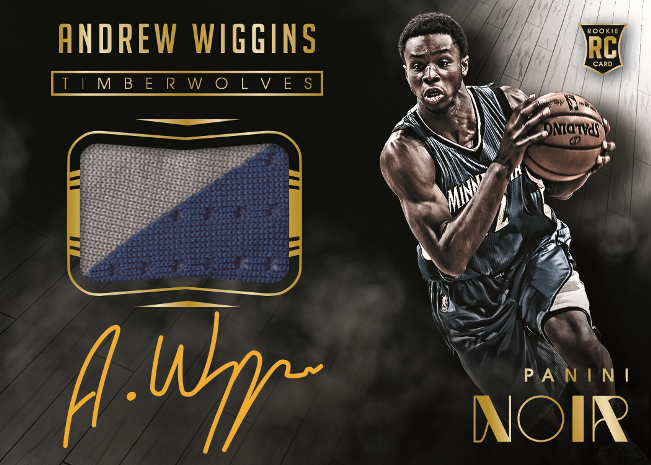 With seven autograph or memorabilia cards in each 12-card box, this collection is not for the light of heart or wallet and releases on September 16. Each signature is on-card and the presence of some seriously tough Noir Rookie Patch Autographs is sure to generate plenty of interest from both collectors and investors alike. Numbered to 99 copies each, Panini has noted that these cards will have two version – one in black & white and the other in color. The company likened these variations to a mysterious classic noir film where there was always two stories to be told.
While early product information only gives scant details regarding the product's content, there will be Autographed Prime Black & White and Color autographed jersey cards. The color version looks especially striking with the use of gold ink for the autographs. Spotlight Signatures will have a similar visual impact due to the use of a gold paint pen. Noir Signatures have also been teased by Panini in recent weeks via their social media feeds.
Little was revealed about memorabilia content outside of the China Jersey Patches cards which will contain pieces of special jerseys worn by both the Houston Rockets and Golden State Warriors in games that celebrated the Chinese New Year in 2015.