Prospects soak up signing experience during Panini America Spring Training Road Trip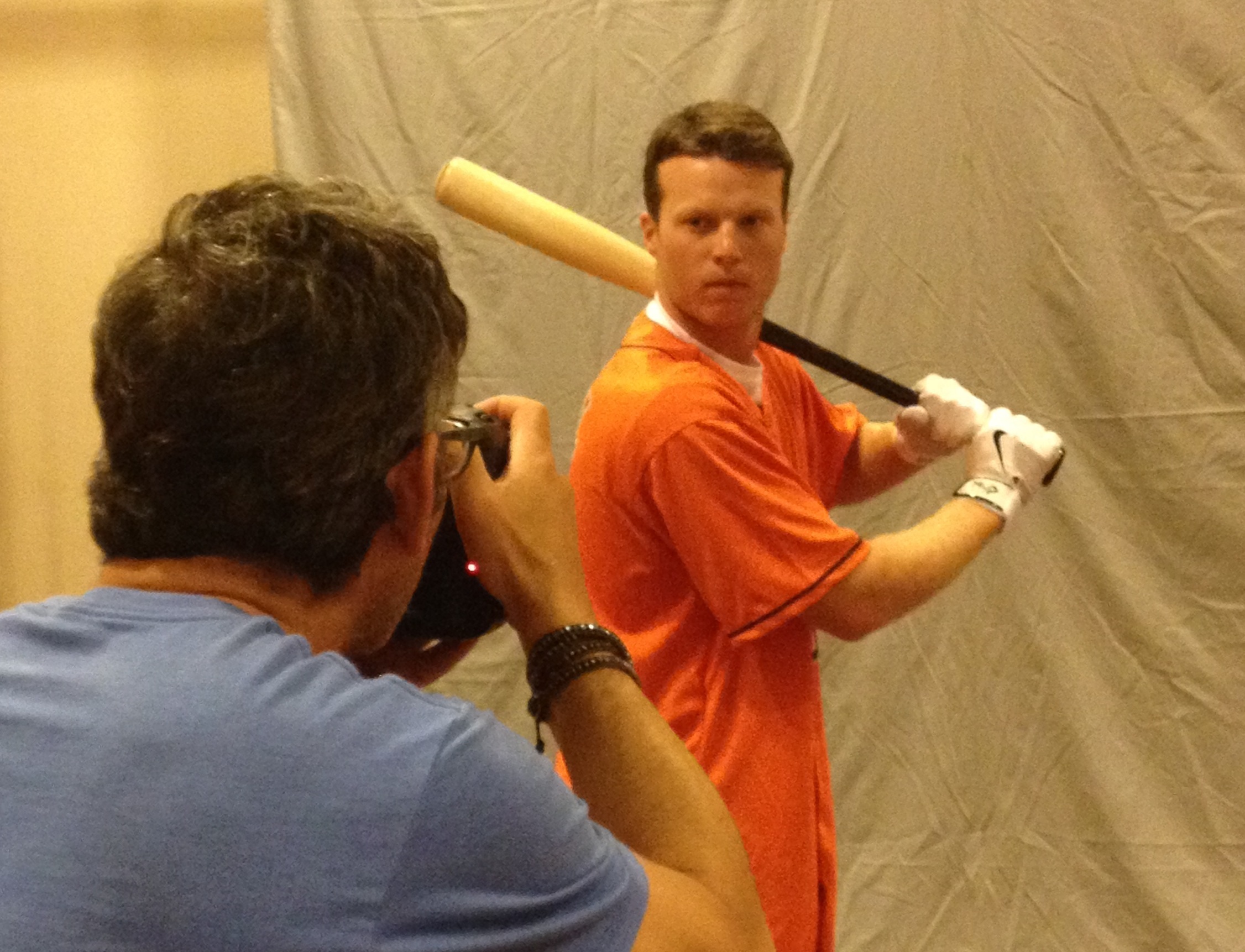 Houston Astros prospect Brett Phillips poses for his first Panini America baseball cards.
By Chris Olds | Beckett Baseball Editor
ORLANDO, Fla. |  It's no secret that potential sells a lot of cardboard — but potential also helps create some of it, too.
When a young star emerges deep in the minor leagues, there's more attention and more opportunities off of the field — you know, autograph appearances and baseball cards for starters. For Houston Astros prospect Brett Phillips, a .310 season with 17 homers and 68 RBI last year also meant more of one other thing.
Agents.
The six-foot, 175-pound center fielder didn't sign with one since he knew his slot value for going 189th (sixth round) in the 2012 Draft, but a strong season in Class A-ball this past year changed all of that. It's led to 24 different baseball cards (so far) and an invitation for a roster spot during the 2015 Panini America Spring Training Road Trip — a multi-date, multi-leg excursion that recently wrapped things up in Florida and heads to Arizona this weekend. It's where thousands of autographs are signed to help create upcoming cardboard thanks to the work of newcomers like Phillips and big-leaguers who stop by to join Panini's traveling caravan of collecting.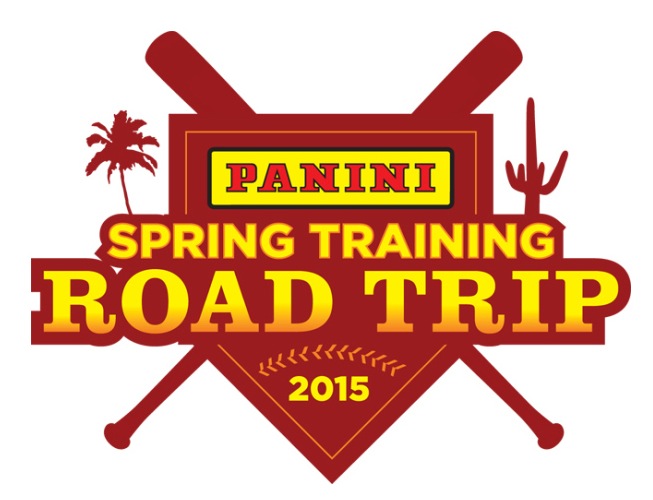 "I appreciate you guys having me here. It's awesome," said Phillips, talking with Panini's crew before going through a photo shoot in an orange Astros jersey and sitting down to sign about 200 autographs during the tour's stop in Orlando. In a hotel ballroom prepared with Panini displays, a catered spread so rich it might make some athletic trainers cringe, piles of company T-shirts and wax boxes up for grabs for agents and players to rip into once they were done, Phillips talked collecting and cardboard as he signed.
First, though, he had a bit of a confession.
"To be honest, I didn't really collect cards much at all as a kid. I collected a little bit — but I wasn't a hardcore collector," he said. "I kind of wish I would have been looking back at it now, but I didn't collect much."
For a lot of younger guys, that's not an uncommon thing, actually. They're busy playing and watching the game — and keep in mind Phillips was born in 1994, just before the strike that summer that changed the sports card landscape dramatically. By the time he was in his more typical cardboard years, kids his age were gravitating a different direction.
"To be honest I think one night I might have attended a Pokemon trading card thing at a Burger King," said the 21-year-old centerfielder. "They used to do that back in the day. I think I did do that one time."
As much as his first Panini signing — something that means his first cards are coming soon — was business, Phillips was clearly excited to be a part of the big-league action. Before he signed, he showed off cell-phone footage of his first spring training home run. That and his first cards from last season are artifacts of the adventure.
"I think it really puts it in perspective when you see yourself on a baseball card," he said, "that you're getting closer to your ultimate dream and your goal which is to play in the big leagues."
Phillips grew up in Florida, which meant more access to spring training games — but that doesn't mean he was out at the ballpark chasing autographs.
"No, to be completely honest I didn't go out of my way," he said. "Since nine years old, I played every weekend. I just loved playing the game."
So, does a different part of the job — signing sessions — create any challenges while trying to get work done during the day job?
"I don't see it as a challenge. I see it as a blessing. This is awesome," he said. "A lot of guys would love to be in my shoes right now, so I'm very thankful to be where I am at right now."
But what if he had larger stacks of 2015 Panini Prizm cards to sign like some of the other guys?
"I don't know if my hand could handle that," he said.
The demand for autographs comes with success on the field — and for now Phillips is taking it as it comes.
"This is the first year I have had cards come out of me. So I'll take the time to sign anyone and everyone's cards who come up to me," he said, "Honestly, I'm no better than the person who is coming to get my autograph. I think that's awesome that they are going out of their way to come get my autograph. So I will take the time to sign whatever they have for me."
Up next, of course, will be his first Panini America cards. Is he ready for them?
"One-hundred percent," he said. "I'm definitely looking forward to seeing how they come out. I'm pretty excited."
—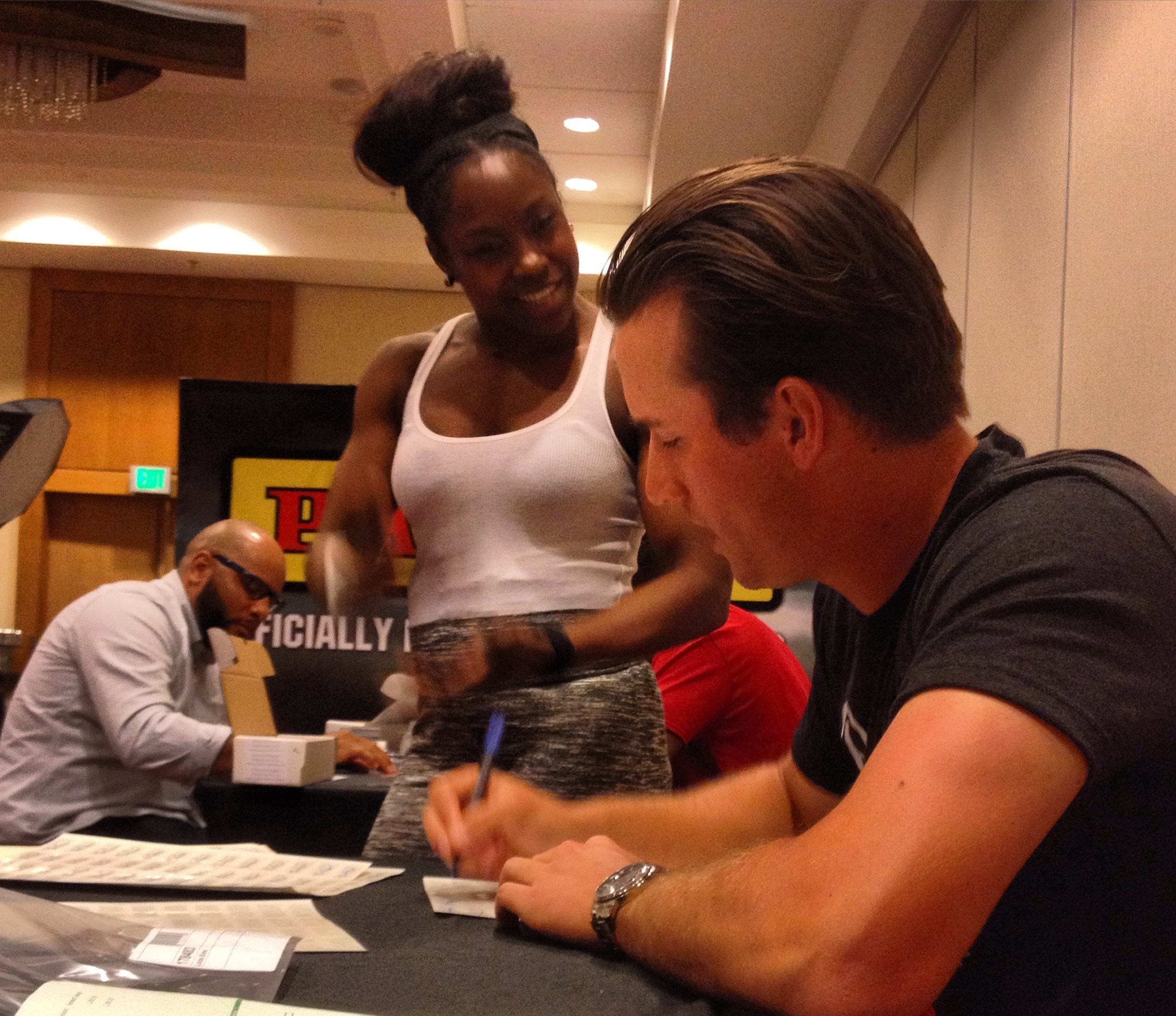 Braves prospect Lucas Sims signs while talking with Panini Licenses Acquisitions Manager Ivory Tabb.
On the other side of the room sat Atlanta Braves pitcher Lucas Sims, a 20-year-old right-hander and former first-round draft pick who had the same assignment — signing stickers for future Panini products.
Sims' story is a bit different as a first-rounder — he's had a bit more cardboard — but like Phillips he's still working his way toward the majors. Sims already appears on more than 300 different baseball cards — a number bolstered by signings that led to cards well before draft day.
"My first one was my USA card when I was 16 years old. There was a lot of signing to do — and my signature has come a long way since then," he said, laughing.
He's had more than 100 certified autographs come out since that USA Baseball debut in 2010 — one card came to mind since he was paired with a potential future teammate. It's a 2012 Elite Extra Edition Building Blocks insert.
"I had one shared card that I know of with Alex Wood," he said. "We were in the same draft class and that's pretty cool and were both out of Georgia."
Wood, of course, is a former Georgia Bulldog who made his big-league debut in 2013. In three seasons in the minors, Sims has compiled a 22-19 record with a 3.55 ERA and 280 strikeouts in 67 starts.
"I grew up a Braves fan, so being able to play for them now is a dream come true," Sims said. "I wasn't a huge autograph guy. I just enjoyed going to the games. I have a couple cool things — a John Smoltz signed ball and a couple off-seasons ago, I was at a charity event and got a Willie Mays ball. That was cool.
Sims said he was a bit of a card collector in the past — in part because others who knew he liked baseball would give them to him.
"I had a nice shoebox and took time to go through it. I had a pretty nice-sized collection," he said. "I had some hand-me-downs from relatives or whoever had them. Sometimes family and friends who knew I was into baseball would stop by. A lot of them were from before my time, but every once in a while you'd see one 'Hey, I recognize that.'"
While he's still yet to earn the title of "rookie" at the big-league level, Sims is a veteran with the signing. It's something he doesn't see as work — and he sees it as a positive.
"I'd say it's definitely a good thing — if somebody wants your autograph you're doing something right."
—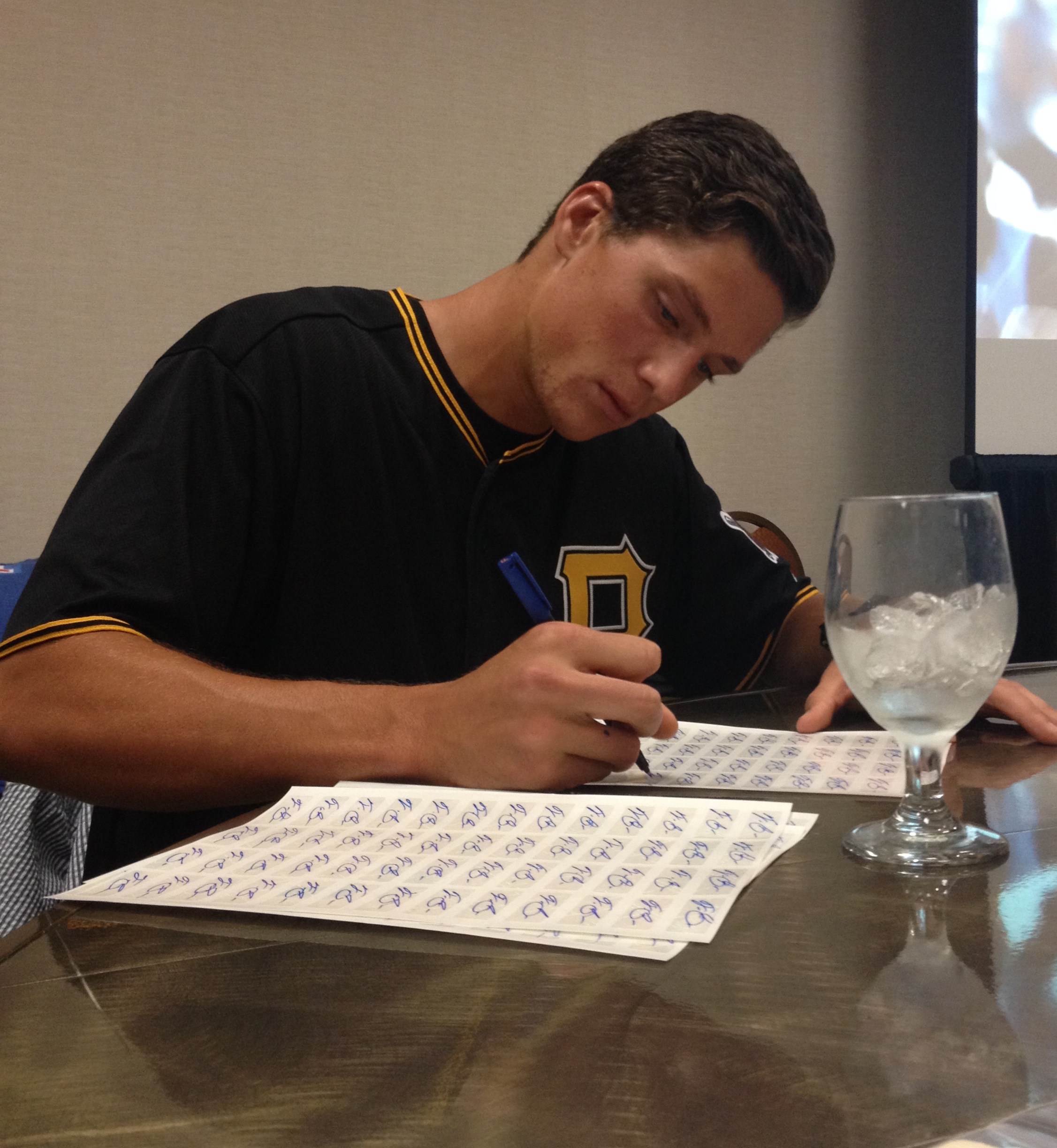 Pittsburgh Pirates pitching prospect Tyler Glasnow finishes off his signing Saturday night in Tampa, Fla.
During a stop in Tampa during Day 2 of the tour the evening before, several potential members of the New York Yankees, Philadelphia Phillies, Toronto Blue Jays and Pittsburgh Pirates went though the same routine.
One of those players was Tyler Glasnow, a 6-foot-7 right-handed pitcher from Newhall, Calif., who was a fifth-round pick of the Pirates in 2011. He's still relatively new to cardboard, despite being drafted earlier than Phillips and Sims. He had his first cards in 2013, but a total of 285 released since then.
Despite a just-as-meaty cardboard resume, he marveled at the atmosphere created by Panini and downplayed his past signing sessions.
"It's nice to see people here care and stuff. It's a cool experience," he said of the Road Trip. "I wasn't like a huge draft pick or anything like that. After my first West Virginia season I did one [signing]. I did a few and then I did some after this last season, too."
Glasnow is on the radar after a 12-5 season for the Class-A Bradenton Marauders where he posted a 1.74 ERA with 157 strikeouts in 124 innings — enough to find himself 16th on Baseball America's Top 100 prospects list this season.
So, was he a collector when younger?
"No, not really. Pokemon stuff when I was real little," he said with a laugh.
Despite that, he said he appreciates the attention and understands the interest.
"It's just cool to know that other people like want your stuff. Growing up I never thought people would want my autograph or anything," Glasnow said. "Coming here is definitely humbling. There's a lot of work that does into it and you can tell everyone here really cares. It's nice."
He said he followed the Los Angeles Dodgers closest when he was younger and counts himself as a fan of Randy Johnson, Roger Clemens and Alfonso Soriano. He also watched former White Sox outfielder Jerry Owens closely since they attended the same high school in Santa Clarita, Calif. Now, though, there's potential to find himself inside packs of cards with some of those names as well as other prospects and big-leaguers from today's game.
"That's another good feeling," he said. "When I was little I had opened cards as gifts — but to be in a group like that seems surreal. That is crazy just thinking about that right now."
Chris Olds is the editor of Beckett Baseball and Beckett Sports Card Monthly magazines. Have a comment, question or idea? Send an email to him at colds@beckett.com. Follow him on Twitter @chrisolds2009.