Newton shines in newly priced National Treasures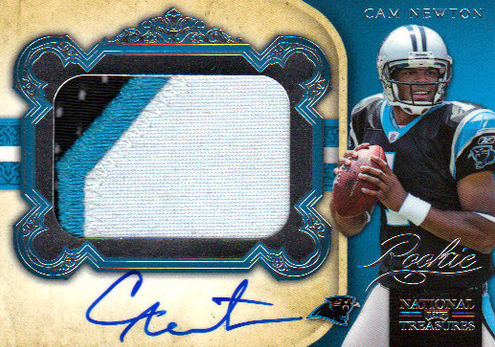 By Andrew Tolentino | Football Editor
Hold your horses, Andrew Luck. Apparently Cam Newton isn't done dominating football cards just  yet.
According to Beckett Football's Senior Market Analyst Dan Hitt, Newton's recently priced 2011 National Treasures Rookie Card just set a new benchmark in the hobby.

Hitt (who just wrapped up pricing for the whole product) confirmed that last season's sensation is still sizzling, marking 2011 National Treasures Cam Newton JSY AU RC/99 with a $1,250 price tag. According to Hitt, this sets a record for the typically coveted National Treasures Rookie Cards. Even at its peak, Tim Tebow's equivalent from 2010 National Treasures (currently priced at $700) wasn't moving for as much as this other-worldly Newton piece.
While it's obvious that the most prolific player in one of the industry's most-prolific brands should fetch a pretty high premium, it's surprising — refreshing, even — to see a football card getting so much secondary market love at this point in the year. Especially after this Thursday's NFL Draft, guys like Luck and Robert Griffin III are bound to steal some hobby attention, but as the market information indicates, Newton knows no bounds for the moment.
If the price of Newton's Rookie Card isn't a total spoiler, be sure to check out the rest of freshly booked 2011 National Treasures Football with your Online Price Guide subscription by clicking here.