Buster Posey talks cards on eve of Topps Series 2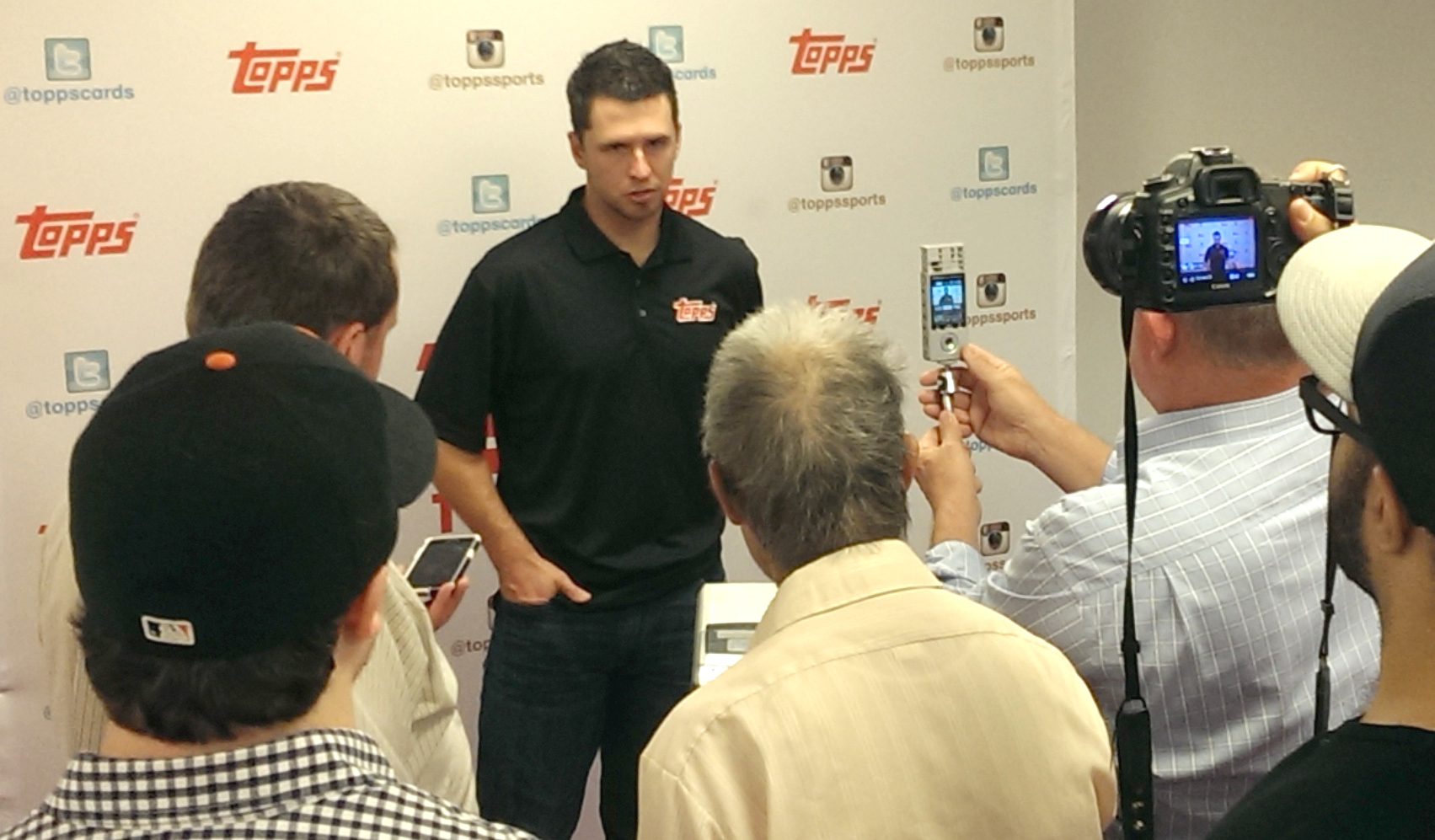 By Chris Olds | Beckett Baseball Editor
On Tuesday night, he caught a no-hitter. On Wednesday he looked back at a different time in his baseball career.
For three-time World Series champ Buster Posey, a former NL MVP and the All-Star catcher for the San Francisco Giants, seeing himself on a baseball card for the first time was a moment to remember, too.
"It's a cool moment. As a fan of baseball fan myself, as a kid, I am seeing all the different cards come out and then to see your face on a card is a little surreal," Posey said Wednesday in New York at Topps headquarters to promote 2015 Topps Series 2 arriving next week. "When I saw that first one, I will always remember that."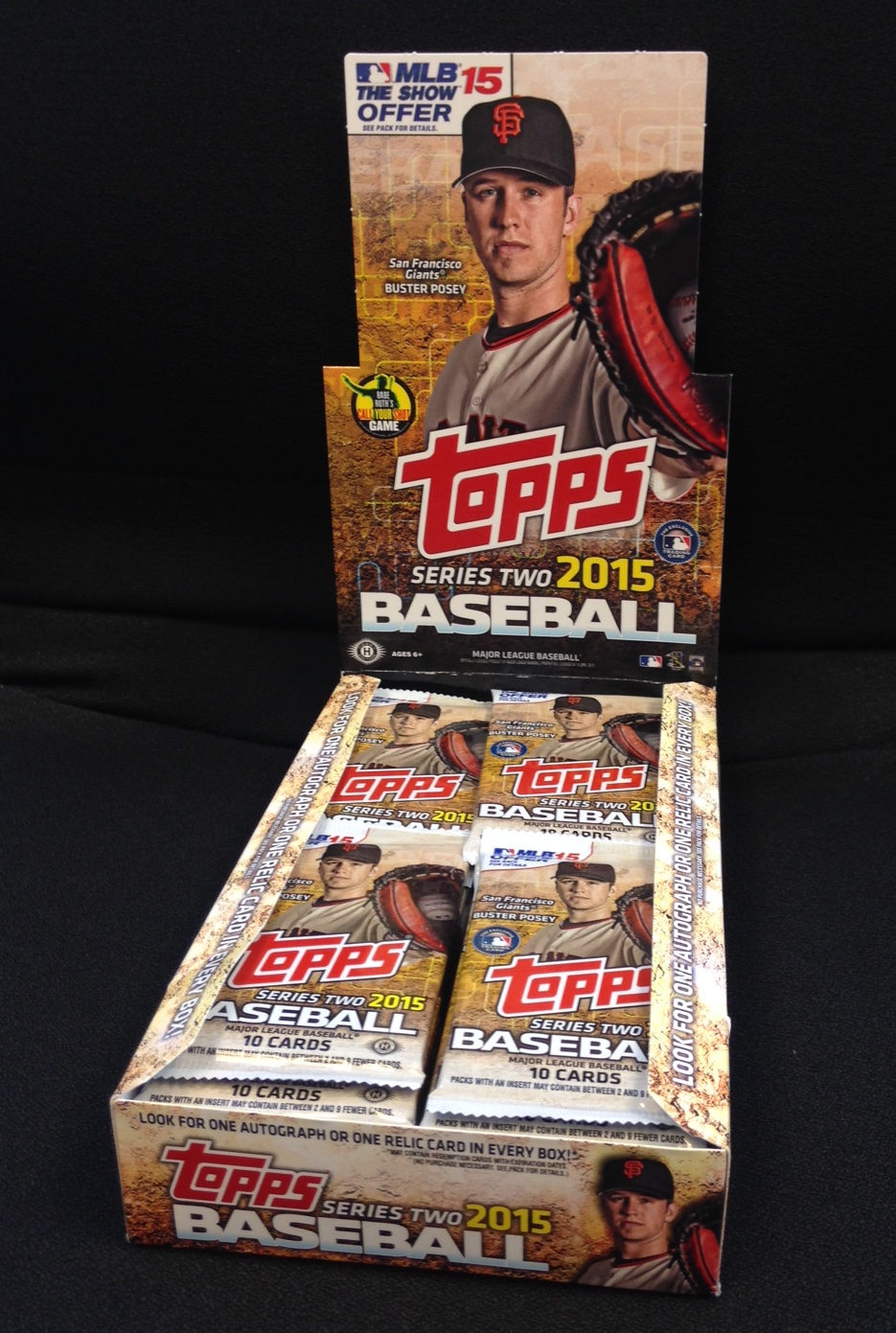 For Posey baseball is life, but members of his family enjoy collecting. His grandfather is a fan of both the game and cardboard.
"He likes to go out and find them himself," Posey said. "If he has a hard time finding them, he will ask if I can get them for him. Hopefully, with the guys here at Topps, I can put together a good package for him."
Posey said his children are starting to pick up interest in cards, too — at least on a basic level.
"They are only 3 now, but my son will pick one up every once in a while and say, 'Dad, that's you,'" he said. "I don't think he understands what it is yet, but he is not too far off."
As part of the Series 2 launch, Posey will serve as an ambassador for the company, a role that will continue for the rest of the year. That will mean promotional appearances and social media promotions in the future, too.
"Collecting cards is a neat way to learn about baseball and to get excited about certain players," he said. "Now with this Rediscover campaign it's going to make it even easier for young kids, the younger generation to identify with their parents. Hopefully, some of the parents will pull out their old cards and show them to their kids. And the kids will have their new cards. … With the new types of cards Topps is coming out with like the jersey attached to the card or the autographed cards, again, I think it's something the younger generation can and will be excited about."
When Topps Series 2 arrives next week it will include a new generation of celebrity First Pitch cards — Moneyball's Chris Pratt, comic book icon Stan Lee and members of The Grateful Dead will be among them — while the regular set will include the Rookie Cards of Chicago Cubs power Kris Bryant as well as Giants rookie Chris Heston, who pitched his no-no this week. Posey had kind things to say about the newcomer.
"[A] no-hitter [or] perfect game is a rare feat in baseball. Each one that I have been a part of is unique in some way," said Posey, who has now caught three gems as a Giant. "The common theme is that each pitcher is just extremely dominant on that night. I couldn't be happier for Chris Heston. A 27-year-old rookie isn't that young. [He] seems to have really found his groove. Hopefully he can continue and have a nice long career."
On cardboard, Heston's starts with his first Rookie Card — at least one he doesn't have to share with someone else — in Series 2.
Chris Olds is the editor of Beckett Baseball and Beckett Sports Card Monthly magazines. Have a comment, question or idea? Send an email to him at colds@beckett.com. Follow him on Twitter by clicking here.