Ichiro Autographs Make History on the 2016 Topps Employee Cards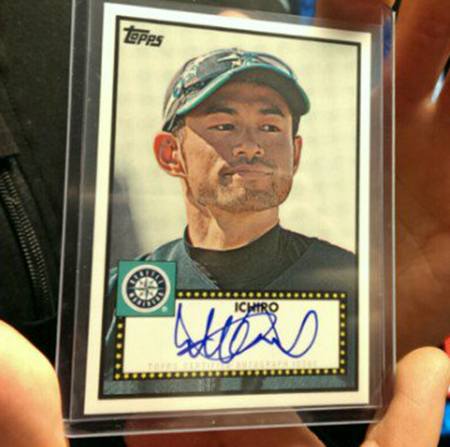 By Ryan Cracknell | Hobby Editor
Last year, Topps staff received one of four different Kris Bryant autograph cards. This year?
The 2016 Topps Employee cards have Ichiro and his signature.
Staff received the cards just in time for the holidaysin recognition for their work over the past year.
The approach for the 2016 Topps Employee Ichiro cards is similar to that of the Kris Bryant cards last year. Four different cards were made. Each is numbered to 25 copies. Staff members received one of the cards, not all four.
And Topps management really outdid themselves this year. Wow and thank you so much @toppscards (We only got one of them but there 4 designs) pic.twitter.com/V0t8SDzi4H

— Sooz (@yanxchick) December 19, 2016
The designs go back to the early days of Topps baseball with the future Hall of Famer featured on cards based on the 1952, 1953, 1954 and 1955 sets. Last year, all four Kris Bryant cards used the 1990 Topps design but with four different photos.
The Ichiro autographs are numbered HE-1 through HE-4.
Comments? Questions? Contact Ryan Cracknell on Twitter @tradercracks.