Beckett Sports Card Monthly's The Art Issue preview: Dick Perez talks about his craft (outtakes)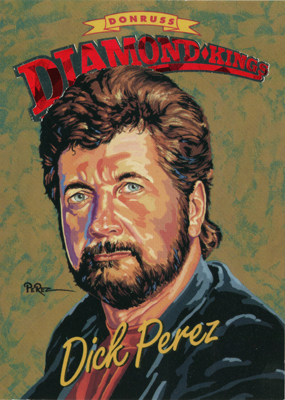 By Chris Olds | Baseball Editor
We're prepping The Art Issue of Beckett Sports Card Monthly and it's weeks like this where, sadly, we learn the obvious once again — that there's just not enough room on the printed page for everything we'd want to run.
When you talk art with legendary sports artist Dick Perez, there's just too much good stuff to go around as he looks back on a career that we all should remember seeing on cardboard.
As a teaser of what's to come in the issue, here are some thoughts from Perez, whose original painting of Derek Jeter will appear on the cover of the magazine — and just might end up yours soon via Beckett Select Auctions.
For example, what famed baseball collector prompted Perez's turn from watercolor to using oil paintings?
That's right here … after the jump.
When asked what media Perez prefers to use (early in his career he mostly used watercolors but now works in oil), he mentioned this fascinating tidbit:
"There was an extraordinary collector named Barry Halper who purchased many of my watercolor paintings in the early years. One day he said to me, 'Don't you do anything in oils? You know, that's what's going to make you a complete artist.' Though I had worked on a few oils back then I felt I hadn't mastered the medium and did not spend much time in trying. So I decided to work hard at it to show Barry that I was as good as he thought I was. Thank you, Barry."
The late Halper's amazing collection of baseball memorabilia was auctioned by Sotheby's in 1999, bringing in more than $21.8 million.
Perez on how working with card companies (and the card industry) has changed since the 1980s:
"Diamond Kings was a singular novelty in the 80s, a true manageable subset. With Topps, my contribution is merely a part of a larger undertaking, such as the sketch cards for their regular issue of the Allen & Ginter set and the more than 50 art cards I painted for their Turkey Reds product. The Turkey Red assignment was a great pleasure for me, and I was sorry that the product was discontinued. But that is the way it is today, if the product doesn't reach a certain level of success you move on. In addition, I believe, MLB set a limit to the number of products that can be marketed in one year, so it is survival of the fittest. But I admire Topps for recognizing and paying homage to the vintage card creations of the past."
Perez, who said he doesn't have a single original Diamond Kings painting in his possession, on selling and auctioning his work:
"I have ventured into auctioning off my work, and it is not necessarily the best way to sell art for an established artist.  Auctions, in my mind, are a place for buyers to get a good deal, depending on the item and how many bidders have an interest in it.  There are pieces that get far below value and pieces that get above value, but as an average, value is diminished, and that can hurt the reputation of an artist. However having said all of that, auctions are a good way to move inventory that would take a lifetime to sell, and it is a good way to make the art affordable to a greater number of people.  Depending on the quality of the auction house I wouldn't absolutely rule out auctions for myself."
Perez, on doing commissioned work:
"As for commissions, I think they are tough on the way I like to work, especially private commissions.  I accept some of them from time to time.  There is a different attitude in the buyer who wants a painting according to his vision, and a buyer who sees a piece I have created and wants to own it.  I prefer the unfettered results of my own vision, without the input from a buyer."
Perez on some of sports art's limitations today (i.e. photography's place in art) and finding a style:
"Compounding the dilemma are the many paintings that are exact replicas of the photos that are being used for reference. Other than the fact that they have been converted to color they offer nothing new to the viewer. They say more about the photographer than the painter. There are great black and white photographs, especially from the 1920s and 30s that demand of and seduce the artist to replicate them in color. I am guilty of that myself. What I like about [Kadir] Nelson, [Max] Mason and [Dane] Tilghman is that while they may use photos for reference you know you are not looking at a photograph. They invent their own imagery. As mentioned earlier I strive to add my own personal touch to my work. I don't think a viewer will mistake my paintings for a photograph. For one thing I am not that meticulous, I heighten color, exaggerate texture, create my own skies, grass, dirt and suggest details. Lately, especially in the new paintings I did for the book, I create my own images from a combination of photos, so that, to a great extent, they are products of my own inventiveness."
Chris Olds is the editor of Beckett Baseball. Have a comment, question or idea? Send an e-mail to him at colds@beckett.com. Follow him on Twitter by clicking here.