Preview thoughts: 2011 Topps Gypsy Queen baseball cards (with gallery)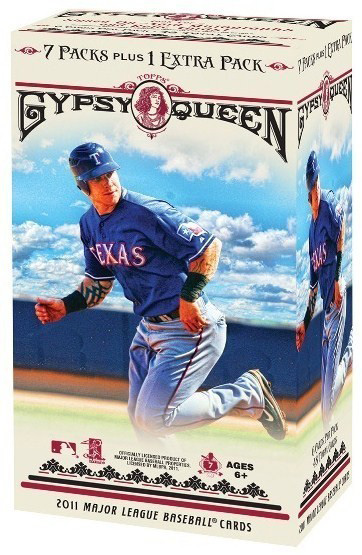 By Chris Olds | Baseball Editor | Commentary
Topps' 2011 Gypsy Queen baseball set doesn't officially arrive until Wednesday, but that hasn't stopped cards from popping up on eBay already, giving everyone a glimpse at what the retro product might really include.
All of the dealers and case-breakers I have spoken with said they couldn't get much — meaning they'll have less to go around than they perhaps wanted. In some cases, they got half of what they wanted. Will this spike the demand for the cards? I'm not sure. Could it have been a sign that interest wasn't high? Or that it was higher than expected and a select few are sitting on something that could be hot if it's a hit? Again, could go either way. It's worth noting that Topps baseball products seem to have been plentiful of late, though, so …
Based on the initial product release info, I really, really liked the look of what was in store. Namely, I liked the autograph checklist. That was preliminary information, though. Plenty could have changed since then. We'll know more when we see more breakdowns and final checklists.
While I'm not a big fan of the base card design — at least what I have seen on a computer screen, and it could change in-person — the real allure of products like this, for me, are the minis and this product is loaded with them. Each box comes with a mini box-topper filled with an assortment of cards from the various mini sets on top of a mini per pack. Meanwhile, all 450 cards in the standard set include five versions of each card, though some of them will be quite tough to find.
For me, though, I think it's worth noting that the product will be found at retail — at least based on the availability of blaster cases on eBay. So a big part of that wait-and-see game, with inevitably escalating hobby box prices based on lack of availability in some areas, means one thing for me: I'll probably be buying some mini lots, maybe some mini boxes and blasters … instead of hobby wax. (I'll probably get one … if the price is right.)
But that's me — and I just really (mostly) want the minis.
Below are a few images of cards found by collectors and already appearing on eBay. Are you a fan of GQ? Or will you wait and see, too? Let us know …
Chris Olds is the editor of Beckett Baseball. Have a comment, question or idea? Send an e-mail to him at colds@beckett.com. Follow him on Twitter by clicking here.