BGS Diary: Vintage, booklets, Dr. Beckett & more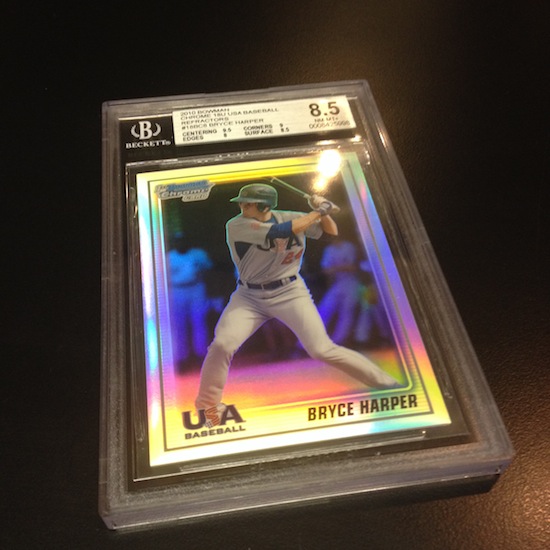 By Chris Olds | Beckett Baseball Editor | Commentary
For the last few months, I've submitted five cards a month to Beckett Grading Services to finally get some of the cards I like into slabs. Selecting which cards to submit has been easier said than done — and the results can be interesting, too.
Here is the batch of five cards I got back from BGS for November — so here's my latest BGS Diary entry. See which five cards I decided to submit … after the jump.
1. Bryce Harper — 2010 Bowman Chrome 18U USA Baseball Refractors #18BC8 /777, $80 (above)
I pulled this card from a pack during The Bowman Rush of 2010 and have had it sitting for a BGS slab all that time. Why didn't I grade it sooner? It has a tiny surface defect that I knew would probably drop it down to an 8.5. No worries — it's a card (like all the rest here) that will be stashed in my collection for some time. (I just wanted it slabbed for presentation/protection.)
Pop Report: While only 777 copies of this card exist, 254 of them have made their way into BGS slabs. My 8.5 is one of only 28 to get that grade while 203 have received a BGS 9 or 9.5. Only seven have received a Pristine 10. (To make myself feel better, I'll note here that 12 copies have graded lower than mine.)
—
2. Dr. Jim Beckett — 2005 Topps All-Time Fan Favorites Autographs #JBE /90, $100
If you haven't seen this card, you probably weren't an active Beckett reader back in 2005. The unsigned version was only found bound inside a past issue, while this version, the certified autograph, was only found in packs. Only 90 copies were signed and it was in my sights on eBay not long after arriving here more than six years ago. Seemed like it finally needed a BGS slab to me.
Pop Report: Only 10 copies of the certified auto have been graded — five BGS 9s and five BGS 9.5s. Meanwhile, only three copies of the unsigned promo card version have been slabbed at all.
—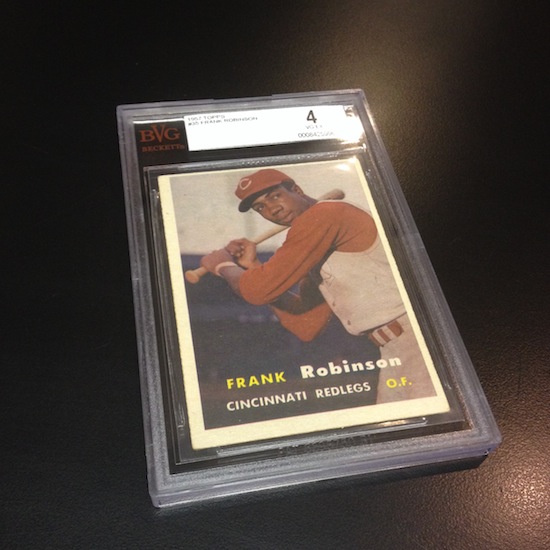 3. Frank Robinson — 1957 Topps #35 Rookie Card, $300
His 586 career home runs still rank ninth on MLB's career list — and that should tell you how good Frank Robinson was. One of my favorite 1950s cards — and one of my earliest vintage-card purchases — is his 1958 Topps Birdie's Young Sluggers cameo. This card, however, was a recent "find" in a vintage box during a post-work visit to Nick's Sports Cards here in Dallas and I got it for a far more modest price than $300 because of its condition. Despite its centering issues, I knew I'd get it slabbed up at some point. (This is that point.)
Pop Report: This card is a classic, and it's been put into a BVG slab just 540 times through the years. My BVG 4 is one of 60 cards to get that grade while a BVG 5 is the most-common with 69 copies graded. Two have received BVG 9s and none have graded higher.
—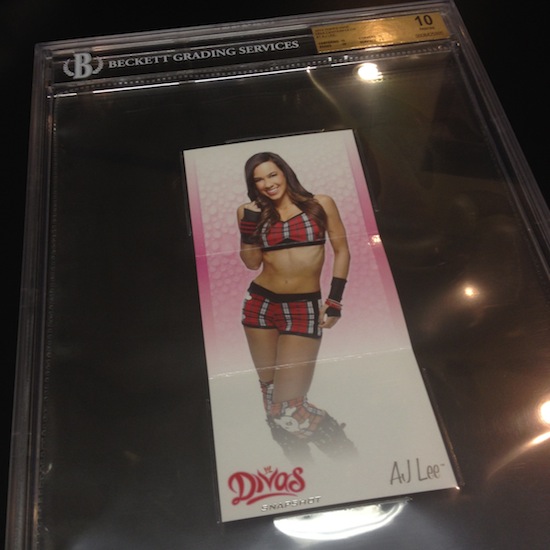 4. A.J. Lee — 2013 Topps WWE Diva Centerfolds #1, $12
She's a three-time WWE Divas champion and a two-time Pro Wrestling Illustrated Woman of the Year award-winner. While she's a fierce competitor and a good trash-talker — a big part of the game — I'll admit I just wanted to get a kick out of seeing this Topps booklet card slabbed. Imagine my surprise when it came back in a BGS magazine case since the check-holder case used for horizontal booklets just didn't have enough room to hold the card. (Yes, you can get booklets slabbed — in any sport.)
Pop Report: Somebody out there is getting her cards graded — wrestling cards are a growing market for grading — and a total of 29 other Lee cards have been put into BGS slabs. This one is the first of its kind to be graded — and it's the first BGS 10 of any kind for a Lee card. (It's also my first BGS 10 — just a .5 on surface away from being a perfect BGS 10 card.)
—
5. John Johnson — 1971-72 Topps #4 Rookie Card, $2
If you read many Beckett Basketball issues back when I was at the helm, you probably saw a mention or two of this guy — a player who attended Northwest College in little Powell, Wyo., back in the late-1960s before becoming the first player ever drafted by the Cleveland Cavaliers in 1970. LeBron, who? (Just kidding … I went to Northwest, too.) This pick was purely a sentimental one as he was also the first former NBA player I ever interviewed — he was an All-Star and won an NBA championship with Seattle in 1978-79.
Pop Report: My copy of this card is just the third  slabbed — and I'm right between a BVG 6 and a BVG 8. I own a bunch of copies of this card and this one was the cleanest. Someday, I'll find one to top them all.
So, there's my latest BGS Diary … let me know what you think, or if you want to see more, in the comments below.
How did Beckett readers do with predicting this batch? Not that well based on the results below … look for a new BGS Diary Predictor in December, which is just a few days away.
—
November BGS Diary Predictor: What will Olds submit?
1980 Topps #482 Rickey Henderson RC (17%, 86 Votes)
2011 Topps Stickers #21 Nick Swisher (12%, 63 Votes)
1981 Topps #216 Joe Montana RC (12%, 60 Votes)
1957 Topps #35 Frank Robinson RC (12%, 59 Votes)
2010 Bowman Chrome 18U USA Baseball Refractors #18BC8 Bryce Harper (11%, 57 Votes)
1986 Donruss #39 Jose Canseco RC (11%, 56 Votes)
2005 Topps All-Time Fan Favorites Autographs #JBE Dr. Jim Beckett (10%, 50 Votes)
2013 Topps WWE Diva Centerfolds #1 AJ Lee (8%, 39 Votes)
2001 Topps Heritage #316 Cal Ripken SP (5%, 26 Votes)
1971-72 Topps #4 John Johnson RC (3%, 15 Votes)
Total Voters: 159
Loading ...
Chris Olds is the editor of Beckett Baseball and Beckett Sports Card Monthly magazines. Have a comment, question or idea? Send an email to him at colds@beckett.com. Follow him on Twitter by clicking here.