Topps auction shows dollar signs behind old deals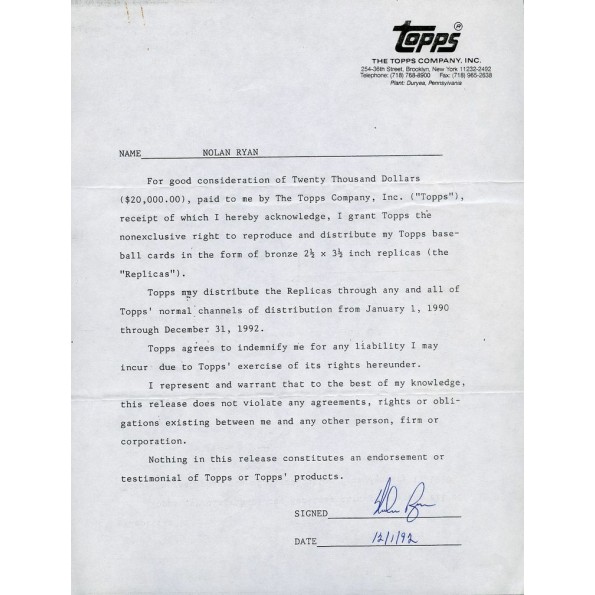 By Chris Olds | Beckett Baseball Editor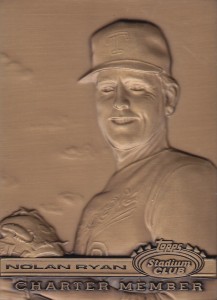 The business side of baseball cards isn't one that manufacturers often like to discuss, but a number items up for grabs in the first Topps.com auction this week shed some light on that side of the game.
How? With a glimpse at some old contracts that are up for sale.
Now, these aren't anything new — contracts have been part of past Topps Vault auctions since 2001 — but a handful of these have terms of the agreements attached to the signed pages. One example? Topps paid former Texas Rangers pitcher Nolan Ryan $20,000 for the right to reproduce and sell his baseball cards in bronze for two years from 1990 to 1992. (Oddly, the contract is dated near the end of the term.)
That's a far cry from the typical $75-a-year extension seen on many of the typical card contracts — amounts that, of course, don't include royalties paid later.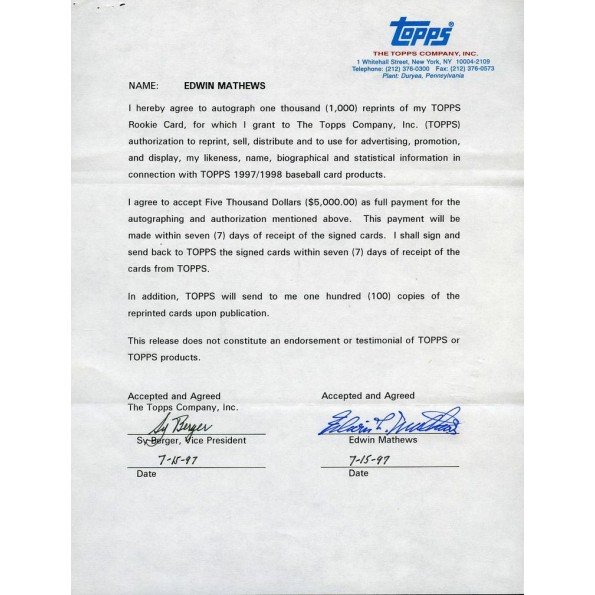 Another contract, for an Eddie Mathews autograph deal in 1997, shows that the Hall of Famer signed 1,000 reprints of his Rookie Card for use in products that year and the following year for a total of $5,000 plus 100 extra copies of the card. That's $5 an autograph for those not as quick on the math — with enough extras to make that even more profitable. (Don't think Matthews got a bad deal — this writer got his autos the cheapest way possible around that time … for free through the mail.)
—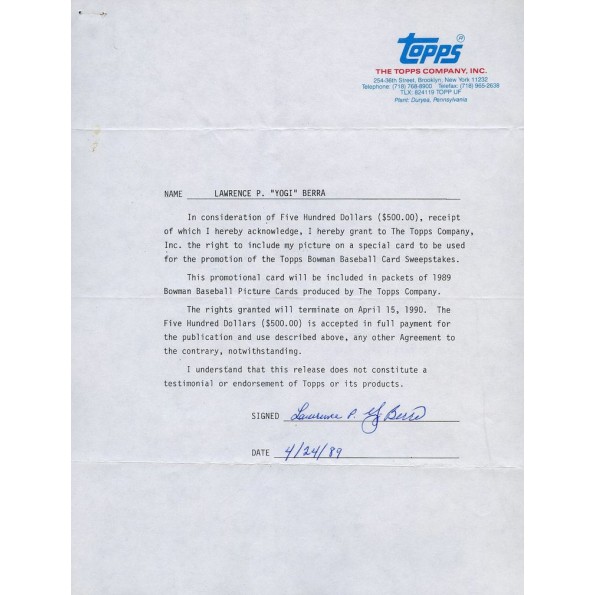 A third contract, this time from 1989 is for Hall of Famer Yogi Berra. This one, which features a full signature with his nickname included, is for $500 for the right to include him in Bowman. It looks like his 1989 Bowman Reprint Inserts card.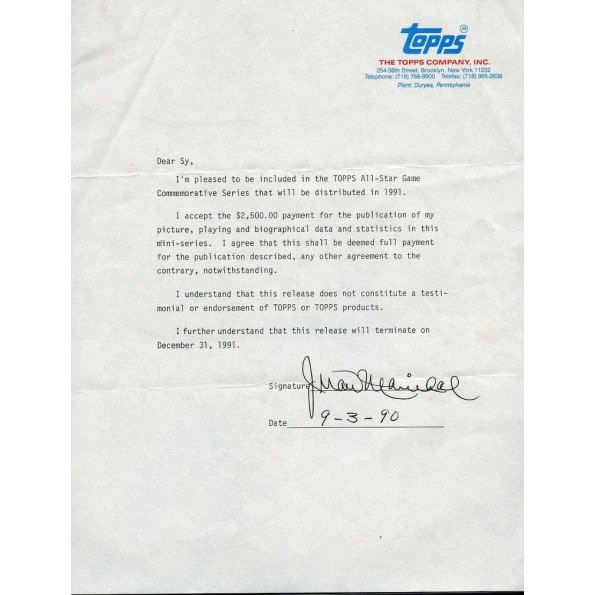 The last contract with interesting financials includes a 1990 Juan Marichal deal, which paid him $2,500 for his appearance in the 1991 Glossy All-Stars set. The Hall of Famer was an honorary captain for the event.
Obviously the baseball card market has intensified since these deals — so the numbers likely don't mean much a couple decades later — but it's interesting to see the amounts.
Chris Olds is the editor of Beckett Baseball magazine. Have a comment, question or idea? Send an email to him at colds@beckett.com. Follow him on Twitter by clicking here.