Beckett Expands Into Comics Market,
 Acquires Comic Book Certification Service
When you click on links to various merchants on this site, like eBay, and make a purchase, this can result in this site earning a commission.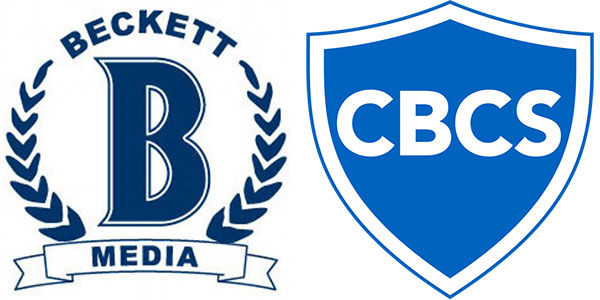 Beckett Media, the most trusted brand in collectibles, is expanding into the comics marketplace. Beckett today announced the acquisition of Comic Book Certification Service, LLC, an industry leader in grading and certification.
"We are thrilled to welcome Steve Borock and the CBCS team to the Beckett collectibles family," said Sandeep Dua, chief executive of Beckett and its portfolio company, Entrust Global Group. "Our global team is fully invested in serving the comics community with the trust, integrity and fairness that Beckett has delivered to collectors for nearly 40 years."
Jeromy Murray, Beckett's vice president for grading and authentication, said CBCS will join Beckett's flagship brands as the No. 1 choice for collectors. Beckett Grading Services (BGS) is the unquestioned leader in sports card grading, and Beckett Authentication Services (BAS), just 11 months after its 2016 launch, is a dominant player in the autograph authentication market.
"The entire CBCS/Beckett team is committed to growing the hobby, both in North America and internationally," Murray said. "We can't wait to begin connecting with comics collectors and retailers at shows, conferences and hobby shops world-wide."
Borock, CBCS' co-founder and president, said Beckett's infrastructure and global reach provides the grading company with unprecedented opportunity for growth. Borock, CEO Michael Bornstein and other key staff members will continue to serve collectors from CBCS' offices in St. Petersburg, FL.
"Today is an exciting step forward for CBCS and the comics community," Borock said. "Infusing Beckett's trusted brand and its talent in technology, marketing and global expansion into the market creates an even greater opportunity for CBCS to serve our great hobby."
About Comic Book Certification Service
Comic Book Certification Service, based on St. Petersburg, FL, provides the comic collectors with expert, impartial grading and certification of their valuable comics. Founder/President Steve Borock, one of the hobby's most respected professionals, established the industry's standards for third-party certification nearly 20 years ago. For more information, visit cbcscomics.com.
About Beckett Media
Beckett Media has been the voice of the collectibles industry from the time Dr. James Beckett published his first Sport Americana Baseball Card Price Guide book in 1979. Nearly 40 years later, Beckett Media continues to facilitate trade and lead the collectibles industry with dynamic products and services. For more information, visit beckett.com.
About Entrust Global Group
Entrust Global Group is an elite organization that specializes in the operation, execution and leadership of a diverse group of cutting-edge companies. Entrust's portfolio includes globally-focused companies in the following sectors: business and technical appraisals; auctions; publishing; education; conferences & webinars; numismatics & lapidary and human resource services. For more information, visit EntrustGlobalGroup.com.