2016 Panini Spring Training Road Trip Is Business Casual for Baseball's Young Stars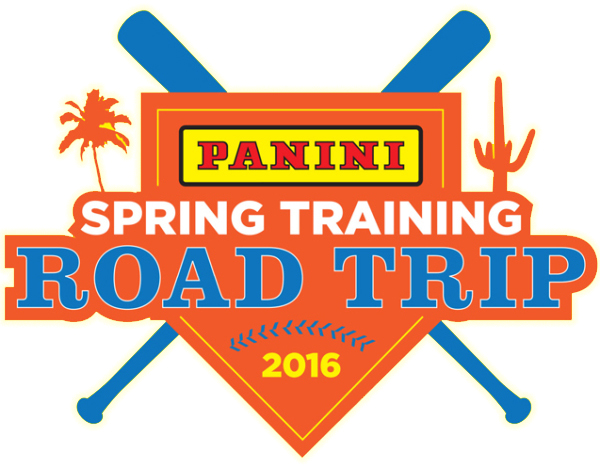 By Ryan Cracknell | Hobby Editor
Spring Training is all about getting ready for the season ahead. It sets the tone for the rest of the year. And that line of thought doesn't have to limit itself to just the game of baseball. It seeps into other parts of the sport, like baseball cards.
The 2016 Panini Spring Training Road Trip, which included stops in both Florida and Phoenix, helped set the company up for the year ahead. And if all works out according to plan, the impact could reach even further.
Running around and gathering autographs, photos and other assets from individual players is tough. Held for the third consecutive year, Panini's spring event makes it more efficient. And the concept makes a lot of sense. Head to a place where many players are and connect with them as a group. It still requires a lot to pull together, but things are definitely more streamlined.
Over the span of a couple of evenings, Panini staff meet with a couple dozen rookies and prospects, have them sign a bunch of autographs and collect some player-worn memorabilia.
The Phoenix arm is the second half of the trip. The set up is low-key and relaxed. That starts with the simple sign out front by the check-in desk at the hotel, the Embassy Suites Biltmore. The sign simply made and doesn't draw attention to itself. The hotel itself is filled with baseball fans in town to take in some early Spring Training games. Something too flashy might bring onlookers to the signing and change the atmosphere.
See Also: 2016 Panini Spring Training Road Trip Photo Gallery
Is it all business? Absolutely. But that doesn't mean that it has to feel like prison or stiff like a freshly pressed pair of slacks. The 2016 Panini Spring Training Road Trip is loose. Things get done and, at least from appearances, everyone seems to enjoy themselves.
"Our atmosphere is conducive to just coming in and chilling and having a good time," said Panini's Tracy Hackler. "The conversation is always lighthearted with us. Not that we're not serious people, but when you get players to an event like this it's important that they feel comfortable and they feel they're welcome and they feel at ease."
Most of the players wander in with a friend, agent or significant other. They all have a spot that was set up in advance with everything they'd need for their session: cards, stickers, pens, jerseys, gear and other paper work.
Panini staff are quick to greet each player as they arrive, help them to their spot and get them started. Pressure isn't a part of it. It doesn't need to be. Everything is as casual as the clothes everyone is wearing — jeans, warm-ups, shorts, t-shirts. Suits have no place here.
And it's sort of surreal. Baseball cards are a way that we immortalize heroes. Would we look at Mickey Mantle the same if we weren't chasing his cards throughout his career? Ken Griffey Jr? Even when we go back and get their old cards now, we're looking to capture some of that hero status. Cards act as gatekeepers to greatness.
But this event is the reverse. Heroes enter are mortals. They come into the hotel as regular people — something that most of us don't see much of. They're just like the rest of us, some not even that far into adulthood.
What stands out most from a card perspective are the 2016 Panini Flawless Baseball samples sitting at some of the spots. They're all ready to go save for the signatures. Memorabilia cards have their patches — and every one I saw from these was indeed a patch. Everything is serial numbered.
Not all the participants at the event have Flawless cards, though. It's limited to those considered to be key rookies and prospects in 2016 like Kyle Schwarber and Corey Seager.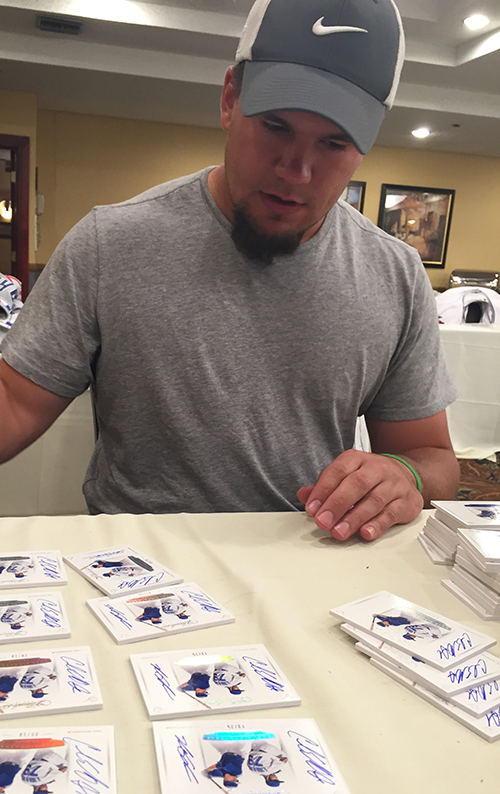 Also, this sort of mass signing makes dual signatures easy. For the most part, one player signs one side on the Monday while the card is completed a couple nights later on Wednesday during the second session.
Another part of the event is to get players to try on jerseys, cleats, gloves and use other gear that will end up being used in future memorabilia cards. And every piece of clothing is worn. Every piece of gear is used. And it's not like Mark Ingram back at the 2011 NFLPA Rookie Premiere when he put on layers and layers of jerseys all at once. Every jersey is put on individually and taken off. It's still might not have the same appeal as a game-used swatch, but they're definitely player-worn.
To close things out, participants head to a photography station for photos. Some are very comfortable in front of the camera, like Mac Williamson of the San Francisco Giants. Others are a little shy. But within a couple of minutes, most warm up to the idea and start striking poses, swinging the bat slowly, holding their glove dramatically and cracking big smiles.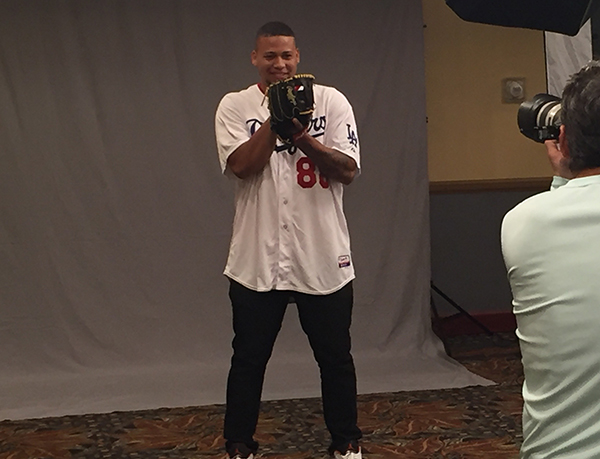 "It's everything we wanted in terms of engaging some of the top young stars in baseball, acquiring content as far as autographs, memorabilia, photography and just enriching our relationships that we have with these players and their agents," Hackler said.
"It's about enriching those relationships," he continued. "This event lets us spend some quality time with the players themselves and also with their representatives that we've dealt with for any number of years. It's not dissimilar to something like the National where the people you deal with throughout the year via email, via cellphone, via text — you get the opportunity to have face time with them. And that's important."
On the Monday night of the event, a handful of breakers are on hand, opening product while all this is going on. Of course, some players get in front of the camera. Some are familiar with modern cards, but you can tell most are not. You could tell by the way Matt Olson of the A's gingerly broke into a box of 2015 Panini National Treasures Baseball while sitting down with Ultimate Box Breaks.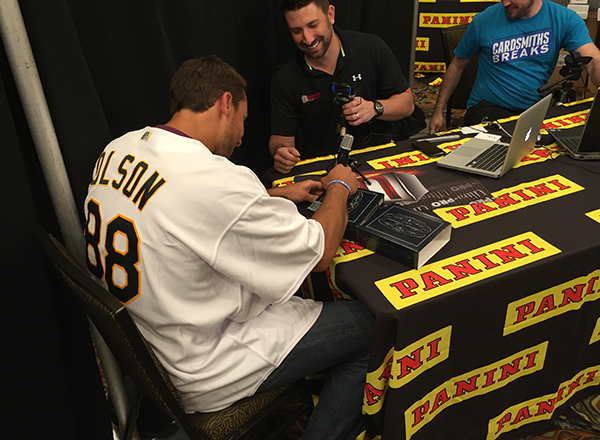 Then there was Texas pitcher Luke Jackson who was fascinated by the cards of many of the old players in the product like Babe Ruth and Lou Gehrig. The box he busted with Cardsmiths Breaks had a Harmon Killebrew button and a John McGraw memorabilia book card.
For collectors, they'll start seeing the fruits of the event as Panini's 2016 baseball products come out in the weeks and months ahead. For some of the younger prospects, it might even mean pieces and autographs in 2017 sets.
"Anywhere you would expect to see top prospects in autograph or memorabilia form across our baseball and collegiate lines, you'll see this stuff appear," noted Hackler.
And for Panini as a company, the event helps establish and solidify relationships with players and their reps, something that can have a lasting impression for years to come.
As the final players finish up their last autographs and photos on Wednesday, the 2016 Panini Spring Training Road Trip wraps up. Now it's back to Texas for the crew where all these new assets will be transformed into cards.
Comments? Questions? Contact Ryan Cracknell on Twitter @tradercracks.