These Two Photos Show a Big Difference Between On-Card and Sticker Autographs
When you click on links to various merchants on this site, like eBay, and make a purchase, this can result in this site earning a commission.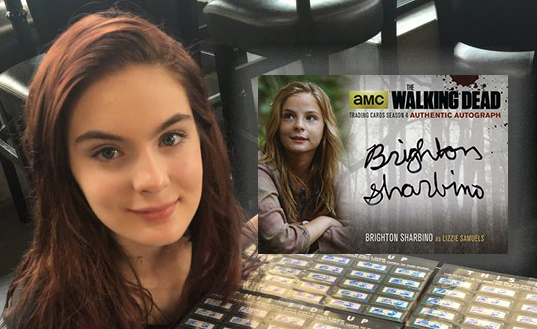 By Ryan Cracknell | Hobby Editor | Commentary
Up until about ten or 15 years ago, we didn't have the distinction between on-card and sticker autographs. For better or worse, signatures on labels have become commonplace in the hobby.
Both have their pros and cons. On-card autographs give signers more freedom and space. They have a personal touch since you know that the athlete or celebrity held them. But they require a lot more planning as the cards need to be printed off in advance. Hard-signed cards are also prone to damage if not handled properly.
On the flipside, stickers allow card companies to have a stash on hand. This makes it easier to include players in more products and mix things up on multi-signature cards. But labels lack that connection a lot of collectors crave and put a premium on. Aesthetically, stickers can be anywhere from hardly noticeable to a major turnoff. It depends on the card's structure and overall design.
Today, on-card autographs are treated as a premium. Even the card companies highlight their presence in marketing materials.
Whether you're a fan or not, stickers are likely to be around for the foreseeable future. But a couple of recent photos show what a huge difference an on-card autograph and a label can make.
First up is this Brighton Sharbino autograph from Cryptozoic's upcoming Walking Dead Season 4 Part 1. Whether you're a fan of the show or the actress, there's no denying the appeal this card brings as far as autographs go. Every letter is legible. It's big. It's on-card. It's perfect.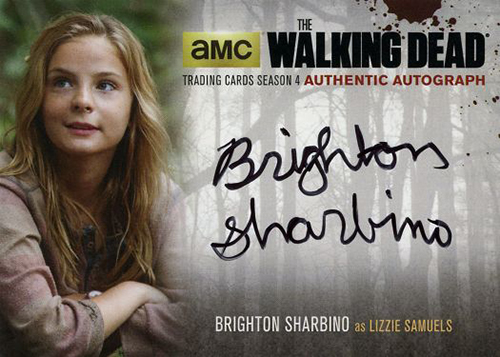 And here's the counterpoint direct from Sharbino on her Twitter account.
Just signed 600 @toppscards autographs! ✍? lmk if you get one! ? pic.twitter.com/7np1VgbdLz

— Brighton Sharbino (@BriSharbino) May 16, 2016
Although it's not specified that they're for a future Walking Dead set, it's safe to assume that it is. Topps is taking over the license starting this fall with the show's fifth season.
A couple of things jump out with this image. First, it gives the impression of a lot of autographs. That's not to mean that they'll all be used in the same product. And who knows, Cryptozoic might have that many or more slated for their final sets. But it does create a visual of a lot of signatures, even if it's not in the bigger picture.
More significant is the signature itself. The on-card autograph is big, bold and easily read. On the labels, that signature has reduced to a couple of letters.
To be fair, Sharbino's Cryptozoic card is the ideal specimen when it comes to signed cards. A lot of signers today only use a couple of letters, if that, for their hard-signed cards so the difference between that and a label is less noticeable.
Again, it's still too early to say how this will impact the final card and reception for either. But strictly speaking for the autographs themselves, these two images tell two very different stories.
How important are autographs to you? Do you care if it's on-card or stickers? Let us know in the comments below or on Twitter.
Comments? Questions? Contact Ryan Cracknell on Twitter @tradercracks.