Beckett OPG By The Numbers: 2012-13 Hoops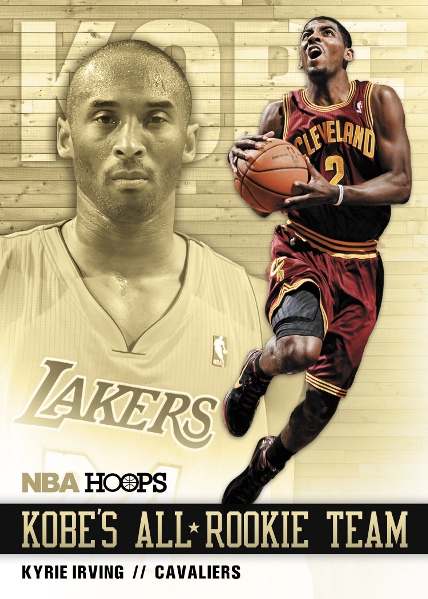 By Chris Olds | Beckett Basketball Editor
The auctions have ended, the numbers have been crunched. The ranges have been tabulated and the OPG has been posted.
The 2012-13 Hoops basketball card set from Panini America has arrived on Beckett.com with the favorites, autographs and memories in tow. Let's take a look inside the numbers crunched by Beckett Basketball Senior Market Analyst Rob Springs — and see even more — after the jump.
[youtube]http://www.youtube.com/watch?v=Xsw4xlOQcdI[/youtube]
Did you miss the recent Box Busters episode? Catch it right here.
—
Total value: $9,272
Average price: $7.61
Highest card: Hoops Rookie Impact Autographs #1 Kyrie Irving, $200-$400
Other Notable Cards:
— Hoops Autographs #223 Kyrie Irving, $200-$350
— Hoops Draft Night Autographs #1 Anthony Davis, $200-$350
— Hoops #KD1 Kevin Durant (Durantula), $60-$150
— Hoops Autographs #120 Ricky Rubio, $75-$150
Springs Says: Hoops has been broken really well and collectors are amped about the double rookie class. It has provided tons of regular rookies to chase, as well as a bunch of rookie autographs. The short-prints appear to be pretty tough again in the base autograph set. It's interesting to see the mix of rookie values when you combine together a class that has already performed on the court and the prospecting for the 2012-13 NBA Draft class. Definitely a fun break — and one that overdelivers on value at the $2 price point.
Olds' Opinion: Hoops is back for a second year under the Panini portfolio, and it's an offering that has an important place in the hobby — it's a product that can get new collectors into the game without breaking the bank. That alone should tell you how under-appreciated this low-end brand really is. Bigger-picture, this is the kind of brand that collectors in other sports might clamor for — a deep checklist, a no-frills back-to-basic printing approach that is autograph friendly, a couple of quality hits (at least they aren't jerseys) in every hobby box and a little bit of variety, too.
Chris Olds is the editor of Beckett Basketball magazine. Have a comment, question or idea? Send an email to him at colds@beckett.com. Follow him on Twitter by clicking here.