Someday, I'll have a Hall of Fame focus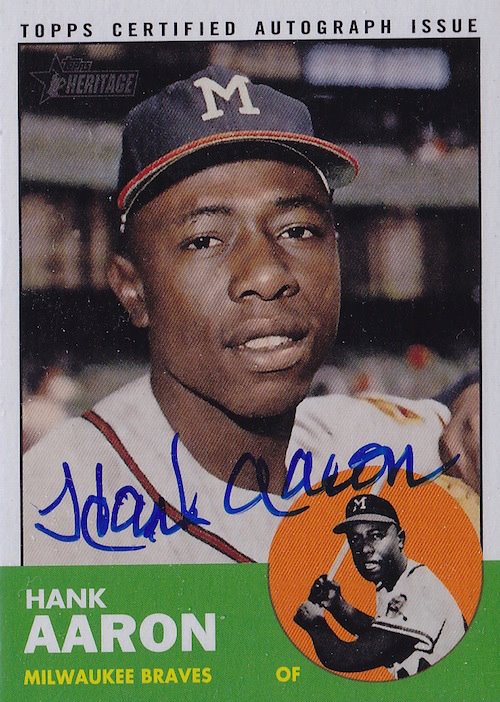 By Chris Olds | Beckett Baseball Editor | Commentary
If you've collected for any amount of time, you've probably had the moment where you sit back, look at all of the hot mess that is your collection and wondered what your focus is.
Wait, it's just me? Ok, I'll go along with that … but we all know better.
As I pondered a column topic for an upcoming Beckett Baseball, I turned to the Hall of Fame — the simple idea of writing about notable sigs I don't have. It was to be a woe-is-me approach — more like confession — of how I am lacking some notable signatures in my collection, particularly given my supposed collecting focus (well, at least one of them … one that has been around for a long, long time).
Instead, I actually surprised myself — while still realizing that, yes, I am lacking some notable sigs.
I've never focused on collecting autographs of baseball's Hall of Famers — instead acquiring decent autographs at decent prices when they presented themselves, hunting sigs one old-fashioned way or finding autographs in packs. Years ago, that hunting meant trying for autographs of big names through the mail — baseball and otherwise — and, back then, it worked pretty well.
Between all sports — and non-sports, too, I easily have a few thousand sigs. Or at least it might seem that way. Besides being too undisciplined to intently focus on just one niche over a long period of time, I'm also not much of a sorter. My autographs and memorabilia cards are separate from other stuff but that's it. (I'm missing that one "collecting gene" that must have everything in an orderly place.)
Despite my haphazard ways, I surprised myself when I quickly tallied my Hall of Fame autograph total, mentally checking off those I have and those I don't. Again, despite never trying to actively seek out players, I have 41 of the 297 members of the Hall — mostly players but a couple of others. It's a total that is far from Hall of Fame worthy — probably downright laughable for some of you Hall 0f Fame-focused fans with deeper pockets — but it's a reflection of 25 years of having fun, moving from interest to interest within the hobby, not worrying about making  a buck. I collect for fun based on what I can afford.
Many of my Hall of Famers came via through-the-mail requests — guys like Richie Ashburn, Kirby Puckett and Eddie Mathews who often signed for the price of a stamp but are no longer here. Then there are the certifieds of the Hank Aarons (added just this year), Whitey Fords, Harmon Killebrews, Frank Robinsons (1994 Nabisco, baby!) and Barry Larkins of the world who I found inside packs or got via mail-in offers. That's another way — perhaps the most-common way — I found them. Then, of course, there are the guys who I picked up on signed baseballs through the years — Nolan Ryan,  Steve Carlton, Paul Molitor, to name a few. That was before I realized I just don't have the patience — or space — for storing a bunch of single-signed balls and the dangers of fading and leather blotches. Some of them came from the JCPenney Christmas catalog while others were picked up in trades with what went out of my collection long, long forgotten.
Oddly, though, none of my Hall of Famer autographs have been acquired in-person — perhaps a sign of how big the autograph industry has become during my collecting years (1987 to today). While I have met many a legend in other sports and gotten sigs in-person from some of them, oddly the sport I follow the most hasn't created a moment. Well, unless, you count my recent encounter with Reggie Jackson — but all I got there was a single photograph and I wasn't even thinking about ink.
The invention of the cut autograph allowed me to add a Joe DiMaggio sig straight from a pack a few years ago, but oddly he's probably my least-favorite Yankees hitting legend of the bunch and yet the only autograph I have. Taking a different approach — winning a Twitter contest — allowed me to add a Goose Gossage autograph. (Not one I really ever would have sought out. I just got lucky.)
I'll undoubtedly have more Hall of Famer autographs in my collection in the coming years as my generation's stars are up for election — well, at least they'll have a chance to be elected from the wreckage of the steroid era. Optimistically, my stats will look better with age even if I don't add a single sig starting tomorrow.
Oh, and that confession part? Well, I'm a long-time A's fan and I still haven't tracked down a Rickey Henderson or a Reggie (not sure I would now). Other big names from modern times? Mickey Mantle? Nope, never forked over the cash. Bob Gibson? I should have — he's too affordable considering his on-mound dominance. Cal Ripken Jr.? Nope — always wanted a signed 1989 Fleer Billy Ripken instead. Henderson will likely be next — but like much of my collecting habits, there's not really a target item or date in sight.
Heck, here's the biggest revelation of them all — the most-shocking thing I realized when I mentally worked through my Hall of Fame autograph collection.
I don't even own a Bob Feller … and he signed everything.
Chris Olds is the editor of Beckett Baseball magazine. Have a comment, question or idea? Send an email to him at colds@beckett.com. Follow him on Twitter by clicking here.