UD adds Crosby/Lemieux dual signed cards to The Cup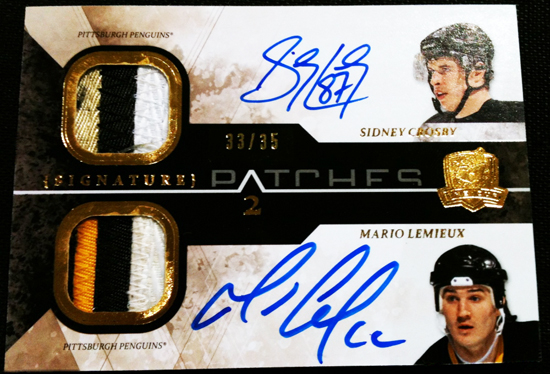 By Susan Lulgjuraj | Beckett Hockey Editor
Sometimes companies can't get the cards they want in time for a product before it's packed out. That's why collectors end up with redemptions.
Recently, Upper Deck took a different approach. If the company had been unable to get specific cards in time, it didn't include them in a product. That includes redemptions.
However, when UD finally did get the cards back, it included them in the product's release. It recently happened with SP Authentic, and it did it again with The Cup.
Last year, Upper Deck didn't get back several dual signed Sidney Crosby/Mario Lemieux cards in time for 2010-11 The Cup. Instead of putting redemptions in the product – and not knowing if these cards would be completed – Upper Deck didn't put anything in. It was as if these cards didn't exist.
However, the company recently got them signed and are inserting them in 2011-12 The Cup.
The Cup comes out Sept. 11.
Other cards in The Cup include autographed shield cards, jumbo patch cards, autograph/memorabilia booklets.
Upper Deck still includes redemptions in products.
Susan Lulgjuraj is the editor of Beckett Hockey magazine. You can email Susan here with ideas, comments and questions. Follow her on Twitter here.