Beckett Baseball: Look back at 2012 via our covers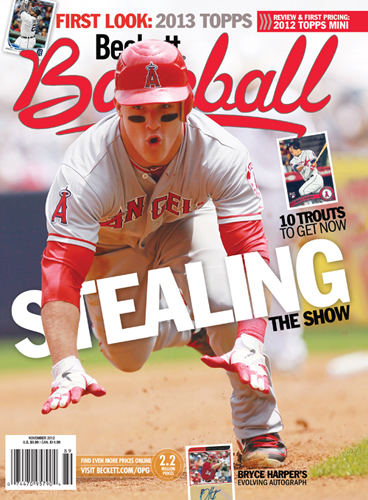 By Chris Olds | Beckett Baseball Editor
Once the holidays wind down, there will be one thing atop the to-do list for those of us involved with Beckett Baseball.
Our annual Awards Issue.
But before we get to The Best of 2012 — even with more 2012-branded baseball products apparently still to come — we opted for one extra fan vote that previews the collector portion of those awards. (You can see that later this week.)
We want you to pick our best cover for 2012 … after the jump.
Loading ...
Below you will find all of the 2012 covers — and also the December 2011 issue which featured some big news for 2012 with Panini America entering the baseball field with an MLBPA license. (Pick that one if you think it holds up as the best.)
Review them and let us know which one is your favorite via the poll above. Feel free to leave a comment below if you want to rant and rave about the year in cardboard, too.
Chris Olds is the editor of Beckett Baseball magazine. Have a comment, question or idea? Send an email to him at colds@beckett.com. Follow him on Twitter by clicking here.