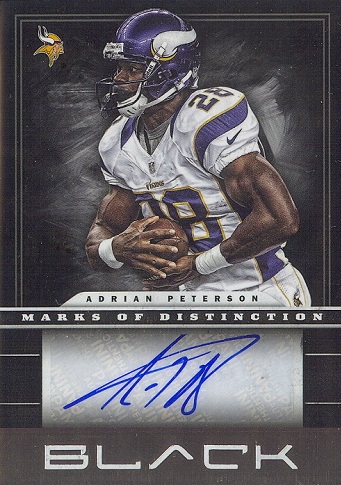 By Susan Lulgjuraj | Beckett Football Editor
One year ago today, Adrian Peterson had surgery to repair ligaments in his knee, and questions surrounded him of 'Will he ever be the same? Can he come back?'
The Minnesota Vikings running back came back better than ever.
On Sunday, he broke 2,000 rushing yards becoming just the seventh player in NFL history to do it, and finishing the regular season with the second-best single-season record.
Peterson finished with 2,097, nine yards of breaking Eric Dickerson's record.
A day like this likely doesn't move the needle on Peterson's cards – maybe for a few hours afterward on auction sites. His cards were already high, so there is not much more room for movement.
For example, his 2007 Exquisite Collection Rookie Card his a HI book value of $1,250 with his National Treasures and SP Authentic RCs coming in at $500.
Collectors will probably see an increase in volume of sales of Peterson cards as others try to unload, trying to make money on inserts and parallels.
Besides being Rookie Cards, one of the reasons his RCs sell for so much is there are more of those on the market. So far, in 2012 products, Peterson has 14 autographs that are not 1-of-1s. And just one autograph that was numbered to at least 50 – nothing more than that.
In total, there are just 185 in individual autographed cards placed in 2012 product between Topps and Panini. Thus making collectors look toward older product to find any of autographs in a decent quantity.
In 2007, Peterson had more than 100 autographed cards (including one numbered to 849).
If you have any valuable Peterson cards in your collection, are you holding or selling?
View of a full checklist of Adrian Peterson's cards here.
Susan Lulgjuraj is an editor of Beckett Football. You can email her here with questions, comments or ideas. Follow her on Twitter here.