Are the Menendez Brothers on the Front of the 1990-91 Hoops Mark Jackson Basketball Card?
For decades the 1990-91 Hoops Mark Jackson basketball card has existed in relative obscurity. Good player, sure, but not exactly a major standout. Chances are, if you have a stack of 1990-91 Hoops cards, it's sitting loose in the box and all but forgotten. But, thanks to the Menendez brothers, you might want to dig it out and give it a closer look.
See also: eBay Pulling 1990-91 Hoops Mark Jackson Cards
Menendez Brothers Appearance on the 1990-91 Hoops Mark Jackson?
See the two men sitting courtside on the edge of the card? They sure look like the Menendez brothers. Yes, those Menendez brothers.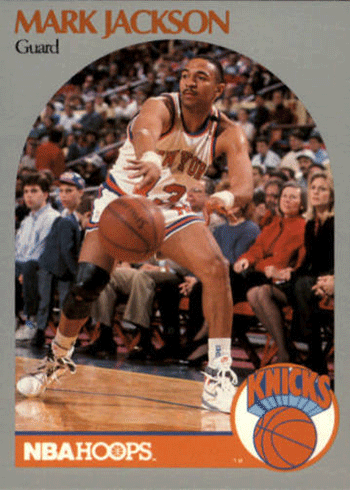 Following a pair of high-profile trials, Lyle and Erik Menendez were convicted for the August, 1989 murder of their parents, José and Kitty.
However, it wasn't until the following March that the two were arrested.
In the span between the killings and their arrest, the Menendez brothers went on a massive spending spree, buying cars, Rolex watches, taking trips and, apparently, courtside tickets at Madison Square Garden.
And that's where the 1990-91 Hoops Mark Jackson card gets a little added notoriety. The timeline of the photo falls in that window from after the murder and before the arrest. Jackson's knee brace is something he wore during the 1989-90 season.
So now how do you place a pair of brothers from Beverly Hills in New York? Easy. Lyle had business dealings out east and spent some time at Princeton. So it's plausible in that sense as well.
Barring confirmation from Lyle or Erik, it's tough to say with 100 percent certainty that the pair are indeed the Menendez brothers. They're in the background and a little bit out of focus. But if you look at photos of the two, there's a very close resemblance.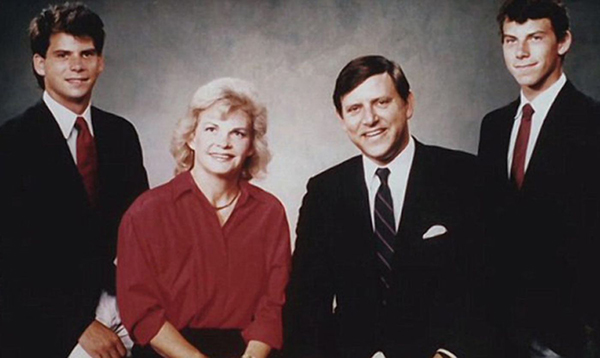 Soaring Prices
As word gets around about this cardboard cameo, the 1990-91 Hoops Mark Jackson has soared. Its odd (and grim) nature has made it easy to pass around on Reddit and social media, including a variety of high-profile accounts.
This has given the card some notoriety and once dime card is all of a sudden going for $10-$20 (or more), at least for now. 
But don't forget, this is 1990-91 Hoops. People are sitting on cases of this stuff. It's not a rare card by any means. So whether you're sitting on a stack or have one or two tucked away in a forgotten box, you're probably not going to find a better time to move it.
Even if prices drop with the inevitable influx of availability, it's not like there was a lot of interest before the possible Menendez cameo became commonly known.
Other Famous Sports Card Cameos
This isn't the first time a sports card has gotten some extra attention due to who's in the background. The 1956 Topps Hank Aaron is an early example. The smaller image has Willie Mays sliding into home.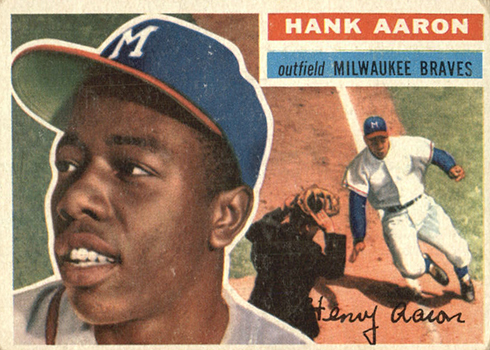 More recently, there's the 1994-95 Pinnacle Sylvain Turgeon.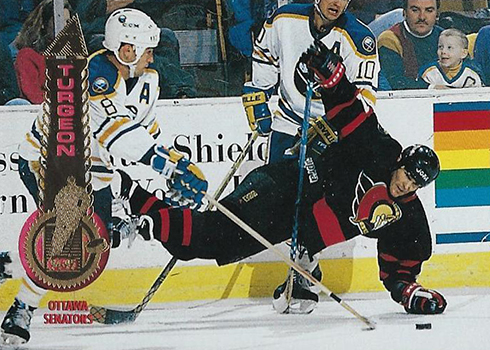 That child watching in awe from behind the glass? That's Patrick Kane more than a decade before he was drafted first overall by the Chicago Blackhawks.
There's also the 2007 Topps Derek Jeter with President George W. Bush and Mickey Mantle added to the background.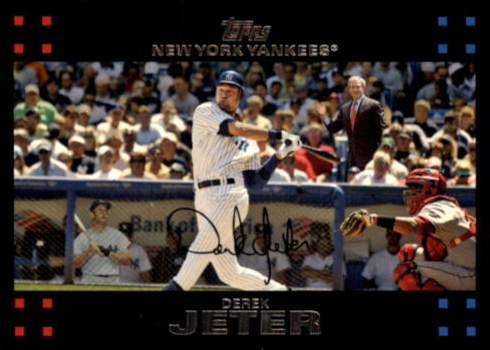 The 1990-91 Hoops Mark Jackson has some notoriety now. It was always hiding in plain sight, but now there's no going back. No matter how grim or strange, it has a story that makes a seemingly common card interesting.