A Visionary's Work: Terry Smith and the History of the Iconic Fleer Pro-Vision Cards
Terry Smith's Pro-Vision art has not been pulled from a new hobby product in over 20 years. What has he been up to and is there a cardboard comeback in his future?
American athletes—from Jesse Owens to Mickey Mantle to LeBron James—have long held a place in American culture as heroes. Whether for their super-human strength and speed, their thoughtfulness and stance on social issues, or simply because of the example and inspiration they provide to those who did not have a father or one ideal to emulate, the elite American athlete has served and continues to serve an important role in our lives.
Twenty-seven years ago, one man was able to share his unique vision of the athlete-superhero with millions of sports collectors. Terry Smith is the artist behind the Pro-Visions line of cards issued by Fleer in the early 1990's. His fun images captured the imagination of an entire generation of sports card enthusiasts. But what they probably don't know is that the Terry Smith-Fleer collaboration almost never happened.
Origins of the Style
In the 1980s, Smith was in his mid-20s and already talented enough to be getting regularly commissioned by major sports teams to produce paintings for them. Smith completed projects for teams including the San Francisco 49ers, Los Angeles Lakers and the athletic departments at the University of California at Berkeley and Stanford University. Perfecting his style of sports art, and being a sports collector himself, he got an idea one day while looking through some cards being issued and decided to share it.
"Back in the mid-80s, Donruss—if you remember—was doing a set called Diamond Kings. I was a basketball card collector for a long time, and I saw that and thought that represented what people used to do," Smith said. "When people saw sports art as a collage: you get a headshot and a couple of action shots."
That kind of work did not seem appealing to Smith or young kids he saw opening packs at a young basketball camp one day. He wrote to Fleer basically saying, 'Hey, I think this is what you should be doing' and sent the card company an example of his work.
"I did one example for them to give them an idea of what I could do—and that was the Dwight Gooden," he said. "That was the first piece I did. I called it the Flame Thrower." None of the other images that collectors would later see on Fleer cards were created yet.
The now-familiar image of Doc Gooden shows him in mid-windup staring down a batter 60 feet away with fire in his eyes and actual flames rising from his glove. It's an image that Smith was not sure immediately resonated with whoever opened his letter at Fleer.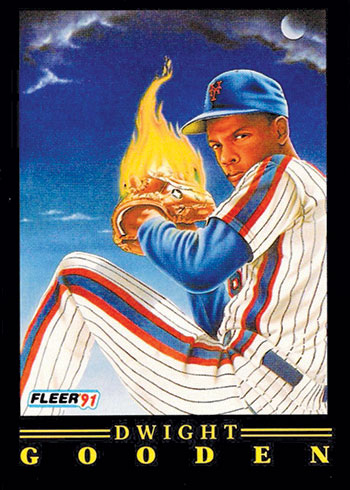 "I didn't hear from them for a while," he said. "And then about a year and a half to two years later, the ownership of Fleer changed hands and I get a call from a [Vice President at Fleer] who said we'd like to take you up on your offer to do some of these. That's how it all started."
Smith grew up reading comics and began collecting cards in the mid to late 1960s. When he got the idea for his style of painting, his goal was to make the cards as fun and exciting for young collectors as cards were for him when he first began collecting. For Smith, that meant that the athletes should be portrayed as superheroes and the images should go beyond what a photograph can do. "What I was doing was taking an athlete, playing off a nickname or a characteristic, and creating images that I considered more of an Issue No. 1 for a comic book," he recalls. "And create them with a little more of a superhero flair, a little more personality."
Fleer Introduces Terry Smith's Pro-Visions
Baseball card collectors were the first to have an opportunity to enjoy these images when Fleer issued a 12-card insert set featuring images created by Smith called Pro-Visions. The cards depicted Smith's paintings of ball players framed by distinctive black borders. The standard-size (2.5 by 3.5 inches) cards were random inserts in wax and rack packs being sold at hobby and retail stores in 1991.
The Pro-Visions line had a futuristic, fantasy look that contrasted sharply with the Diamond Kings line produced by Donruss featuring the art of Dick Perez and even the Collector's Choice baseball checklist cards of 1989 Upper Deck that featured images painted by Dallas-based artist Vernon Wells.
When collectors sifted through opened packs of '91 Fleer, they searched for any black bordered cards in their pack contrasting against the bright yellow borders utilized for the 720-card regular issue set. The Pro-Visions checklist that first year included cards for stars including Kirby Puckett, Mark McGwire, and Bo Jackson—all athletes with superhero abilities, no doubt.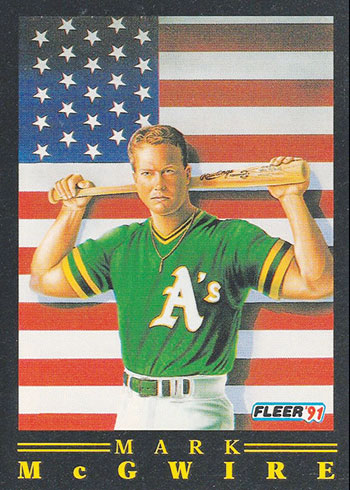 Puckett certainly lived up to the "dynamite bat" image portrayed on the Pro-Vision card when he hit a dramatic, game-winning home run in the bottom of the 11th inning of Game 6 of the World Series that year.
A lesser-known follow up Pro-Visions set—featuring white borders—was issued only in 1991 Fleer factory sets. This four-card set included a understated yet masterful image of baseball's best leadoff hitter and baserunner carrying a pair of wing-footed spikes. Rickey Henderson, the Man of Steal, was now elevated to Greek God status.
To achieve these results took time. The process of completing a single one of these paintings took several days. In fact, Smith preferred having a week to complete each piece, but at times was completing two paintings a week, due to his work schedule. A fantastic piece written by Jana Threatt published in the February 1992 issue of Beckett Basketball Card Monthly covered this process in detail.
The paintings began as pencil drawings on illustration board before acrylic paints were applied with Smith using cold-pressed illustration board to achieve a clean, almost Photoshop-like quality without the use of high technology. "Part of my painting technique is to hide my brush strokes using an airbrush," he said. "So, I'll draw the piece first. After I draw it, then I paint it by hand with acrylic paint. After I get the character painted and blocked in, I'll go over my brushstrokes with an airbrush. Some people thought I painted them on computers or on top of photos, but they're all done by hand," he said. "I'll also use the airbrush or color pencils to add some of the effects that you see on the paintings."
Collectors who examine the card backs, will notice a nickname or title on each of the Pro-Visions and a write up of each athlete. Smith recalls that Fleer had the final word on those details. "I would give them suggestions, but then they would—a lot of the times—do what they wanted to do. But I had named all my paintings when I completed them," he said. "Some of those names stuck, some of them didn't."
Smith's talents also captured athletes of the NFL and NBA when Fleer's basketball and football card issues hit store shelves in 1991. A 10-card set featuring elegant silver boarders and green lettering framed Smith images of football greats including Joe Montana, Lawrence Taylor and Barry Sanders.
The first Pro-Visions featuring NBA stars included six future Hall of Famers: Michael Jordan, Charles Barkley, Karl Malone, Magic Johnson, David Robinson, and Patrick Ewing. All athletes that played for the 1992 United States Olympic basketball team.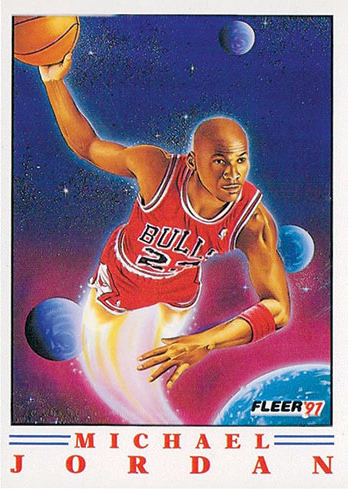 These first Pro-Visions cards were randomly inserted into wax packs of Fleer's 1991 football release and its 1991-92 basketball issue. The following year, however, the Pro-Visions line were no longer featured as a separate insert set, instead being incorporated into Fleer's regular issue sets for baseball, basketball and football. And some collectors were disappointed to see fewer of Smith's images being released by Fleer.
The Pro-Visions baseball images went from 12 in the 1991 Fleer issue —16 counting the four inserted in the factory-only set—to only six featured in the 1992 Fleer baseball release.
Similarly, the 10-card Pro-Visions checklist found in the inaugural football set of 1991 —11 counting a Jerry Rice released in the Update set—dwindled to just six cards in the 1992 football release that were issued as part of the base set.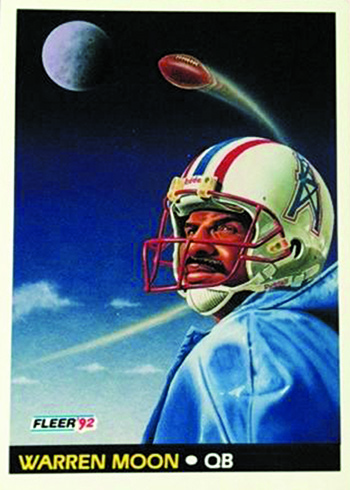 The 1992-93 NBA release by Fleer also featured six of Smith's images. While the checklist is not as star-studded as the first year Dream Team lineup, the look of these is arguably an improvement from the year before. Issued as part of the base set, these cards featured gold borders, leather grain basketball-texture graphics, and team colors that matched the team colors for each respective player. A memorable Tim Hardaway card depicts him leaping in front of a beautiful blue sky with the Golden Gate Bridge in the background.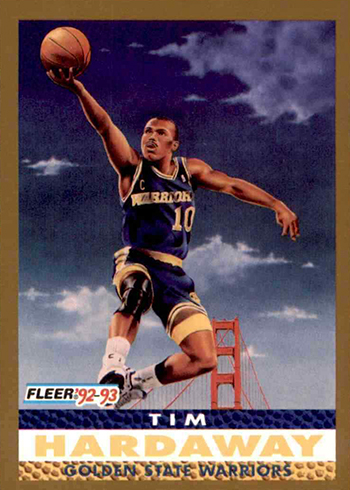 By 1993, Smith was no longer producing images for use on Fleer cards. Another artist with a much more psychedelic view began doing the illustrations for the line, if they were being produced at all. "Fleer decided they wanted to save money and wanted to pay an artist less money to do them," he said. "And so they changed it."
Smith shed some light on the terms of his agreement with Fleer that provides insight into why the checklist of cards depicting his images fell so dramatically from the first year to the next. "Back then, I was getting close to $10,000 a painting," he said. "Now, I get more than that." And what Fleer paid for was the right to use Smith's art images on cards, and that's it. Fleer did not buy the paintings themselves nor the exclusive rights.
Smith still owns all but a few of the original paintings and says he has retained the rights to all of his paintings. "That's why you've never seen them reproduced," he said. "Because I own the rights to them and I own the originals."
Any time spent conversing with Smith, and you learn that he is attached to his work product. He does not advertise his paintings for sale or showcase them for sale at art galleries. But that does not keep his work from still attracting the interest of some die-hard collectors to this day.
"Every now and then I'll find a collector who will call me and say 'I want the original' and I'll tell them, 'it's not for sale.' And then sometimes (laughing) they'll keep buggin' me. So, I did sell a couple [of the original paintings] this year," Smith admits. "One guy had been hounding me for four years."
The persistence paid off for one big-time basketball collector, who Smith says added the Magic Johnson painting used by Fleer to his private collection. "The Kirby Puckett painting is also in a private collection now," Smith said. "But other than those two, all the others are in my family collection."
Smith describes his original paintings as large. "Some of them are 30 by 40 [inches]. Some of them are 30 by 20. The smallest ones are 15 by 20," he said. "They're good size paintings and they're painted pretty tight. It's fun to look at the whole collection," he said with a chuckle.
One of these days, Smith says he would like to display all of the paintings at one of the National Sports Collectors Convention shows. "Next time it comes to the West Coast, I'm hoping to set up a display so people can actually see all the originals," he said. "It's fun to see all the originals."
Life After Fleer
After the gig with Fleer was up, Smith found a new collaborator in 1993 with fellow Bay Area sports photographer, Barry Colla, who had a license to issue baseball cards. Colla was producing baseball card sets that some teams used for stadium giveaways. Smith says Colla contacted him to help with a series of illustrations for what Colla called Diamond Marks.
"A lot of people have never seen those, but those are some images we did for Diamond Marks that have the same style," Smith said. "I painted them in the same style as the Pro-Visons. They were done about the same size as the old '65 Topps football and the 1969-70 Topps basketball, what people call 'Tall Boys' now," he said. "But they were done as bookmarks, instead of straight trading cards."
Smith says he helped not only in illustrating some of the insert art cards, but also in producing the design for the cards and packaging. "It's a set most people don't know about, but it's a pretty cool set. The photography in it is really nice. Barry is a good photographer," Smith said. "My images were random inserts in the Diamond Marks packs."
Not mass produced like the Fleer issues of the early '90s, it is more difficult for collectors to track these cards down. But for those that do find them, they will recognize some of the images that appeared on a few Pro-Vision Fleer favorites from 1992.
"There were a couple of images that people liked and wanted and couldn't necessarily find in a larger format. So, there were a few that I tweaked," Smith said. "I tweaked the Nolan Ryan. If you look at the Fleer image and you look at Diamond Marks, there is additional artwork I created. So, I went back to the paintings and I painted more," Smith said. "On the Ryan piece, there is more to the ceiling, more strikes on the wall, and there's a crack in the wall with a ball coming through."
However, the Ken Griffey, Jr. card was a completely different image from the Pro-Visions. The Diamond Marks insert features Griffey in a batting stance, holding a baseball bat that morphs into a sci-fi cannon. "I called it Ballistic," Smith said. "That was a fun piece."
But there may not be a more interesting card in the Diamond Marks set than the Barry Bonds illustration card where it appears he is being replenished with "juice" being concocted inside of a laboratory. Did Smith have insight into what was happening at the now infamous BALCO or is he really just a time-traveler having some fun?
"It's funny because on a lot of my paintings," Smith says with laugh, "when I did them, people will see the painting now and they think that I did those paintings later—after events. Because of the steroid [era] issue, people look at the Bonds piece and they think I painted it after the steroid allegations," he said. But that's simply not the case.
The Michael Jordan Pro-Visions card from the 1991-92 NBA release—where Jordan appears to launch out of earth's orbit is another example of just how his work was visionary in more ways than one. The Jordan image was painted years before the Space Jam film was released in 1996. "People will look at that stuff and assume they were done after the fact."
For fans of Smith's work and collectors, the only way to buy Smith's images are by getting a hold of the Pro-Visions cards issued by Fleer, the Diamond Marks insert cards, and one other set of cardboard illustrations that Smith holds in high regard.
Smith was commissioned by the Los Angeles Times to design these cards issued by the Forum Charity Foundation to celebrate the 25th Anniversary celebration of the famous arena in Los Angeles. Some lucky fans attending events at the Great Western Forum in 1993 received a packaged set showcasing athletes and their iconic moments at the Forum.
The 10-card set includes a Muhammad Ali with a write up about his 1973 boxing match against Ken Norton at the Forum, a Wayne Gretzky highlighting his years with the L.A. Kings, and tennis stars Andre Agassi, John McEnroe, and Chris Evert, who were all showcased in matches at the Forum.
Smith designed the base cards and also illustrated five cards of Laker greats; one of the five was randomly inserted into each set package. The illustrated cards feature Kareem Abdul-Jabbar, Elgin Baylor, Jerry West, Wilt Chamberlain, and Magic Johnson. The painted images include depictions of Abdul-Jabbar following through on his patented hook shot and Magic Johnson in mid-assist. "That's a pretty cool set," Smith said with pride when reminiscing about it. "That's my favorite."
Since then, Smith has kept busy sharing his creative vision of the world on different platforms and for different entities. He's worked on video game lines such as God of War for Sony and Tiger Woods Golf for EA Sports. He is also known for designing a number of sports team logos and uniforms, including the original—and all subsequent logos for the NHL's San Jose Sharks franchise.
Smith is also working on a project with the NBA to deliver what he calls "smart" collectibles: figures of stars like Kevin Durant, James Harden, and LeBron James that incorporate a phone app that can be downloaded from the App Store or Google Play. Scanning the figure's shoe using the phone app produces a 3-Dimensional character of the respective NBA star on your screen and an animated experience. Fans can visit ICONai Small-Stars to learn more about Smith's latest collaboration with the NBA.
All of that sounds like Smith must keep a very full calendar. But certainly a man of his talents must still enjoy painting sports. Surely, there are Pro-Vision-style paintings of the likes of LeBron James, Mike Trout, and Tom Brady stashed away in his art studio just waiting to be made into cards randomly inserted into hobby packs one day, right?
"We continue to work on a lot of different creative endeavors," Smith said. "One of these days, I hope to do some fun things on cards again. But for now, those other things are keeping me busy…I probably haven't done a painting in 20 years."