When Michael Jordan Wore No. 12 on a 1990-91 Hoops Basketball Card
When you click on links to various merchants on this site, like eBay, and make a purchase, this can result in this site earning a commission.
All this talk of brothers sitting courtside has brought 1990-91 Hoops Basketball back into the spotlight. But Mark Jackson isn't the only seemingly mundane card with an interesting cameo with a story behind it.
Behold the 1990-91 Hoops Sam Vincent: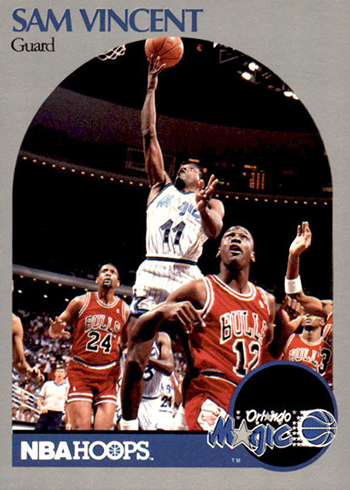 It's #223 on the checklist, but it's the #12 that makes it interesting.
Yes, that's Michael Jordan in front of Vincent. Yes, that's a 12 on his jersey. And, no, it isn't an airbrush job trying to trick us into thinking it's someone else.
On February 14, 1990, the Chicago Bulls were in Orlando for a game against the Magic. Jordan's jersey went missing. According to Sports Illusrated's Chris Johnson, a search went through the crowd to see if a fan could loan Jordan their jersey for a night. Nothing. As a last resort, Jordan was forced to wear a nameless #12 jersey the Bulls had.
The number switch lasted just the one game but that didn't stop it from being immortalized on a basketball card.
Jordan is in the foreground of the 1990-91 Hoops Sam Vincent #223. But there is a bit of a twist. This version of the card is only in first series packs. The card was switched up for the second series. The image with Jordan wearing #12 changed to one of Vincent dribbling and in a black jersey.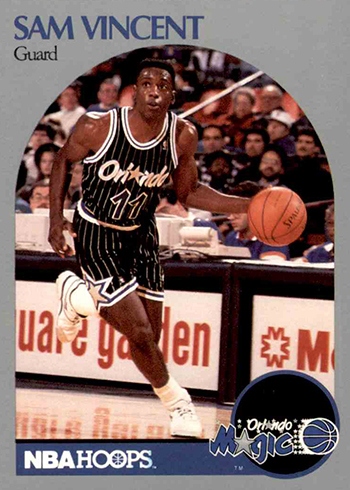 So on the one hand, each individual version of the 1990-91 Hoops Sam Vincent is a short print when you compare it with cards available in both series. But that doesn't mean either card is rare. In fact, it's far from it. We're talking about 1990-91 Hoops here, one of the most readily available basketball card sets ever.
This isn't a new find. And while it commands a premium over a lot of other cards in the set, there's no reason for there to ever be a run on it. A lot of them are out there for less than a fancy drink at your favorite local coffee shop. But that shouldn't take away the cool factor this card brings and the story behind it.
And for those who like a good conspiracy, if you add Jordan's 12 with Vincent's 11, you get 23. Sometimes destiny is a basketball card.