1994 Upper Deck Nothing But Net: Michael Jordan, Larry Bird, Charles Barkley Battle for a Big Mac
If a company ever needed a reason to make a set of trading cards, Michael Jordan would be at the top of the list. Case in point, 1994 Upper Deck Nothing But Net, a small promo set based on a commercial. Sure, it's one of the best commercial campaigns ever, but cards based on it? They're actually pretty fun, highlighting a different side of Michael Jordan, Larry Bird and Charles Barkley.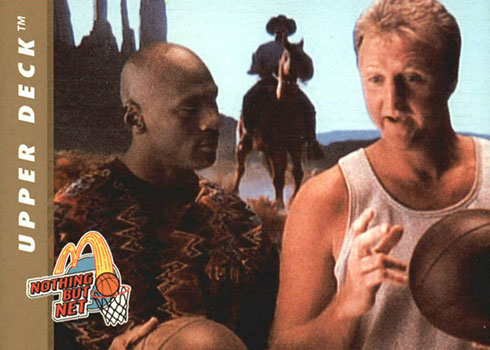 1994 Upper Deck Nothing But Net has 15 cards. Broken down to its individual parts, it's essentially a storyboard translation from a single TV ad. Fronts are simply a still taken from the commercial. HD wasn't a thing back then so pardon the images for being on the soft side like the third time a blank no-name brand VHS tape was recorded over.
Once you see Cowboy Charles Barkley, you'll know it's worth it.
It's not the original "Nothing But Net" ad that debuted during Super Bowl XXVII in 1993. Rather, it picks up "1 Year Later" with Jordan and Bird still playing H-O-R-S-E for a Big Mac. This time, Charles Barkley tries to get in on the action as the trio go to the depths of the ocean, space and points in between.
Backs are light in the way of content. The shot from the front is repeated four more times inside a series of film strips. The little space that is left has brief bits of dialogue and a small promotional synopsis.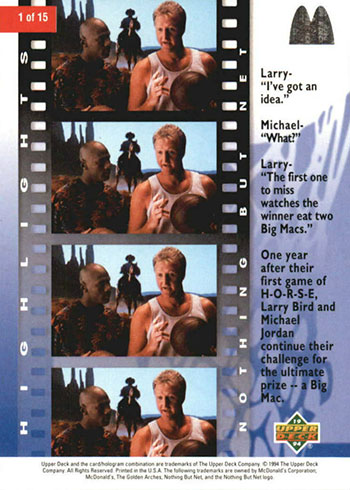 In addition to the regular promo set, Walmart had a special blister pack. In each was a full set of 15 cards plus one exclusive jumbo card. Jumbos are essentially parallels in the larger format. They also come serial numbered to 20,000 copies.
It's safe to say that 1994 Upper Deck Nothing But Net had a healthy production run. Sets and singles are both fairly easy to find today. If there is a challenge, it'd be the Jumbo cards. But even those should be relatively affordable.
Buy on:
1994 Upper Deck Nothing But Net Checklist
15 cards.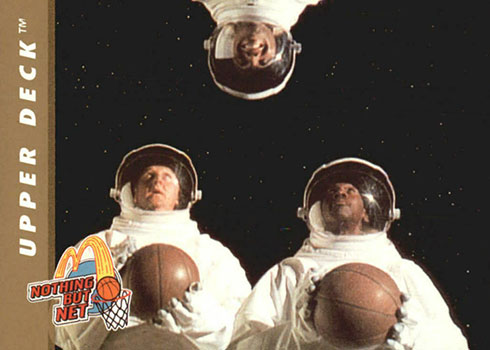 Parallels:
Get 1994 Upper Deck Nothing But Net values in the Beckett Price Guide
1 Michael Jordan, Larry Bird
2 Charles Barkley
3 Over the Grand Canyon
4 Mt. Rushmore, Michael Jordan
5 Michael Jordan
6 Larry Bird
7 Michael Jordan, Larry Bird
8 Charles Barkley
9 Michael Jordan, Larry Bird
10 Charles Barkley
11 Charles Barkley
12 Larry Bird, Michael Jordan, Charles Barkley
13 Michael Jordan
14 Larry Bird
15 Charles Barkley