Alabama football cards spike in value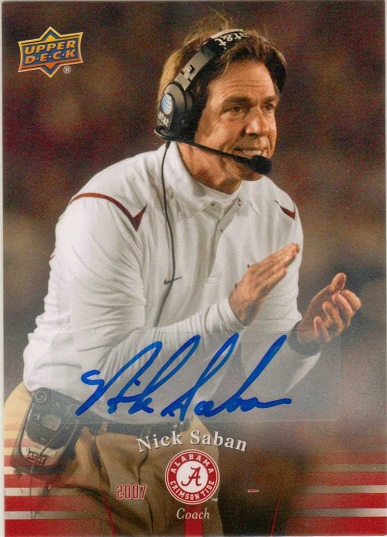 By Susan Lulgjuraj | Beckett Football Editor
So what can a fourth BCS National Championship do for you?
Well, if you happened to pull a Nick Saban autograph out of 2012 Upper Deck Alabama Football, you might get a good chunk of cash. At the very least, you're holding on to a very valuable card.
Saban's autographs have sold for as much as $500, helped by them being short-printed. The scarcity of the cards, Saban's popularity and his four national titles have created a buzz around his Upper Deck cards.
Of course, it helps that Saban's team just bested Notre Dame 42-14 on national television.
Saban isn't the only member of the Crimson Tide whose cards are benefiting from winning the national title.
Alabama freshman running back T.J. Yeldon rushed for 1,108 yards and 12 touchdowns on 154 carries this season. During the BCS championship, he had 110 yards and a touchdown.
Yeldon's Leaf All-American Army Bowl cards are seeing a spike in value.
The Bronze Jersey Patch Autograph (numbered to 30) from the set currently has a HI book value of $125 and the Green Prismatic and Red Ink Autographs have $100 HI book values.
But Yeldon's cards are catching fire quickly. Recent Leaf autograph cards have sold for about $200.
Alabama didn't just win the championship, but are cleaning up on cardboard as well.
Click here to view Nick Saban's cards on eBay.
Susan Lulgjuraj is an editor of Beckett Football. You can email her here with questions, comments or ideas. Follow her on Twitter here. Follow Beckett Media on Facebook.