Basketball collectors shelling out green for one shade of Totally Certified parallels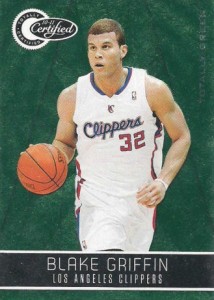 By Susan Lulgjuraj | Contributing Editor
With basketball season in full swing, collectors seem to be jumping for cards once again – even if there isn't a single new NBA product out just yet.
It seems as though last season's parallels from Panini America's 2010-11 Totally Certified are doing extremely well on the secondary market.
But there is one parallel in particular that collectors seem to want more than others.
Perhaps there's just something about the color green that we like.
"These cards have been selling substantially well over the past few months – many trying to compare them to the much more elusive Metal Gem Green cards – and many (on several different message boards) questioning the validity of the prices paid," Rob Springs, Beckett Basketball analyst said. "I'm not sure these are the hottest cards in the hobby right now."
The basic green parallels and the autographed parallels are numbered to five.
Recently, a Kevin Durant Totally Certified green autograph sold for $1,800 on eBay and a Derrick Rose autograph came in behind him for $1,495.
But these cards don't need a signature to be worth big bucks. A LeBron James numbered 4/5 sold for $1,200 on Jan. 30. That's right. No autograph, just a shiny green parallel to add to someone's collection. The non-autographed Kobe Bryant sold for $999.
Even some of the less-popular players sell for a decent amount of money from a hobby box that runs for about $140. On the bottom end of the scale, a Brook Lopez autograph sold for $45.
But on the average, many of the green parallels have sold for $100-plus.
Susan Lulgjuraj is a contributing editor for Beckett Media. You can email Susan here. Follow her on Twitter here.