First Look: 2012 Panini National Treasures baseball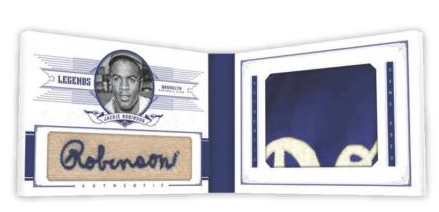 By Chris Olds | Beckett Baseball Editor
It's been teased, but now more can be told.
Panini America's basic product breakdown for 2012 National Treasures has been released and the debut of the high-end line in baseball is one that will include a heavy Hall of Fame presence as well as a selection of modern-day stars.
All in a Treasures-style eight-card box that includes just autographs and memorabilia cards when it arrives on Feb. 13.
Oh, and one booklet card is guaranteed.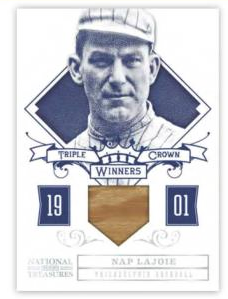 The set will be comprised of 150 standard cards and 75 rookies with the following features:
— Triple Crown Winners. These memorabilia cards will highlight those who have claimed the crown since 1901 up to the 2012 winner, Miguel Cabrera. The cards will be limited to 99 or fewer copies and will include the likes of Ty Cobb, Rogers Hornsby, Lou Gehrig, Jimmie Foxx, Ted Williams and more. In all, 11 winners will be seen on cards.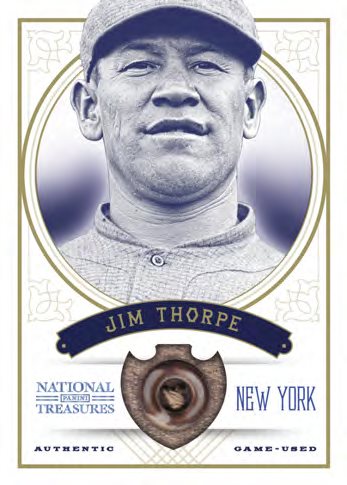 — Button cards. Each limited to eight or fewer copies, there will be game-used button cards in this one for the likes of Gehrig, Jim Thorpe, Jackie Robinson, Joe DiMaggio and Roberto Clemente, who were among the 11 mentioned on preview materials for the product.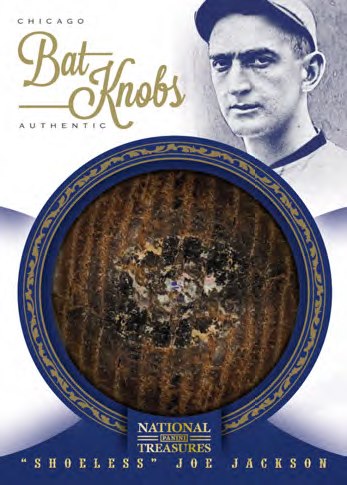 — Bat knobs. These 1/1 creations will showcase the often-personalized end of the bats swung by legends. Among those mentioned by Panini? Honus Wagner, Clemente, Gehrig, Williams, Cobb, Albert Pujols, Joe Jackson, Foxx and more.
— Rated Rookie Signature Materials. These will be limited to 25 and showcase on-card signatures from top active newcomers along with pieces of game-used patches, per the sales materials for the product. Matt Moore, Will Middlebrooks, Brett Lawrie, Jesus Montero and more will be found here.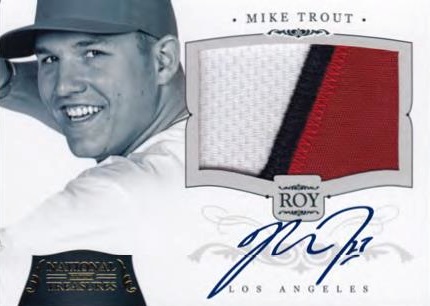 — Rookie of the Year Jumbo Prime Materials Gold and Rated Rookie Prime Materials Gold. Each limited to 25, these cards will showcase notable rookie stars of the past season. Mike Trout will sign 25 cards, while Bryce Harper and Yu Darvish will appear on 25 cards in those sets as well.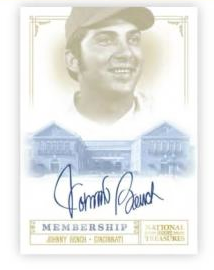 — Hall of Fame Logo Signatures and Membership Signatures. As previously teased, this set will showcase autographs from Cooperstown's available signers.
— Jumbo Diecut Prime Signatures. This one, also previously teased, will utilize a silhouette-style embedded game-used patch piece along with an on-card sig for legends from the past as well as popular players. These were the cards teased via Dale Murphy while he signed them on Twitter last year.
The booklet presence will include memorabilia as well as some cut autographs and include many of the legends mentioned in other sets. The cards will be limited to no more than 25 copies.
Overall, the product will include, according to Panini, 77 of the 100 MLB All-Century Team players. In addition, the company claims that it includes debut game-used memorabilia cards for Wee Willie Keeler, Goose Goslin and six other players.
Chris Olds is the editor of Beckett Baseball magazine. Have a comment, question or idea? Send an email to him at colds@beckett.com. Follow him on Twitter by clicking here.