5 Fun Michael Jordan Baseball Cards – Beckett Pricing Insider
On March 10, 1995, Michael Jordan announced that he was done playing baseball. Eight days later, he sent the infamous "I'm back" fax, announcing his return to basketball.
The truth is Michael really didn't have much of a choice but to quit baseball.
In 1995, he arrived early for Spring Training ready to get to work and improve. Unfortunately, the strike that had started during the 1994 season was still going on at the start of Spring Training and there was no end in sight. Jordan was stuck in a bind. He couldn't play in Spring Training games because he wasn't going to cross the picket line and become a replacement player. But that meant his development and progression as a player was halted so he couldn't improve. This forced him to give up on the sport and make his return to the NBA.
Jordan played baseball for just a year but it will forever be a part of his legacy. His stats don't exactly fly off the page. His average was just above the Mendoza line at .202. Jordane stole 30 bases but he also got caught 18 times. His legacy goes beyond all that. From his appearance in Space Jam playing for the Birmingham Barons to how he helped the real-life Birmingham Barons get the nicest bus in minor league history, The Jordan Cruiser, after companies were flocking to make sure Jordan traveled in style. Jordan also made an appearance on the April, 1994 issue of Beckett Baseball Card Monthly.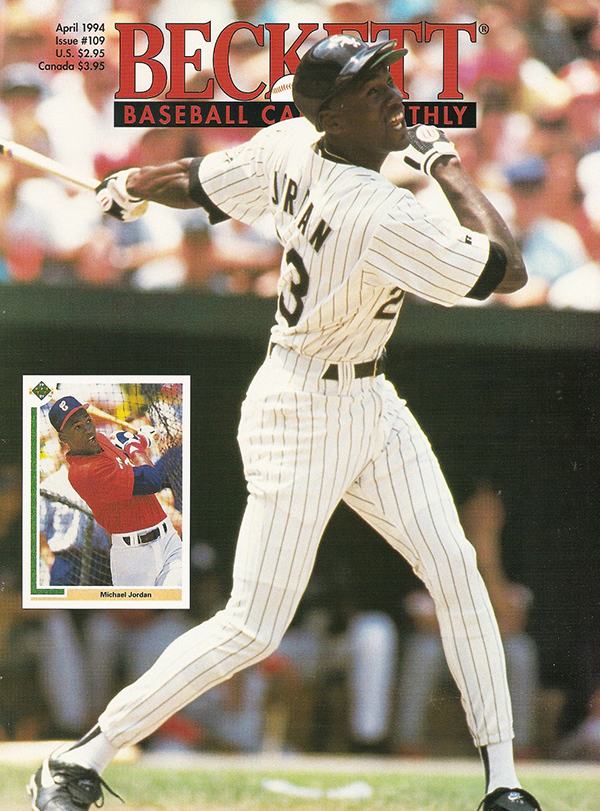 As one would expect, the number of Michael Jordan baseball cards (176) Jordan has is tiny comparatively to his basketball cards (12,751).
But just because he doesn't have a lot of baseball cards doesn't mean he doesn't have any good ones. Here are some of my favorite:
1991 Upper Deck Michael Jordan #SP1
This is the first Michael Jordan baseball card and it comes from before his baseball career even started. This card highlights a White Sox game from the 1990 season when Jordan hit batting practice beforehand. Raw, this card generally runs around $5-$12. If you have one in top condition, you may want to get graded. A BGS 9.5 goes for around $50-$80. Just 13 of the more than 2,700 copies of the card graded by BGS have attained Pristine 10 status. One of them sold for $1,000 in January, 2019.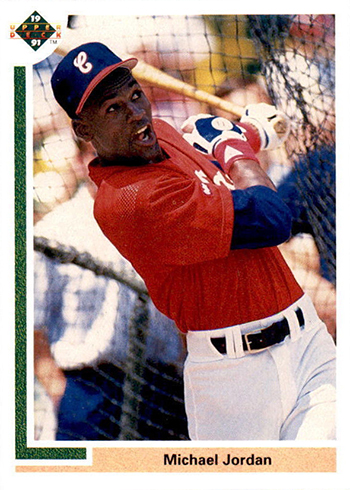 1994 Upper Deck Fun Pack Michael Jordan RC #170
Coming from a set that was clearly designed for kids, it is noteworthy because this is one of just three baseball Michael Jordan Rookie Cards. While popular among the youngsters, the market for this one isn't too strong with current sales for $5 or less.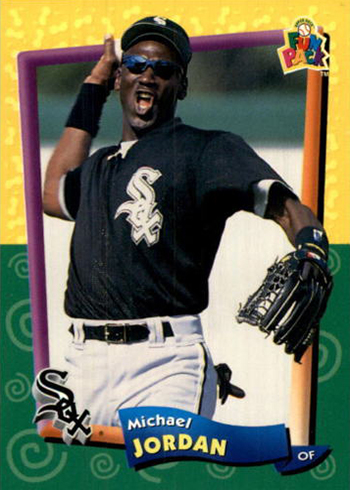 1994 SP Holoview Die-Cuts Red Michael Jordan #16
Inserted at a rate of just 1 in every 75 packs, these were tough ones to pull. These die-cut, red-bordered parallels to the Holoview insert set feature a 3-D hologram on the front. They hold strong value in the market with raw versions selling from $100-$200.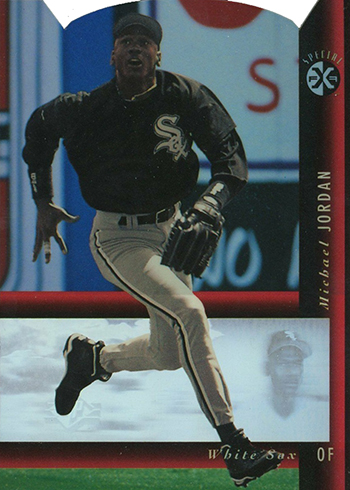 1995 Upper Deck Michael Jordan #200
I absolutely love this card and it's definitely affordable. You get two Chicago icons on one card with Jordan being interview by the late, great Harry Caray. Like Jordan, Caray also once switched from one Chicago team to another when he went from broadcasting for the White Sox to the Cubs. Caray will forever be remembered for his personality, style and, like Jordan, he made coming to a game a better experience. This one should only put you back a few bucks.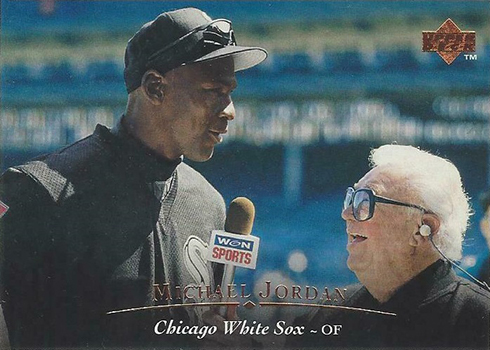 2001 Upper Deck Prospect Premieres MJ Grandslam Game Bat Michael Jordan
This is one of several sets that came out in the early-2000s with game-used relics from Jordan's time in baseball. For the most part, they all sell for around the same amount, with sales ranging from $10-$25