3 Big Sales: 2019 Donruss Baseball – Beckett Pricing Insider
This edition of the Beckett Pricing Insider is sponsored by MVP Sports Collectibles.
With a history in baseball dating back to 1981, Donruss is one of the most recognizable brands in the hobby. 2019 Donruss Baseball arrived March 6 with a checklist that consists of 7,039 unique cards spread across 155 different sets. There have been no shortage of big sales so far, but let's take a look at three of the bigger ones.
2019 Donruss Signature Series Green Vladimir Guerrero Jr. /5 – $377
Despite a minor injury suffered over the weekend, Vladimir Guerrero Jr., the consensus number one prospects in baseball, remains the hottest young player in the hobby. Guerrero Jr. appears on 25 different cards in 2019 Donruss product, ten of which are autographs. For comparison's sake, the parallel of this card serial numbered to 25 recently sold for about $165.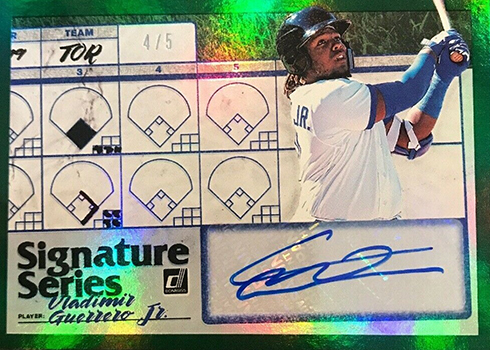 2019 Donruss Recollection Collection Ichiro – 2004 Throwback Threads /8 – $295
Year in, year out, the Donruss Recollection Collection cards are some of the coolest autograph cards issued. Almost all are low-numbered and feature on-card signatures, they're some of the best buybacks on the market. 2019 features the likes of Derek Jeter, Aaron Judge and Ichiro. In addition to this card being limited to eight copies, Ichiro also appears in the set on a 2004 Studio card, limited to just 12 copies.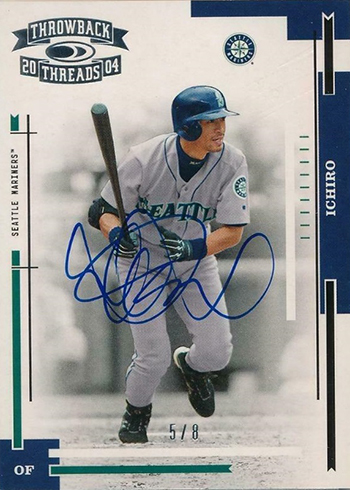 2019 Donruss Rated Rookies Signatures Yusei Kikuchi EXCH- $200
The latest player to come to the majors from Japan, Kikuchi pitched eight seasons in his home country before signing with the Mariners in January. The 27-year-old lefty was ranked as the 45th best prospect by Baseball America entering the 2019 season. He has three cards in 2019 Donruss Baseball, including his first Rookie Card. His Rated Rookie Signature card is reportedly limited to just 250 copies and has been selling consistently in the $100-$200 range.