2020 Onyx Vintage Baseball Checklist and Details
2020 Onyx Vintage Baseball doesn't get its checklist. Rather, it's the look and vibe the cards give off. That said there is a small number of names that bring a retro vibe to the possibilities. The rest? Several of the top young players and prospects in the game today.
Hobby boxes are small, carrying just four cards. Two of them are autographs, though.

2020 Onyx Vintage Baseball Overview
This isn't an overly complicated set. For starters, the checklist is kept small to just over 30 players. It's primarily prospect driven but there are a couple of young MLB players and a trio of retired greats as well.
On the prospect side, key names include Bobby Witt Jr., Wander Franco, Julio Rodriguez and Joey Bart. For those who don't keep up with the minors, there's also Ronald Acuna Jr., Gleyber Torres, Nolan Ryan, Ichiro and Randy Johnson.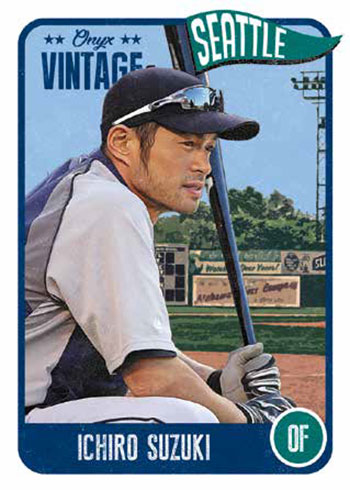 All autographs in 2020 Onyx Vintage Baseball are on-card. The basic checklist for these align with the base set with cards carrying a design reminiscent of a product from the 1960s.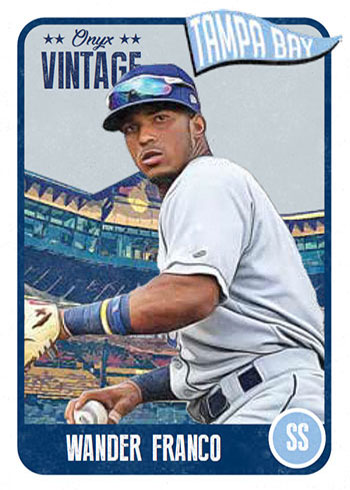 Several of the top prospects in the set also have additional Rookie Autographs.
Each case of 2020 Onyx Vintage Baseball includes a redemption good for a professionally graded Rookie Card. According to Onyx, all are star players and they date back as far as the 1950s.
2020 Onyx Vintage Baseball cards at a glance:
Cards per pack: 4
Packs per box: 1
Boxes per case: 24
Release date: March 31, 2020
What to expect in a hobby box:
2020 Onyx Vintage Baseball Checklist
The following is a list of names confirmed by Onyx in advance. It is subject to change.
Base Set
Ronald Acuna Jr., Atlanta Braves
Joey Bart, San Francisco Giants
Edward Cabrera, Miami Marlins
Alexander Canario, San Francisco Giants
Jean Casanova, Texas Rangers
Wander Franco, Tampa Bay Rays
Richard Gallardo, Chicago Cubs
MacKenzie Gore, San Diego Padres
Randy Johnson
Greg Jones Jr., Tampa Bay Rays
Marco Luciano, San Francisco Giants
Gavin Lux, Los Angeles Dodgers
Alek Manoah, Toronto Blue Jays
Noelvi Marte, Seattle Mariners
Mason Martin, Pittsburgh Pirates
Orelvis Martinez, Toronto Blue Jays
Ronny Mauricio, New York Mets
Luis Patino, San Diego Padres
Wilderd Patino, Arizona Diamondbacks
Nate Pearson, Toronto Blue Jays
Robert Puason, Oakland Athletics
Ronnier Quintero, Chicago Cubs
Kristian Robinson, Arizona Diamondbacks
Julio Rodriguez, Seattle Mariners
Luis Rodriguez, Los Angeles Dodgers
Nolan Ryan, Texas Ranger
Ichiro Suzuki, Seattle Mariners
Gleyber Torres, New York Yankees
Taylor Trammell, San Diego Padres
George Valera, Cleveland Indians
Leonel Valera, Los Angeles Dodgers
Bobby Witt Jr., Kansas City Royals
Autographs
Parallels:
Blue Foil (200 copies or less)
Green Foil (50 copies or less)
Red Foil (25 copies or less)
Black Foil (5 copies)
Ronald Acuna Jr., Atlanta Braves
Joey Bart, San Francisco Giants
Edward Cabrera, Miami Marlins
Alexander Canario, San Francisco Giants
Jean Casanova, Texas Rangers
Wander Franco, Tampa Bay Rays
Richard Gallardo, Chicago Cubs
MacKenzie Gore, San Diego Padres
Randy Johnson
Greg Jones Jr., Tampa Bay Rays
Marco Luciano, San Francisco Giants
Gavin Lux, Los Angeles Dodgers
Alek Manoah, Toronto Blue Jays
Noelvi Marte, Seattle Mariners
Mason Martin, Pittsburgh Pirates
Orelvis Martinez, Toronto Blue Jays
Ronny Mauricio, New York Mets
Luis Patino, San Diego Padres
Wilderd Patino, Arizona Diamondbacks
Nate Pearson, Toronto Blue Jays
Robert Puason, Oakland Athletics
Ronnier Quintero, Chicago Cubs
Kristian Robinson, Arizona Diamondbacks
Julio Rodriguez, Seattle Mariners
Luis Rodriguez, Los Angeles Dodgers
Nolan Ryan, Texas Ranger
Ichiro Suzuki, Seattle Mariners
Gleyber Torres, New York Yankees
Taylor Trammell, San Diego Padres
George Valera, Cleveland Indians
Leonel Valera, Los Angeles Dodgers
Bobby Witt Jr., Kansas City Royals
Rookie Autographs Checklist
Estevan Florial, New York Yankees
Wander Franco, Tampa Bay Rays
MacKenzie Gore, San Diego Padres
Marco Luciano, San Francisco Giants
Gavin Lux, Los Angeles Dodgers
Noelvi Marte, Seattle Mariners
Orelvis Martinez, Toronto Blue Jays
Roberto Ramos, Colorado Rockies
Julio Rodriguez, Seattle Mariners
Drew Waters, Atlanta Braves
Bobby Witt Jr., Kansas City Royals