2019 Donruss Baseball has lots that should be familiar to the nostalgic collector. But much of that's in the names and themes that run throughout the checklist. The cards themselves bring in plenty of modern elements and fresh looks. That includes autographs and memorabilia cards, which combine to land three per hobby box.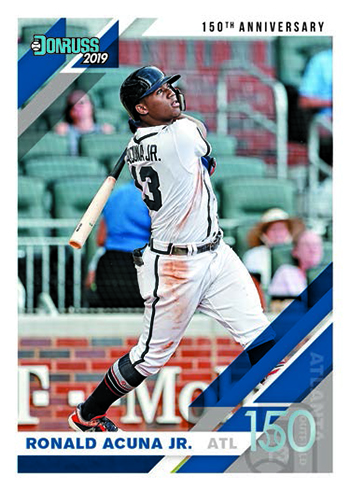 2019 Donruss Baseball Overview
The 2019 Donruss Baseball base set totals 252 cards. While the majority of these are regular veteran cards, there are several subsets as well.
Rated Rookies and the artful Diamond Kings both return in 2019 Donruss Baseball.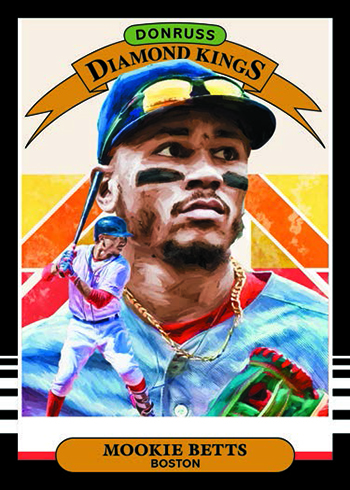 Continuing with the modern line's habit of looking directly to Donruss' past are Retro 1985 cards. These use a design based on that year's baseball set.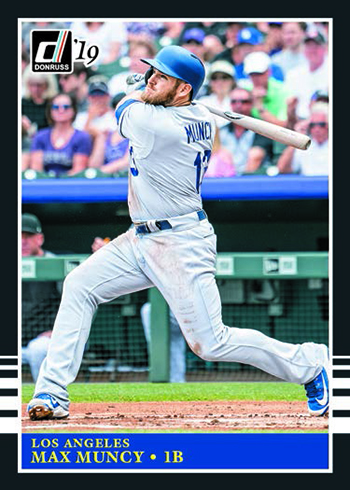 The list of parallels is large. Among them is 150th Anniversary, honoring the landmark birthday of professional baseball. These are done as a throwback with clay coat card stock. Other parallels include 42 Tribute, Holo Backs, Press Proofs, Artist Proofs, Mother's Day Ribbon, Season Stat Line and Career Stat Line.
Variations total 50 cards. These have a similar mix of parallels as the base set. Landing approximately one per hobby pack, they shouldn't be too difficult to find.
On the insert front, Whammy! returns with five new players. As they've been in the past, Whammy! cards are extremely tough to pull. 2019 Donruss Baseball has a couple of other familiar inserts. Elite Series and Dominators, staples from the '90s, both have ten-card checklists and bright designs.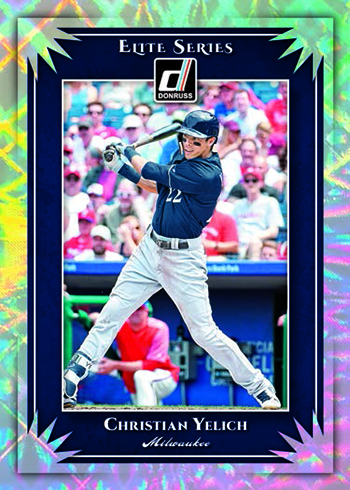 Other inserts include Action All-Stars, Franchise Features and Highlights.
Autographs and Memorabilia Cards
Signature Series is one of the main autograph inserts in 2019 Donruss Baseball. These center on the game's young players. Versions include Blue (/99 or less), Red (/25 or less), Gold (/10 or less), Green (/5 or less) and Black (1/1).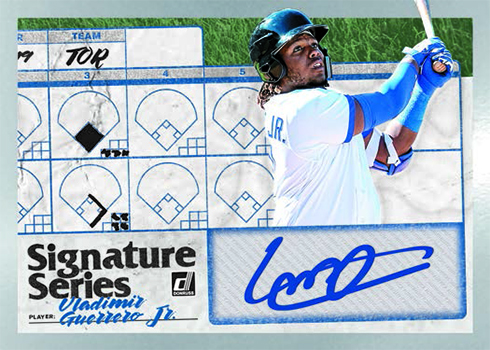 Like the regular cards, Retro 1985 Signatures look to the past. Besides the base versions are five parallels: Blue (/99 or less), Red (/25 or less), Gold (/10 or less), Green (/5 or less) and Black (1/1).
Recollection Collection cards feature autograph on buybacks, original Donruss cards from the past.
Among the memorabilia inserts in 2019 Donruss Baseball are Majestic Materials and Rated Prospects Materials.
There's also a fresh batch of autographs and relics from the San Diego Chicken.
2019 Donruss Baseball cards at a glance:
Cards per pack: Hobby – 8
Packs per box: Hobby – 24
Boxes per case: Hobby – 16
Set size: 252 cards.
Release date: March 6, 2019
What to expect in a hobby box:
Autographs or Memorabilia Cards – 3 Total
Parallels – 5
Inserts – 5 (approximately)
Variations – 24 (approximately)
2019 Donruss Baseball Checklist
Base
Variations
Autographs
Memorabilia
Inserts
Team Sets