Fascinating 5: 2019 Topps Opening Day Baseball
Like most years for the line, 2019 Topps Opening Day Baseball is one of those sets that's easy to pick up casually here and there. It's among the cheapest new products on the market, so there's not a huge expense. $20 gets you a lot of cards with Opening Day. They might not carry much value on the secondary market, but that's not the point with this set. It's one that's focused on fun and MLB as a game and experience.
With that in mind, here are five 2019 Topps Opening Day Baseball cards I'll be looking for when I come across those packs in the days and weeks ahead.
5 2019 Topps Opening Day Baseball Cards That Have Me Curious
Yusei Kikuchi RC #55
With the base set being essentially the same as 2019 Topps Series 1, for many there might not be a lot to discover in the 2019 Topps Opening Day base set. But there are some "Series 2" previews that didn't make the cut in the first release. Yusei Kikuchi is the biggest of those.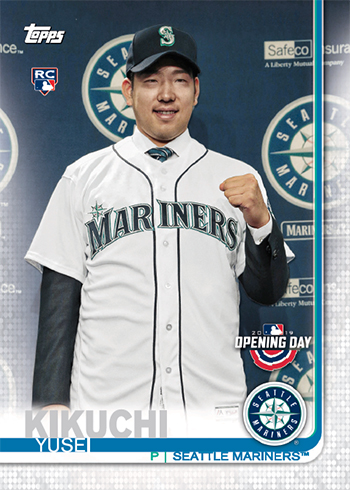 Outside of a couple of online releases that are between the stages of ordering and delivery, this marks the Japanese pitcher's first MLB card. Like Shohei Ohtani last year, it comes even before his official debut.
Kikuchi doesn't have nearly the same level of hype as Ohtani did last year. Even still, when it comes to the main base set, this card should get a significant amount of attention compared to the rest of the release. Kikuchi also has a card in 2019 Donruss Baseball.
Team Traditions and Celebrations Tony Gwynn Statue #TTC-TGS
One of the things that the Opening Day line does is cover the whole of baseball, not just the in-game action. This includes scouring the various corners of MLB ballparks. Making its debut in 2018, Team Traditions and Celebrations is one such insert sets. This time around, the ten-card set has an eclectic mix ranging from a swimming pool to a bobblehead tribute. There's also a card of the Tony Gwynn statue that has been standing outside Petco Park for more than a decade. It's a different take for a legendary player with lots of cards out there.
Mascot Autographs Swinging Friar #MA-SF
San Diego's Swinging Friar gets his first autograph card in 2019 Topps Opening Day Baseball. Other first-time "signers" include Atlanta's Blooper and Screech of the Washington Nationals.
Yes, signatures from mascots is kind of strange. They're also fun. And they make limited appearances. This not only helps keep them fresh, but also helps build Opening Day's identity. And if you're not a fan, you can probably trade your Mascot Autograph, they do generally carry better values and collector interest versus the more common signatures that would probably replace them. So you could sell one or trade it for something that's more your thing without much trouble.
150 Years of Fun Ty Cobb #YOF-1
Ty Cobb and "fun" normally aren't things you hear going together very often. That's what makes his name standout on this historically based checklist. Don't expect to see The Georgia Peach petting any puppies or tearing it up on the dance floor, but it will be interesting to see how he's framed on this card versus the prevailing legend surrounding him.
Sock It to Me Mike Trout #SM-9
Socks as insert theme might not be the first thing you'd think of in a brainstorming session, but they are a part of the game's dress. And an increasingly fashionable one at that. And is a Mike Trout card a bad thing? Probably not.