2023 Topps Heritage Baseball Checklist, Team Set Lists and Details
When you click on links to various merchants on this site, like eBay, and make a purchase, this can result in this site earning a commission.
2023 Topps Heritage Baseball jumps back to 1974 — just more Dave Winfield RC than Watergate. As usual for Heritage, there's nostalgia at every corner. The designs, the themes and even the players on some parts of the checklist.
As usual, Heritage isn't a hits-driven product. It has some long-running popular autograph and relic sets but they're not the focus for most. Hobby boxes have just one autograph or relic card.
2023 Topps Heritage Baseball Checklist Overview
The 500-card base set is where the 1974 vibe comes through most prominently. That's because it takes its design from 1974 Topps Baseball. The players, though, are all current. The checklist includes many of the same subset themes including All-Stars, League Leaders, Rookie Stars and postseason highlights.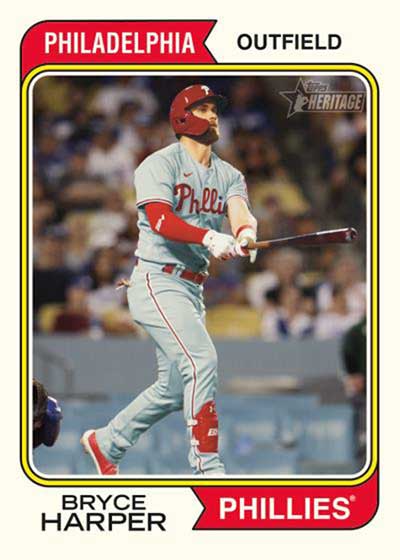 Customary for Heritage, there are short prints with the final 100 cards combining to land 1:3 packs.
Two parallel sets, Black Bordered (50 copies each) and Flip Stock (five copies each), are both hobby exclusives. Select cards also get the Mini treatment with each numbered to 100.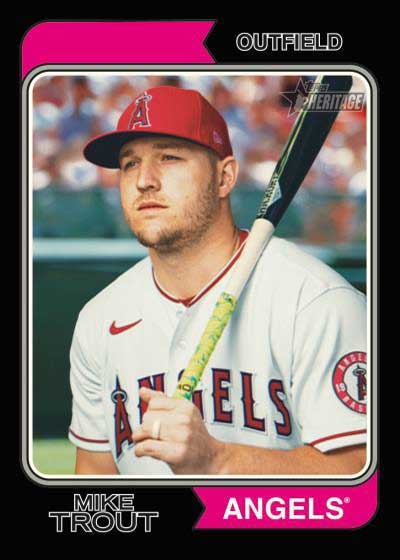 Chrome versions add a modern spin to 100 cards. Further bringing them into the present are their Refractor (/574), Silver (/374), Black Border (/74), Gold Border (/5, hobby-exclusive) and Superfractor (1/1) versions. Hot Box Refractors, which are normally Purple, are randomly included in hobby and blaster packs.
SP and SSP variations also return. Image Variations are only in hobby packs. Other themes include Nicknames and scarce Throwback Uniforms.
Autographs and Memorabilia Cards
Real One Autographs return with a mix of current and retired players. Among the most popular signature sets for the sport, these come with on-card signatures. Special Edition Red Ink versions have just 74 copies each.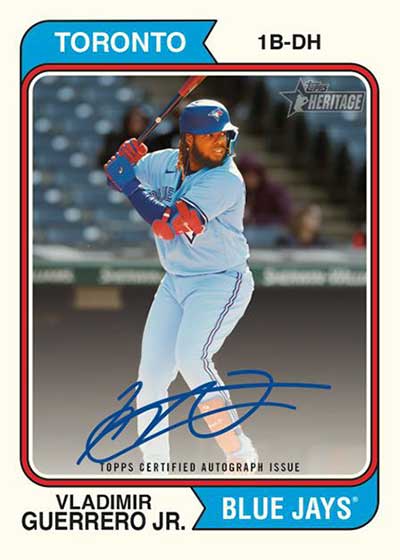 Real One Dual Autographs (/25) and Triple Autographs (/5) are both only in hobby packs.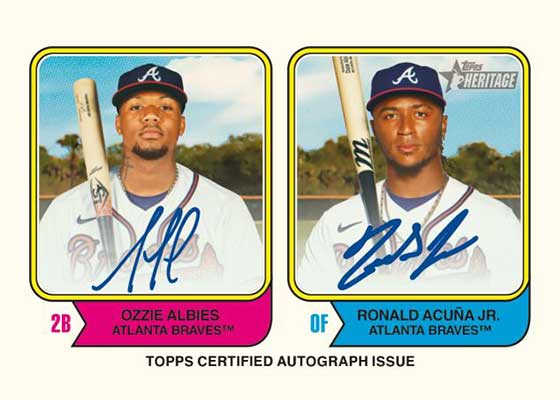 When it comes to memorabilia cards, Clubhouse Collection is the prime source of pieces. Gold parallels are numbered to 99 or fewer while Patch versions are one-of-ones.
Dual Relics (/74), Triple Relics (/25) and Quad Relics (/10) are also available. These have their own Patch parallels (1/1).
Clubhouse Collection Autograph Relics (/25 or less) maintain the on-card standard set forth with the Real One Autographs. It's the same with the Dual Autograph Relics (/10 or less) that feature two players.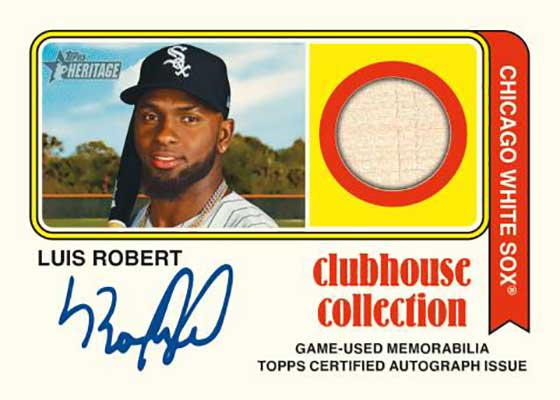 Current players are nowhere to be found in Flashback Autographed Relics. Rather it's stars and highlight makers from 1974.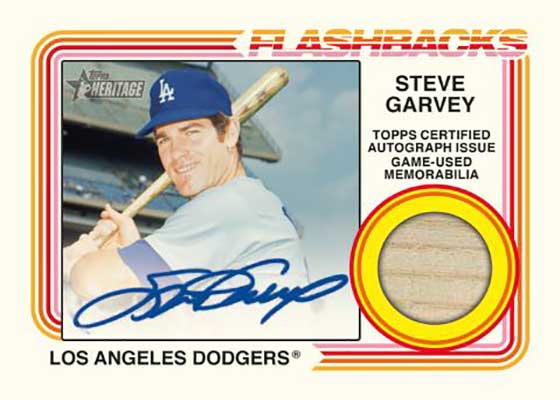 One-of-one Cut Signatures land with autographs from 1974 baseball superstars, celebrities and newsmakers.
Not all of 2023 Topps Heritage Baseball's relics are from the baseball field. Hobby-only 1974 Mint cards come with a 1974 coin embedded in them. Versions include Nickel (/15), Dime (/10), Quarter (/5) and Half-Dollar (1/1).
For the philatelists, 1974 U.S. Postage Stamp Relics have a vintage stamp in them. These have 50 copies each.
Additional Inserts
Other standard insert sets on the 2023 Topps Heritage Baseball checklist are familiar ones to the line.
Baseball Flashbacks offer some highlights from the 1974 MLB season while News Flashbacks take from the year's headlines. New Age Performers showcases the sport's young stars.
For those busting retail packs, there are 1974 Topps Deckle Edge Minis. These are pretty tough, though, with each limited to 200 copies.
Box Toppers
Hobby boxes come with one additional card that's included as a box loader. These come in four different themes.
1974 Deckle Edge Baseball (1:2 boxes) finds its inspiration from the vintage black and white inserts. It's a similar situation for 1974 Topps Puzzles, which have 500 copies each.
Oversized 1974 Topps Baseball cards offer an oversized look at 50 players. Each of these has a print run of 1,000 copies.
Finally, there are 1974 Topps Originals. These are actual 1974 buybacks that have a commemorative foil stamp added to them.
2023 Topps Heritage Baseball cards at a glance:
Cards per pack: Hobby – 9, Blasters – 9, Hanger Boxes – 35, Fat Packs – 20
Packs per box: Hobby – 24, Blasters – 8, Hanger Boxes – 1, Fat Packs – 108
Boxes per case: Hobby – 12, Blasters – 40, Hanger Boxes – 64, Fat Packs – 1
Set size: 500 cards
Release date: May 24, 2023
Shop for 2023 Topps Heritage Baseball boxes on eBay:
What to expect in a hobby box:
Autographs or Memorabilia Cards – 1
Box Loaders – 1
2023 Topps Heritage Baseball Checklist
You can also download a customizable spreadsheet copy of the checklist:
Please note that print runs for cards without serial numbers have not been announced.
Recent Topps Heritage Baseball releases: