2022 Topps Heritage Baseball Packs Its Bags for 1973
2022 Topps Heritage Baseball takes on 1973, a tumultuous year highlighted by political scandal, landmark court rulings and the withdrawal of American troops from the Vietnam War. The format to the product is similar to recent years with a retro-inspired base set and several nods to the past, both in player selection and designs.
It also means a familiar hobby box configuration with the promise of either an autograph or memorabilia card.
2022 Topps Heritage Baseball Checklist Overview
One of those things that remains the same is the size of the base set. It lands with 500 total cards. Of those, the final 100 are the customary short prints. These land 1:3 packs making them noticeably harder to pull but still attainable. Set builders are one of the primary audiences of Heritage. The idea is to make it something challenging but not to the point where they're so tough that it's off-putting.
The most noticeable embodiment of the "1973" theme is with base card design. It finds its roots in the clean simplicity of 1973 Topps Baseball.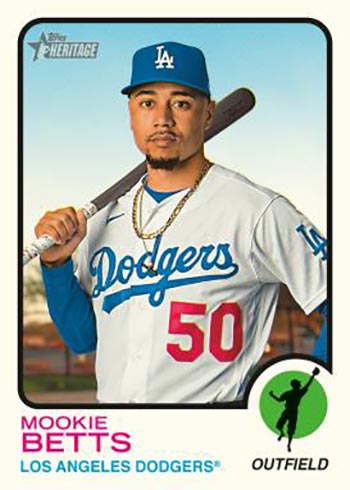 Standard parallels include Black Border, which have 50 copies each, and Flip Stock that are limited to just five copies each. Both of these are hobby-exclusives.
Flip Stock cards have become a staple in recent years and are among the toughest parallels to spot. The gist of these are that the sheet has been flipped over. Regular base cards have a smooth, semi-glossy finish while backs are noticeably rougher to the touch. Flip Stock parallels do the opposite. On these, backs are more smooth than fronts. Their extreme rarity adds to how tough it is to identify them. However, if you're sifting through a stack, it's something you should be able to feel if you're not going too quickly.
Variations are typically one of the most popular parts of Heritage. Action Image Variations are back, but only in hobby packs. Nickname Variations and scarce Throwback Uniform Variations are among the other short print themes.
Small and Shiny Things
Select cards also have Mini versions that are serial numbered to 100 copies.
There are also 100 Chrome cards that have their own Refractor (/573), Silver (/373), Black (/73), Gold (/5) and Superfractor (1/1) parallels. Random hobby boxes and retail blasters have exclusive Chrome Refractors. Typically, these are purple and land one per pack in these boxes, although, at this point, this hasn't been confirmed for 2022 Heritage.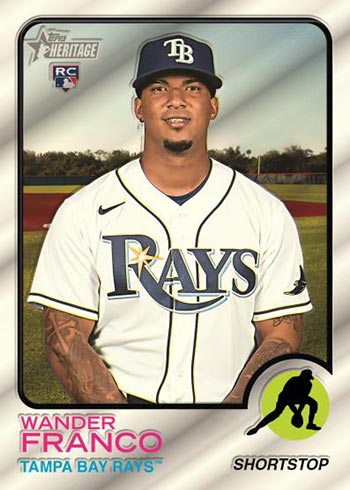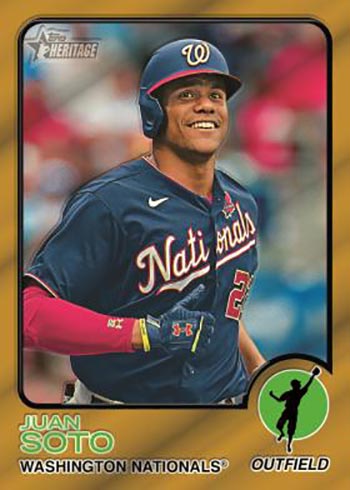 Autographs and Memorabilia Cards
With one of the most popular lines in the sport, 2022 Topps Heritage Baseball isn't changing its approach to signatures.
Real One Autographs return as one of the product's cornerstones. Using the same general design as the base set, these are signed on-card. The checklist is a mix of veterans, rookies and players from 1973. Red Ink Special Edition versions return, this time numbered to 73.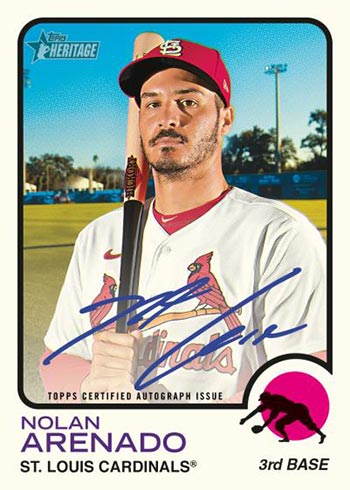 Real One Dual (/25) and Triple (/5) Autographs are both exclusive to hobby and not available in retail packs.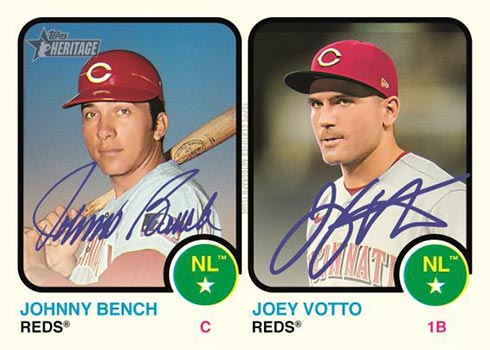 Cut signatures have both baseball- and celebrity-themed checklists. No matter the case, all are one-of-a-kind.
Anchoring much of the memorabilia are Clubhouse Collection Relics, which come with swatches from game-used uniforms and bats. Single-player versions have Gold (/99) and Patch (1/1) parallels.
Multi-player cards are available with Clubhouse Collection Dual Relics (/73), Triple Relics (/25) and Quad Relics (/10). These have Patch (1/1) parallels of their own.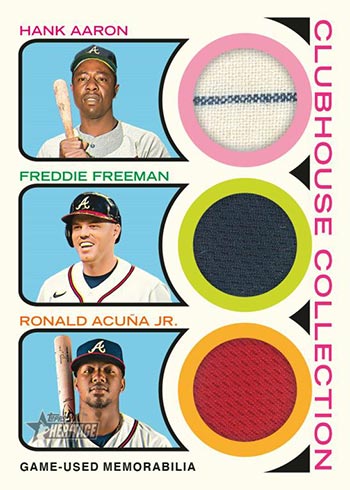 Autograph Relics (/25) and Dual Autograph Relics (/10 or less) are both hobby exclusives.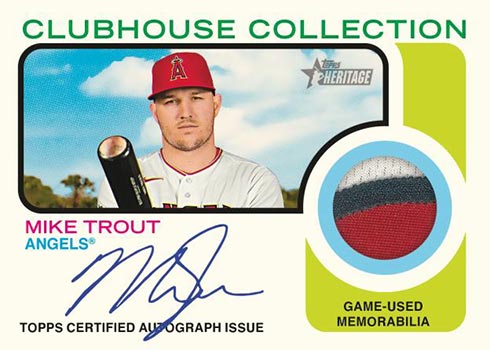 Flashback Autographs Relics are another place to find stars from 1973. These also have hard signatures and memorabilia pieces are from game-used gear. One-of-one Patch parallels can also be found.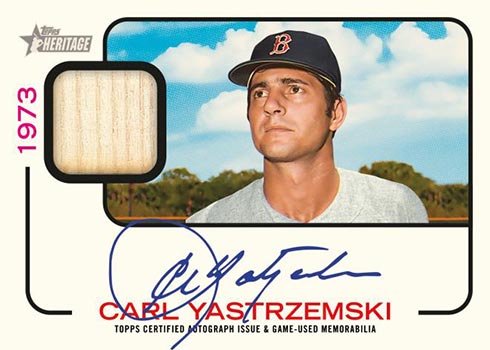 They might not have traditional memorabilia, but 1973 Mint does have coins from that year. Change inside them include Nickels (/15), Dimes (/10), Quarter (/5) and Half Dollars (1/1).
1973 U.S. Postage Stamp Relics take a similar approach only with stamps.
Other Inserts
Four regular insert sets all come with familiar themes.
Baseball Flashbacks highlight some of the biggest moments from the 1973 season. News Flashbacks take from the year's headlines to recap major events on both the world stage and pop culture.
Then and Now pairs a 1973 star with a current player sharing similar success.
New Age Performers has 25 modern players.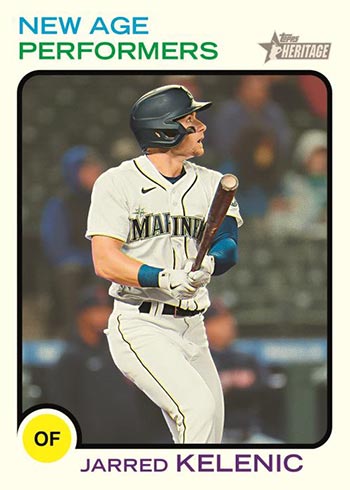 Box Loaders
Every 2022 Topps Heritage Baseball hobby box has a box loader bonus in addition to the 24 regular packs. These come in three varieties.
1973 Topps Originals are buyback cards with a special foil stamp.
Drawing from the past are 1973 Topps Posters. Past and present stars are on the checklist.
Fifty Oversized 1973 Topps Baseball cards blow up base cards to a larger format. Each has a print run of 1,000 copies. These are the toughest of the basic box loader themes. However, the autograph parallels, which top out at 25 copies, are even more rare.
2022 Topps Heritage Baseball cards at a glance:
Cards per pack: Hobby – 9
Packs per box: Hobby – 24
Boxes per case: Hobby – 12
Set size: 500 cards
Release date (subject to change): March 2, 2022
What to expect in a 2022 Topps Heritage Baseball hobby box:
Autographs or Memorabilia Cards – 1
Box Loaders – 1
Base Short Prints – 8
Recent Topps Heritage Baseball releases:
The full 2022 Topps Heritage Baseball checklist and team set lists will be up as soon as they're available, likely shortly before the product arrives.